Identifying Investment Opportunities in Post Corona World
Apr 17, 2020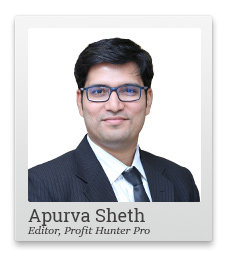 The world is grappling with Coronavirus crisis which started in China. Almost half of earth's population is under lockdown. Many businesses are shut and paying a price for it.
But one global company has made the most from this crisis. You may have their app installed on your phone already. Yes, it's the video conferencing app provider Zoom.
Zoom has become a rage amongst professionals, schools, families and friends ever since the lockdowns became prominent. Zoom allows video conferencing for a maximum of 250 people at a time under its premium plan. Zoom has gained popularity across the globe since coronavirus outbreak.
Why am I telling you all this?
Zoom is a classic example of an opportunity brewing right in the middle of a crisis.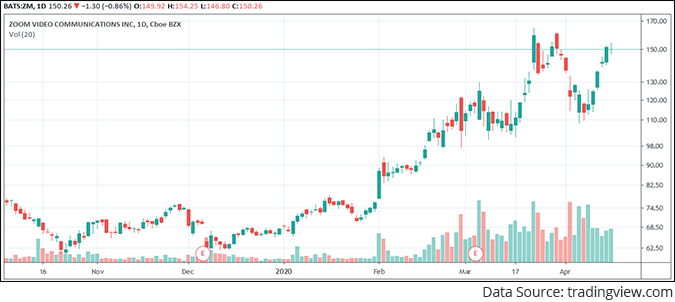 Zoom has moved up more than 100% in the year 2020 from US $68 to current market price of US $150. It's one of the best performers across the globe.
Unfortunately, Zoom isn't listed on the Indian stock markets. But that doesn't mean you can't identify solid money-making opportunities while the world grapples with coronavirus.
--- Advertisement ---
The Hidden Opportunity in EV Stocks No One Knows About

With today's fast-changing technology and concern about the environment, the popularity of electric vehicles (EVs) has been on the rise.

Most investors go the usual route of investing in large companies and waiting to rake in profits.

We believe that's not the best approach.

In fact, our research has uncovered a hidden way to make potentially windfall gains from this EV opportunity.

Interested to know more? You can get all details by clicking the link below:

Equitymaster's Latest Research Project - Details
------------------------------
We are living in unprecedented times and markets have also reacted sharply to the pandemic. However, this isn't the first time that our markets are going through a rough patch.
The BSE Sensex has witnessed three major bear markets over the last 15 years. Sensex ended the years 2008, 2011, and 2015 on a negative note.
Simply looking at the benchmark index is useless until you learn to look beneath the hood. The Sensex numbers hide more than it reveals. So, you must learn to look one level deeper to gauge the pulse of the market.
Let's look how some of the major sectors performed during these years. Let's begin with 2008.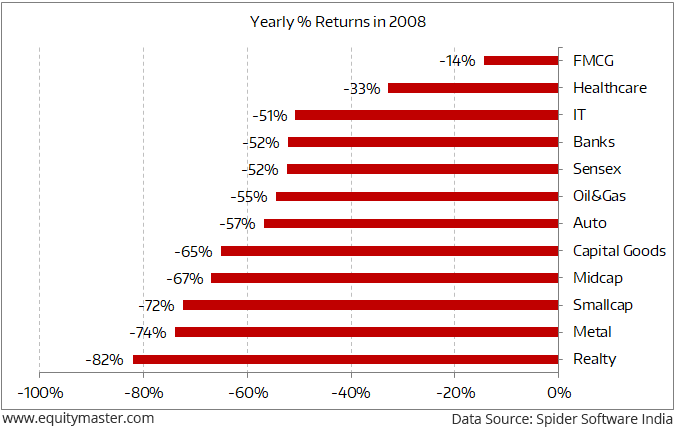 The global financial crisis (GFC) hit out our markets in January 2008. Our markets spent the whole year trending downwards. Sensex fell by 52%.
All the sectors fell along with the Sensex. But all were not affected equally. Some managed to outperform the rest. Notice the top 3 sectors in the above chart. They are FMCG, Healthcare and IT.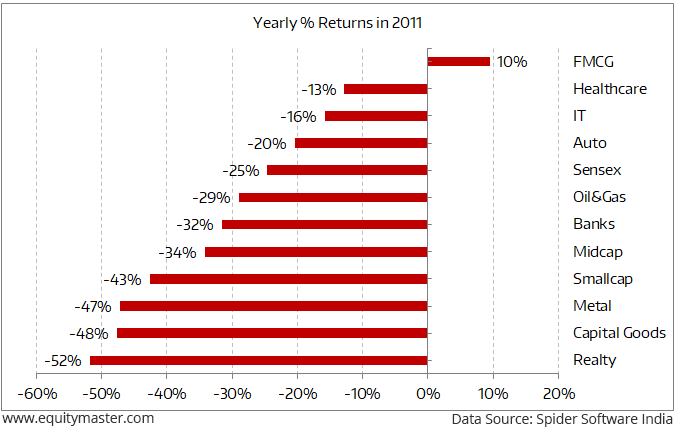 The world had barely recovered from GFC by 2010 and we were struck by yet another crisis. Europe's debt problems started spiraling out of control by late 2010. The year 2011 began on a terrible note. Sensex slipped lower in 2011 and ended down by 25%. Most sectors underperformed the benchmark but notice the top 3 in the above chart. These are the same which outperformed in 2008. FMCG, Healthcare and IT were the top 3 outperformers.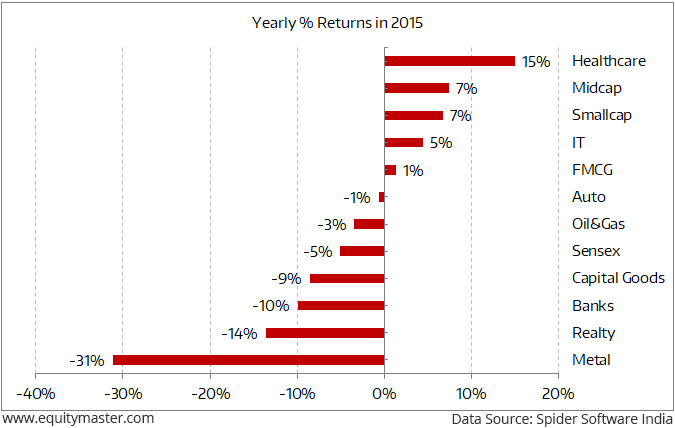 The currency crisis in 'Fragile 5' nations - Brazil, India, Indonesia, South Africa, and Turkey rattled the markets once again in 2015. Sensex ended the year down by 5%.
FMCG, Healthcare and IT not only outperformed the Sensex but also ended on a positive note for the year. Healthcare generated double digit gains of 15%.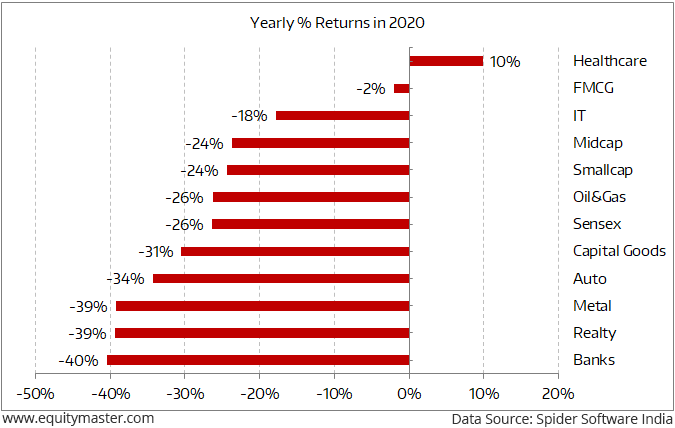 We are just four months in to the year 2020 and it already looks like we have gone through a lot. Sensex is already down 26% on a year to date basis and the virus is spreading faster than wildfire.
The virus has affected every business on the planet. There are lot of uncertainties still lurking around. But the markets have moved in a predictable fashion. You would have already noticed the top 3 outperformers so far are Healthcare, FMCG and IT. History repeats...huh!
Alert: Discover Richa's Top 3 Stock Picks for 2022...
Now one could argue that all three sectors are generally considered as defensives and it isn't any surprise they are outperforming right now.
But despite this common knowledge how many retail investors own stocks from these sectors? I guess not many.
On the contrary, most investors are looking for investing opportunities in stocks or sectors which have fallen the most.
I know that beaten down sectors will bounce back sharply. But that's about it. The probability of resuming downtrend is high in such sectors.
Therefore, investors should stick to the defensives until the uncertainty related to the virus is cleared. It will enable you to conserve and grow your capital with minimal risk.
Now if you are wondering how to identify trading or investing opportunities in such sectors, then you must go through the following YouTube video. I have explained a simple technique you could use to spot stocks which could outperform in current market. Enjoy!
Warm regards,

Apurva Sheth
Senior Research Analyst, Fast Profits Report
Equitymaster Agora Research Private Limited (Research Analyst)
PS: Our 25th year celebrations will start soon. Join us for something truly special...
Recent Articles