A Decade at Equitymaster... and the Road Ahead
Apr 20, 2021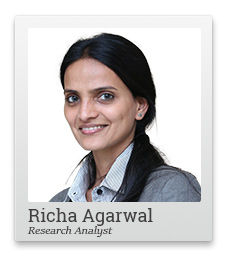 It's going to be exactly 13 years since I got a confirmation for first job as an equity research analyst.
It was with a global financial firm.
After three rounds, a written test, group discussion, and personal interview, and not to mention two years of an MBA in finance, my journey in the corporate world had a good start.
Or so I had thought...
You see, I had little insight about what this world was all about.
Prior to doing my MBA, I had a background in engineering.
My choice for a finance major was driven by a not so high opinion on 'HR' and my introversion. I felt that didn't make me a fit for 'Marketing'.
It was only during two years at Business School, after taking classes with CAs and experienced professionals, that my idea of this field developed.
It was then I got an introduction to the money making opportunities in the world of finance and investing.
--- Advertisement ---
One stock to add to your portfolio asap

Our co-head of research, Tanushree Banerjee, has uncovered this one stock, which she believes is a must have in your portfolio.

Tanushree is very bullish on this stock.

It could potentially multiply invested money 12 to 13 times over the long term.

Tanushree will reveal details of this stock at her upcoming special event.

You can click here to sign-up. It's free.
------------------------------
As a beginner, I was on a weak footing back then, but I was determined to make up for the lack of a finance background.
Books like The Little Book That Beat the Markets by Joel Greenblatt and words of legendary investors such as Warren Buffett, Benjamin Graham, and Peter Lynch came to my rescue.
The classroom training and assignments allowed me to develop an understanding of technical aspects of investing like ratio analysis.
But one can learn only so much from books and tutorials.
The long hours of lectures and assignments had not really prepared me for the ground realities.
My real learning started in my first job. It was actually a disillusionment.
As a beginner, I was asked to work on financial models, with the assumptions that the lead analyst wanted.
The research was on the companies based out of India, Hong Kong, China, and UK. The job allowed me to perfect the art of financial modelling and my excel skills. I built fancy scenario analyses and DCFs ( discounted cash flows) in these models.
But it was it was all armchair analysis and secondary research.
When an opportunity to travel to London office came my way, I was excited.
It finally felt like I would get some 'real' on the ground experience of what equity research is all about.
Revealing Tomorrow: The Great Indian Wealth Project
During that stint, I realised that in this stream, the views are hardly unbiased or independent. It felt like what a candidate I once interviewed at Equitymaster had said:
In a brokerage, analysts are not allowed to give outright 'Sell' recommendations. At most, we are allowed to give a 'Hold' view. At any point in time, we must have at least 70% 'Buy' calls.
It was a critical point in my career when I decided to move on. It was was a tough phase for the industry at that time and also for people like me who looking out for opportunities.
The world was in grip of the Great Financial Crisis - a fallout of subprime lending, greed and biases of the people working in the global financial industry.
While preparing for the transition, I was voraciously reading anything and everything in the world of finance.
And that's when I became familiar with 'Equitymaster', through their newsletter - The 5 Minute WrapUp.
The content and philosophy was like a breath of fresh air. It was devoid of any jargon.
As I dug deeper, I realised it was retail investor focused equity research organisation focused on research on firms listed in India.
This was exactly the kind of opportunity I was looking for.
I applied for a job.
--- Advertisement ---
How to Earn a Fortune in Gold, the Smart Way

Gold is on 'the verge of a decadal run' says Vijay Bhambwani, India's #1 Trader and Editor of Fast Profits Daily at Equitymaster.

He says gold has the potential to generate staggering gains in the coming years...And those who are betting on gold right now will hit the jackpot.

But wait.

While gold is an attractive investment destination, there's a very specific way to play this opportunity...

A way that ensures you rake in maximum profit and perhaps hit the jackpot...while minimizing potential pitfalls. Thankfully, Vijay - India's #1 Trader - can guide you step-by-step in the upcoming gold rush and help hit the jackpot just at the right time.

Sure, you don't want to be an average trader. That's not how you make a fortune.

Here's how you can get Vijay's guidance...
------------------------------
After a few round of interviews by Rahul, Tanushree, and the team, I was in.
It was a much less of a posh set up compared to my previous office. I wondered initially if I had taken a step 'down' in my career path.
But a few more months into the organisation, I knew I was at the right place. It was a step up!
Independence and honesty weren't just fancy tagline or phrases in a vision statement here. They were part of the work culture.
I started here as an associate analyst. I was soon involved in covering smallcaps for the service - Hidden Treasure.
It was my enthusiasm for travelling and meeting managements that made me lean towards this service in particular. It something that still continues.
Even amid the pandemic, while the travel has been curtailed, we are more than making up on the management interaction aspect with calls on Zoom and Microsoft Teams.
It's typical in this field to switch companies and jobs in search of better opportunities.
For me, my urge to learn something new is taken care of by the fact that every fresh company I analyse is like a new opportunity. The sector agnostic approach of Hidden Treasure helps me in this regard.
We were never forced to come up with 'Buy' recommendations until we were reasonably convinced of the returns and safety of capital.
That explains why we can still recommend to AVOID almost 90% of IPOs despite the mad rush around them, and the chances of looking wrong in the near term.
We are allowed to make honest mistakes, as long as we are diligent, transparent. and true to the process laid out for research.
And more importantly learn from them, so that we don't make them again.
That explains why despite occasional failures, Hidden Treasure has beaten benchmark indices by nearly 2.3x. This is a ratio that my team and I are committed to improve.
It's been more than a decade since I joined Equitymaster.
Over this period, a lot has changed. Overtime, we have extended the bouquet of services to target the unexplored universe. We've tried approaches different from conventional value investing.
We have explored more channels to reach out to you and handhold you through every cycle in the market.
This evolution will continue. What will remain constant is our dedication and commitment to be bring to you unbiased, credible investing opinions.
We are fully committed to empower your investment decisions.
So stay tuned. The best is yet to come.
Warm regards,



Richa Agarwal
Editor and Research Analyst, Hidden Treasure
Recent Articles