Thanks for Being Part of Our Silver Jubilee Celebrations!
Apr 21, 2021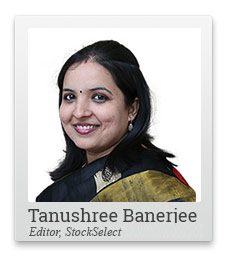 Vaccine for all (above 18) is probably the best news you've heard in months.
I have one more for you.
This week, at Equitymaster, we are celebrating our silver jubilee!
Yes, we have been around for 25 years and were one of the earliest in independent stock research firms in India, thanks to our visionary founder Ajit Dayal.
So, we want to make it extremely special for you dear reader. You and your fellow 400,000 readers are the reason why we continue to believe in the pledge Equitymaster made 25 years ago.
Market crashes, economic turmoil, pandemics have not been able to keep us from honouring that pledge.
--- Advertisement ---
One stock to add to your portfolio asap

Our co-head of research, Tanushree Banerjee, has uncovered this one stock, which she believes is a must have in your portfolio.

Tanushree is very bullish on this stock.

It could potentially multiply invested money 12 to 13 times over the long term.

Tanushree will reveal details of this stock at her upcoming special event.

You can click here to sign-up. It's free.
------------------------------
What pledge?
Well, here's the story...
Twenty five years ago, on April 22, 1996, there was an ad in the Economic Times. It announced the birth of www.QuantumIndia.com, India's first financial website.
The country had barely 10,000 VSNL internet connections then, with speeds of 28-56 kbps.
The idea of fetching information on the internet was completely alien.
And the commitment to make honest, sensible, well-articulated information and views available to all investors was truly radical.
But the man behind this vision knew entrepreneurs have to be stubborn. They must be clear. They must be devoted to the cause.
And, yes, they need to listen.
Revealing Tomorrow: The Great Indian Wealth Project
So, in 1990, when Ajit Dayal, founder of Equitymaster, set out to build the Quantum Group, he encountered a fair share of scepticism.
Mr Hemendra Kothari of DSP told him 'Tum paagal hai. Koi foreigner nahi aayenge India ke share bazaar mein.'
Decades later, Mr Kothari walked out with a big cheque from Merrill and Blackrock after selling his businesses to those foreign companies!
Scepticism about whether an honest company can become a large, profitable, successful institution is something Equitymaster has lived with since day one.
But we firmly believed that the Indian investors deserve to know the truth!
And that belief has guided us all along.
Twenty five years later, over 400,000 valued readers of Profit Hunter, testify to that.
--- Advertisement ---
How to Earn a Fortune in Gold, the Smart Way

Gold is on 'the verge of a decadal run' says Vijay Bhambwani, India's #1 Trader and Editor of Fast Profits Daily at Equitymaster.

He says gold has the potential to generate staggering gains in the coming years...And those who are betting on gold right now will hit the jackpot.

But wait.

While gold is an attractive investment destination, there's a very specific way to play this opportunity...

A way that ensures you rake in maximum profit and perhaps hit the jackpot...while minimizing potential pitfalls. Thankfully, Vijay - India's #1 Trader - can guide you step-by-step in the upcoming gold rush and help hit the jackpot just at the right time.

Sure, you don't want to be an average trader. That's not how you make a fortune.

Here's how you can get Vijay's guidance...
------------------------------
Ajit also laid four key pillars that have been at the core of everything we do.
These pillars have been and will continue to be the guiding light for Equitymaster for decades. It's our pledge to never distance ourselves from the very reasons you trust us.
This pledge has persuaded us to write to you, each weekday, for the past thirteen years. It gives us the conviction to say 'no' to the hottest stocks and largest companies.
It's a pledge that encourages us make defining predictions like Sensex 40,000 and India's Revival.
Tomorrow Equitymaster completes 25 years as an honest and competent financial institution. We wish to thank you for being our source of strength, motivation, and support.
Warm regards,

Tanushree Banerjee
Editor, StockSelect
Equitymaster Agora Research Private Limited (Research Analyst)
Recent Articles