Is History Repeating Itself in the Stock Market?
Apr 22, 2021
They say history repeats itself.
So then why do we not learn from history?
We are taught about business cycles in economics. Yet only a handful of people can predict a crash.
After all, if the past were an indicator of future performance, historians would have been the richest people.
Unfortunately, we are dealing with the stock market. Our friend, Mr Market, has a mind of his own and defies herd thinking each and every time.
You might have felt this while making your own investments. Just when you figured out most of the answers, the question paper changed.
This happened when the covid pandemic began.
--- Advertisement ---
One stock to add to your portfolio asap

Our co-head of research, Tanushree Banerjee, has uncovered this one stock, which she believes is a must have in your portfolio.

Tanushree is very bullish on this stock.

It could potentially multiply invested money 12 to 13 times over the long term.

Tanushree will reveal details of this stock at her upcoming special event.

You can click here to sign-up. It's free.
------------------------------
Last year in March, the situation was tense. Fear was at its peak. It felt like we were heading in to an Armageddon like situation.
The Nifty fell 40% in less than 40 days!
Many people were making doomsday predictions.
When the markets bottomed out in less than a month and started rising, the pundits who experienced the 2008 crash, said it was a 'temporary rise' or a 'dead cat bounce'. They said the fall would accelerate.
In hindsight, they were wrong ...
We saw the fastest recovery in the history of financial markets.
The talk of the town during the crash was portfolio rebalancing to defensive plays. Stocks like HUL, Marico, Dabur, Britannia, etc.
And rightly so.
Revealing Tomorrow: The Great Indian Wealth Project
After all, while sitting at home, it was natural to consume more biscuits and chyawanprash.
These resilient FMCG stocks fell the least and rallied the most till the lockdown was lifted in June when life started to crawl back to normalcy.
Fast forward to today...
Are we in the same situation or ever worse? We are practically in the same lockdown state (though not officially).
Common sense would tell us to play the defensives - after all history repeats itself, right?
But wait!
When Covid was still an unknown last year, most of the stocks we had chosen from this space went on to deliver strong returns.
However, this wave is different.
A year ago, the markets were pricing in the potential risks. There was no timeline for a vaccine.
--- Advertisement ---
How to Earn a Fortune in Gold, the Smart Way

Gold is on 'the verge of a decadal run' says Vijay Bhambwani, India's #1 Trader and Editor of Fast Profits Daily at Equitymaster.

He says gold has the potential to generate staggering gains in the coming years...And those who are betting on gold right now will hit the jackpot.

But wait.

While gold is an attractive investment destination, there's a very specific way to play this opportunity...

A way that ensures you rake in maximum profit and perhaps hit the jackpot...while minimizing potential pitfalls. Thankfully, Vijay - India's #1 Trader - can guide you step-by-step in the upcoming gold rush and help hit the jackpot just at the right time.

Sure, you don't want to be an average trader. That's not how you make a fortune.

Here's how you can get Vijay's guidance...
------------------------------
Back then most of the 'essential' and safe stocks were available at bargain prices. That's not the case this time.
With valuations not offering enough comfort, it's critical to assess if the strong businesses will also end up delivering strong returns.
So what do you do?
Let's compare one of the safest stocks in the Indian market HUL and with a not so loved sector - capital goods.
A Journey of No Returns in a So Called Safe Stock
From 2002 to 2010, HUL's stock price went nowhere. The stock was in an 8 year coma. The returns could barely even make up for the inflation.
Now here's another interesting fact to take note of.
Had you instead invested in the BSE Capital Goods index in 2002, you would have made a return of over 3,000% - a whopping 83% CAGR (compound annual growth rate) - over the next six years.
A Cycle of Great Returns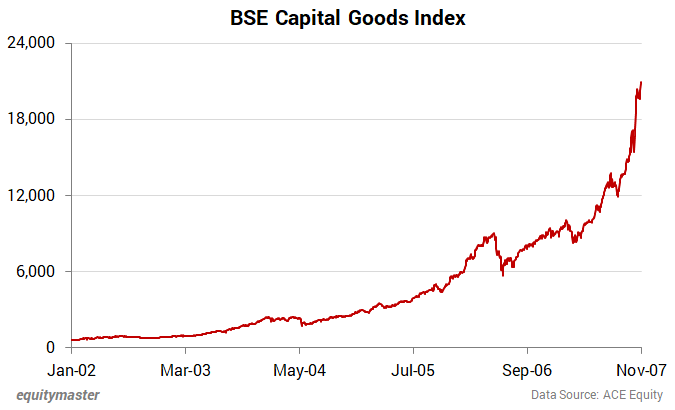 Now let's see what happened in the next decade (2010-2020).
Over the 2010 to 2020 period, HUL delivered a whopping return of 30% CAGR.
On the other hand, the BSE capital goods index mimicked what HUL had done in the previous decade. A dismal 3% CAGR!
I'm a firm proponent of the economic revival theme in the stock market. I'm bullish on capital goods and infrastructure stocks.
These sectors have emerged stronger from an elongated down cycle. There is also a strong momentum in economic indicators which is in favour of these stocks.
Indicators like rising construction equipment sales, record highway construction run rate, capacity expansion by private players in the cement, metals, and consumer durables gives us confidence of a strong capex cycle ahead.
There may be a near term speed bump to the economic recovery due to the rising covid cases and lockdowns. However, I believe we are at an inflection point with regards to the capex cycle.
The cycle has turned up.
This is why our recent Hidden Treasure recommendation was a fundamentally strong business in the capital goods space that is 'essential' to the infrastructure revival.
We will be on the lookout for more such stocks.
Watch this space...
Warm regards,



Aditya Vora
Financial Writer
Recent Articles