25th year: Unicorn, Dinosaur or Guide?
Apr 22, 2021
Editor's note: Dear reader, we are celebrating our 25th anniversary today! We thank you for supporting us. On this special day, here is a message from our founder, Ajit Dayal. Read on...
---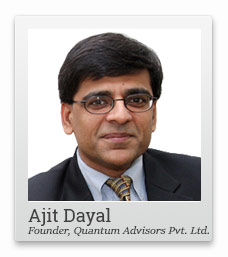 On April 22nd, 1996 we launched a website called www.QuantumIndia.com.
In 1999, we converted the name to www.equitymaster.com.
To announce the conversion of The Quantum Stock Market Yearbook from an annual printed book into a digital format on what was then India's first financial website in 1996, we placed an advertisement in The Economic Times.
With just about 10,000 internet connections in India in 1996 and "speeds" of 28 kbps, that advertisement was probably a waste of money.
The internet excited me: it was a way to reach out and educate a large pool of investors on the opportunities - and the risks - of investing in the Indian stock markets and allowing investors to profit from the decades of economic growth that India promised to deliver (and did!).
As we celebrate the 25th anniversary, there is much to reflect on. Those who helped in the early years of compiling the Quantum Stock Market Yearbook; then the creation of the website; and then the launch of India's first paid portfolio tracker and research services; and our growth since then...
Not every view or suggestion we have made is correct - but every recommendation and view is based on an independent and unbiased analysis of the investment opportunity. This earns us the reputation of being "the investor's best friend".
But times change. We now live in a world of high-speed trading, of flash-crashes, and software systems that can - undetected by regulators - potentially front-run automated order systems and skim a few paise of every transaction, leaving no trail to track but creating a pile of wealth for the unscrupulous. In such a gilded age of the unicorn and warp-speed trading engines, are we the dinosaur?
Are our views less relevant today because investors can transact on the internet in real time at less than 1% of what their transaction cost may have been in 1996?
Distribution channels and costs may change, but I know the content created by the team at Equitymaster stands on the principles on which we laid the foundations of Equitymaster. Our focus is first and foremost to be your guide.
My thanks to the faithful followers of Equitymaster. Your dedicated commitment to Equitymaster inspires Rahul Goel and his team to sharpen their pencils every day (or dust their laptops, as the case may be!). The team of senior editors led by Rahul, Tanushree, Richa and Vijay - and their colleagues - delight in the responsibility of guiding you to your destination of sensible returns.
Looking forward to the 50th!
With good wishes and prayers for all.
Ajit Dayal
Founder
Recent Articles