Election 2019 will Affect Market Trends - Here's How to Bet on Them
Apr 23, 2019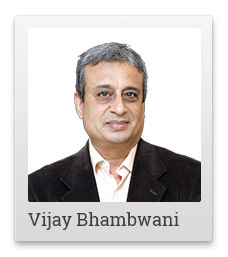 Dear Reader,
Last week, I wrote to you a series of letters on How to Trade Elections 2019.
I hope you found value in my observations.
We spoke about how elections are one of those events that impact the markets in a massive way...like a stone tossed into a pond, the ripples of election season make themselves felt across the economy and markets.
You see...elections can be very tricky for the markets.
--- Advertisement ---
The Smallcap Fortunes Summit

Join us on the evening of 16th March to learn,

• Why despite rallying over 100% since March-2020 lows... small-cap stocks are set for a massive rally over the coming months and years
• Details of our top 3 stocks to capture potentially huge gains from this upcoming small-cap rally
• And how to spot opportunities, even in the current market, with potential to generate 200%, 400%, and even 900% long-term gains

Plus there is a lot more that we are going to cover.

The summit is free to attend for Equitymaster readers.

But since there are limited seats, we would recommend you to register at the earliest.

Click here to register. It's free
------------------------------
The stock markets are a whirlpool of volatility during election season - and can move up or down sharply based on sentiment and news.
Now, this can be unsettling for newbie traders.
But if you know what you're doing...
And if you make the right trades...at the right time...and at the right price.
One could potentially take home what I call 'amplified' gains - much bigger profits than one would normally make in the market.
It's simple.
Elections amplify trends that are playing out in the markets.
And cause sharp moves in either direction.
And if you know what you're doing...
It could be extremely lucrative.
For instance, in the past 20 years the Nifty has made the majority of its gains during election season.
4/5th of the total gains made since 1998 have come during election years.
Watch Now: 3 Little-known Stocks We are Super Bullish On
According to a report by Economic Times - the Nifty has gone up some 9,000 points from the lows of 1988 to as recently as last year...
But you'll be surprised if I tell you that 80% of those gains were made during election years!
So just 4 years (out of 20) have been responsible for the majority of the gains.
There are also certain patterns that play out during elections...almost every time.
I've been studying the markets for over 30 years now - and I see these patterns play out year after year.
For instance, the PSU bank index tends to fall sharply right after elections...
Like I told you earlier - the money taps are opened. Fresh loan disbursals and loan waivers are doled out.
It comes as no surprise then, that PSU bank stocks tend to underperform in the quarter after elections.
I also told you about the print and electronic media sector - and how there's fresh inflow of ad revenue in the months leading up to elections.
I wrote about a couple of examples of segments you should be keeping your eye on - like two-wheelers, or liquor stocks.
And while these are just a few examples...
Once you understand how this works - you'll be able to spot these trends and patterns yourself...and take advantage of that knowledge.
You'll be able to see:
How elections could make the Sensex and Nifty shoot up or down...and how to use this information to profit from the volatility
How to identify the best trading opportunities, the factors that could affect trades, how to generate maximum profits and how to avoid loss making trades
The major short-term trends playing out in the markets - and how to exploit them to your advantage
The signals you should be looking out for - and the ones you should avoid
And just so we're clear, you should know - trading CAN be risky. There is a possibility of some trades ending in losses.
But the potential for profits can be immense - and to aid you in this potentially profitable journey, I have an 'Election Special' planned for you...something you'll have more details on soon.
I have also put together a guide titled 'How to Trade Elections 2019' which you will soon have access to.
Watch out for Rahul Goel's email tomorrow - he has recorded a video explaining all the details to you.
He will write to you at 5 pm tomorrow.
Until then,
Happy Trading!
Warm regards,



Vijay L Bhambwani
Editor and Research Analyst, Weekly Cash Alerts
PS: The elections are a complex and interesting time - a time where superb profits can be made. Vijay Bhambwani, our election trading analyst will make sure you stay ahead of the curve where the election's impact on the markets are concerned. Watch your inbox for the announcement tomorrow at 5PM.
Recent Articles