The One Thing We Know for Sure
Apr 23, 2021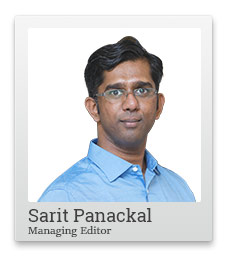 Equitymaster celebrated its 25th anniversary yesterday!
It's been a great journey ever since our founding back in 1996.
But we could never have done it without you, dear reader. Your trust is the reason for our existence.
You see, we believe 'trust' isn't some abstract concept.
To us, it's a concrete reality.
You either trust someone or you don't. If you don't trust a company, you won't do business with the people who work there. It's that simple.
If that company is in the business of providing stock recommendations, you will likely not act on those recommendations.
But if you do trust that company, you would be comfortable acting on their recommendations.
--- Advertisement ---
FREE Event on Equitymaster's New Project

On May 17, we are holding a FREE event to reveal Equitymaster's Great Indian Wealth Project.

At this event, we'll reveal the details of your first stock for a potential Rs 7 crore in long-term wealth.

Seats for this event are filling up fast.

Since there are limited seats, we urge you to register at the earliest.

Click here for free sign-up
------------------------------
And that, dear reader, is what has made this day possible.
Year after year we have tried to earn your trust. We have also tried to constantly build and maintain it.
We believe we have been successful in this endeavour. Otherwise you wouldn't think of us as a reliable and honest institution.
When Ajit Dayal founded Equitymaster in 1996, his single minded goal was to build a company which Indian investors could trust.
Here's a quote from Ajit...
I know the content created by the team at Equitymaster stands on the principles on which we laid the foundations of Equitymaster. Our focus is first and foremost to be your guide.

My thanks to the faithful followers of Equitymaster. Your dedicated commitment to Equitymaster inspires Rahul Goel and his team to sharpen their pencils every day.

The team of senior editors led by Rahul, Tanushree, Richa, and Vijay - and their colleagues - delight in the responsibility of guiding you to your destination of sensible returns.
You can read more in Ajit's 25th anniversary editorial.
Discover Now: One Stock for Potentially Life-changing Gains
So how did things turn out for us when we look back on our journey today?
Well, here's what our CEO, Rahul Goel, had to say...
I can say with some pride that today Equitymaster is trusted not only in India but in over 70 countries worldwide.

Not only do we have thousands of paying subscribers, our flagship e-letter, Profit Hunter, is read by over 400,000 astute investors.

We made a pledge to you, on the day Equitymaster was founded, to live up to your high expectations and to always remain committed to your needs.

We reaffirm that pledge today.

As long as we remain true to our motto of being an investor's best friend, I will be able to write to you with my head held high.

This comes through very well in our research process.

No editor is compelled to give a buy recommendation if he/she is not convinced about the company's fundamentals or the stock's valuations.

In other words, there's no one dictating the view on any stock.

At Equitymaster, we don't make 'person driven' recommendations but 'process driven' recommendations. If our process tells us to sell a stock in the middle of a bull market, we will do so without fail.

Ask yourself how many Dalal Street firms would do the same. They will probably tell you to hold on to it until the stock crashes.

Throughout the many changes that have happened at Equitymaster, the integrity of the research process has not changed...and never will.

It is at the core of our subscribers' interests. It is what enables long term wealth creation.
We appreciate your trust and support, dear reader.
On our 25th anniversary, we would like to thank you for sticking with us through good times and bad.
We hope you will do so in the future as well.
Equitymaster will always be a trusted friend on your wealth building journey.
It's the one thing we know for sure.
Warm regards,
Sarit Panackal
Managing Editor
Recent Articles