Smallcaps With the Capacity to Suffer and Emerge Stronger from Covid 19 Crisis
Apr 28, 2020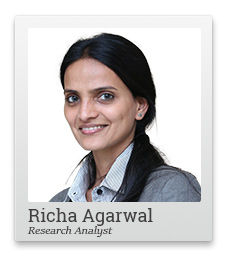 A few days ago, investors learnt new lessons in safe investing - Safety has got nothing to do with big names and institutions.
As Franklin Templeton froze six of its debt funds, it left investors in them stranded. Forget return on capital, they have been left clamoring for return of capital.
This was serious enough to create a contagion, a full-blown liquidity crisis.
For now, the Reserve Bank of India has come to the rescue, with a Rs 500 billion special liquidity facility for mutual funds.
Nonetheless, the investors' confidence is shaken.
The focus is now back on managing risks, which had got sidelined after the Great Financial Crisis of the last decade and pre-Covid era for the greed of higher returns.
I hope investors, businesses and institutions will remember these lessons once things become normal again. Not just in bond markets, but equity markets as well.
And I hope they're better prepared to deal with black swan events and the unknowns like Coronavirus crisis.
Amid a locked down economy, almost every business is likely to take a hit. No one knows the extent of the damage, or the period for which it might continue.
I shared in a recent article, even when the lock down is lifted, there are bound to be second order effects.
Amid the lockdown, the manufacturing plants have been shut, workers have migrated, and no one knows if and when they will return (and at what cost to the companies), consumption has slowed down, product launches have been delayed, banking /NBFC sectors are staring at possibility of bad debts shooting up and liquidity crunch, logistics/supply chain networks have been derailed, informal economy (and consumption driven by them) has crashed, people are staring at pay cuts, even job losses , that will eventually be reflected in demand slowdown.
Excel sheets and financial modelling becomes a useless skill in these uncertain times. So it's better to focus on capacity to suffer and survive, and on the margin of safety. Look for potential beneficiaries of this crisis.
Are there any beneficiaries of this crisis?
Well think of the opportunities coming from global companies looking beyond China for sourcing raw materials and manufacturing. Some Indian companies are already lapping up this opportunity.
--- Advertisement ---
Here's an urgent profit opportunity from us that no mainstream media is revealing...

The #1 Stock for 2021.

...An innovative stock with the industry giants chasing it for its technology to touch millions and millions of people every day.

It serves several clients across the globe, but what got me is this...

The stock is leaving all its competitors behind despite the COVID crash, and now the price has already started to move.

There's actually one more reason why this stock could take off and make its early investors rich.

It's revealed here in this note with transparency.
------------------------------
If more of the rural population (migrant workers) shifts to agriculture rather than moving back to factory floors, it could be a positive for agri and allied stocks.
Firms with higher automation will gain market share. Firms with less fixed cost, low debt levels, and high liquidity will have the sustaining power, and will bite into the market shares of their competitors.
There will be more formalisation in the economy. There will consolidation across sectors. This will benefit well run listed companies in the long term.
As I am writing this, the drug companies across the world, including in India, are in a race to find a cure. Unless the world is coming to an end, we will get over this crisis. Imagine the world three to five years from now.
The way I see it, life will be back to normal. Yet, there would be some structural changes, that will ensure only the fittest businesses emerge out of the crisis and turn stronger.
The challenging times at present will penalise weaker businesses (high debt, peripheral/informal players) a lot more than stronger and agile business. Only the fittest companies - cash rich, strong balance-sheets, high market share, and critical to clients - will survive and gain market share from others.
I hope you would not mistake size of a business or big names for this ability to withstand the crisis. As Darwin, the father of evolution suggested, it won't be the biggest who will survive but those who can best manage the change.
In fact, I believe some of the most deft change managers would be agile and well run smallcap companies.
--- Advertisement ---
Going Live on 30th September 6pm To Answer A Burning Question

Economies across the globe have collapsed.

However, despite all the weak economic data, the stock markets have rallied.

But how sustainable is this rally?

The burning question of the hour is

"Where are the Stock Markets Headed?"

And that is exactly where our upcoming live and exclusive free webinar will help you.

Join Nilesh Shetty, Associate Fund Manager, Equity Funds and I.V. Subramaniam, Director, Quantum AMC LIVE as they address your most pressing concerns...and try and fulfill your need for the next big investment opportunity.

If you are a serious investor, you cannot afford to miss this opportunity.

Register FREE for this upcoming webinar in 1-click
[Yes! I want to attend this Exclusive Webinar]

Yes, also send me your financial planning newsletter, Quantum Direct, free of charge.

Date: 30th Sept. | Time: 6pm | Venue: Your Computer
------------------------------
While the stock price crash is temporary for such strong businesses, the positives will be lasting.
For investors with a horizon of 3 to 5 years, being selective about these smallcaps, maintaining the right asset allocation, and having a staggered buying approach be a once in a decade opportunity to get rich in smallcaps.
I have recently released an update on eight such stocks. Here's why I believe they will emerge stronger from this crisis.
a) Market leadership in niche segments - All these companies are critical suppliers themselves or to the blue-chip companies in India (and in some cases for the global players) and command the maximum market shares in their respective segments.
b) Competent and ethical managements that have been running business since long and have shown prudence in running businesses amid tough times in the past.
c) Healthy financials - Debt free balance sheets with enough liquidity, strong returns, lesser fixed costs and high profit margins.
d) Some of these players have products that fall in the category of essential goods/critical services, and will be less impacted by the lockdown
Last but not the least....
The Coronavirus crash and attractive valuations offer a great opportunity to enter these smallcap stocks, with a strong margin of safety.
Attractive dividend yields, consistent dividend payout history and insider buying in some of these stocks in the month of March further gives me comfort.
Hidden Treasure subscribers can listen to my webinar on these stocks here.
If you don't have a subscription to Hidden Treasure you may sign up here.
Now I do not recommend you go all in. But it would be even worse to wait for markets to stabilise, as by then, the upside in these stocks might reduce to half of what it is now. I hope you will differentiate well between the volatility and the risks.
So keep your emergency funds aside, be very selective in stocks, buy in a staggered manner and follow the right asset allocation. Then you will be set to make the most of the biggest buying opportunity in a decade to get rich in smallcaps.
Warm regards,



Richa Agarwal
Editor, Hidden Treasure
Equitymaster Agora Research Private Limited (Research Analyst)
PS: Read about my #1 stock pick for 2020 here.
Recent Articles