Debt Funds Bailed Out. Who's Next?
Apr 29, 2020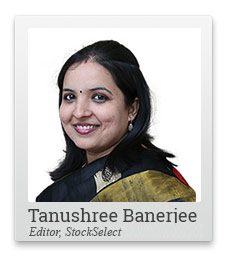 Mummy, close your eyes and open your mouth.
My first brush with 'tangible risk' was when I heard this from my cute two-year-old, covered with sand, at the beach, years ago.
But at least, I had a reasonable idea of what to expect, if I followed my daughter's instructions.
Most investors in liquid funds, did not have the faintest idea of what they were being served in the name of safe assets, until a week back.
It took a large multinational asset management company, Franklin Templeton, to come clean.
But this is not the first-time ignorant investors have become victims of rampant greed.
Rather, every few years, a new set of investors learn some old lessons.
As has been the case since UTI's Unit 64 debacle, in 2001, regulators, rating agencies and large market participants, collectively vouch for a bailout. But the smallest investors pay the heaviest price in such bailouts.
--- Advertisement ---
FREE Event on Equitymaster's New Project

On May 17, we are holding a FREE event to reveal Equitymaster's Great Indian Wealth Project.

At this event, we'll reveal the details of your first stock for a potential Rs 7 crore in long-term wealth.

Seats for this event are filling up fast.

Since there are limited seats, we urge you to register at the earliest.

Click here for free sign-up
------------------------------
Of course, debt funds will not be amongst the last to seek bailout during Covid-19 crisis.
Many more could line up.
But assuming that such bailouts could come to your rescue, each time, is fraught with risk.
Rather it is the time to identify the next wealth destroying candidates. So that you could stay away from them.
Here are the few top contenders...
Stocks with Leverage
A few sectors inherently need huge capex and are perpetually debt heavy. Servicing huge debt on their books will not be easy for companies despite the historically low interest rates. Cash flows may continue to dry up over next few quarters. So, sectors like telecom, metals, real estate, infrastructure, aviation, textile, power etc. could have plenty of bailout candidates in near future.
Stocks with High Promoter Pledging
The lenders (banks) invoked pledged shares of nearly two dozen companies during the market crash in March 2020. Investing in stocks with high promoter pledging is therefore akin to gambling.
Learn: How to Potentially Accumulate Rs 7 Crore in Wealth Over the Long-term
Stocks Racing for 'Corona Multibagger' title
A handful of tiny companies, mostly in the pharma sector, posted triple digit gains during the Covid19 crisis.
Morepen Labs and Kilpest India gained 152% and 137%, respectively, within a month. Morepen Labs has received state approval to produce wonder drug Hydroxychloroquine. Kilpest received ICMR approval for producing Covid test kits.
Both companies seemingly have huge potential. The ascent in their stock prices has been almost Corona proof. And both stocks, along with few others, are contending for the Corona Multibagger title.
The challenge is figuring out how long can such a dream run continue. And should investors pay a steep price expecting sustainable upside?
Well, in my view, investors who invest in the three kinds of stocks stated here, conscious of the risk, may continue to do so.
But I am certainly not game for shutting my eyes hoping not to be fed sand!
Warm regards,

Tanushree Banerjee
Editor, StockSelect
Equitymaster Agora Research Private Limited (Research Analyst)
PS: To know more about my top 7 stock picks in the market today, please click here.
Recent Articles