A Sure Shot Way to Predict a Multibagger Stock
May 1, 2018
Editor Note: It's a while since you have heard from my co-head of research, Tanushree Banerjee. Since she went down the road of 'safest stocks', and I diverged into 'most-profitable' stocks, we haven't had much occasion to converge.
And yet, when I see what Tanushree is up to - launching her investing society - I have to admit I believe she is one of few people who can help her readers ride the growth wave all the way to a financially secure future. Read on for one of her more brilliant ideas...
Rahul Shah (Research Analyst)
Editor, Profit Hunter
---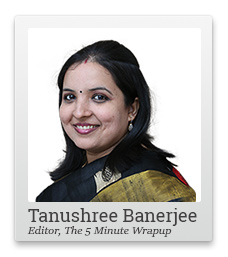 An economist once went to the movie theater.
He noticed that Coke and popcorn were priced way too high relative to their prices elsewhere. Yet they sold like hot cakes.
The poor soul was so puzzled, he spent hours researching on it. He could understand why first-class airplane seats sold for more than train coach seats.
But all his theories couldn't help him understand why coke and candy bars sell for so much at theaters.
Charlie Munger once narrated this story to his partner and world's richest investor, Warren Buffett.
In fact, this was the story that laid the foundation of the Buffett-Munger partnership.
You see, before he met Munger, Warren Buffett used to invest like his guru, Benjamin Graham. In the first few decades of his career, Buffett would mostly invest in deep discount stocks. Following the principles of Benjamin Graham, Buffett rarely looked for things like management quality and pricing power of the businesses.
Years later, Munger put across his rule of buying great businesses with these words...
There are actually businesses, that you will find a few times in a lifetime, where any manager could raise the return enormously just by raising prices-and yet they haven't done it. So, they have huge untapped pricing power that they're not using. That is the ultimate no-brainer.
Buffett listened to Munger.
And together they identified many examples of pricing power.
--- Advertisement ---


Welcome to Your Future…

Imagine paying off all your loans…

Never having to worry about how to pay for your children's education…

Buying your dream car …

Making enough money to last you a lifetime and leave some behind for your children!

And most importantly, having the financial security that everyone dreams of.

Today, you have the chance to turn these dreams into reality…

How?

With the ultra-exclusive, Bombay Investing Society…

Click here for full details…
------------------------------
They bought Disney, Coca Cola, See's Candy, Washington Post, and Gillette for this single reason.
Decades later, Buffett bought Lubrizol in 2010. Lubrizol had raised prices 18 times between 2004 and 2010, without hurting its market share.
The single most important decision in evaluating a business is pricing power. If you've got the power to raise prices without losing business to a competitor, you've got a very good business. And if you have to have a prayer session before raising the price by 10 percent, then you've got a terrible business.

- Warren Buffett, 2011 (Financial Crisis Inquiry Commission)
Here's an Indian example...
IIM Ahmedabad is the most premier management institute of India. You may have read the news recently about its fee hike.
I wasn't surprised to learn that it has raised tuition fees every year for past sixteen years.
And that too, at an average compounding rate of 18%.
Of the 4,000 odd management institutes in the country, hardly any have the kind of pricing power of IIM Ahmedabad.
In fact, if IIM Ahmedabad would have been a listed private company, its stock would have gone up 14 times in past sixteen years.
Simply by virtue of its pricing power!
If IIM Ahmedabad Was a Listed Stock...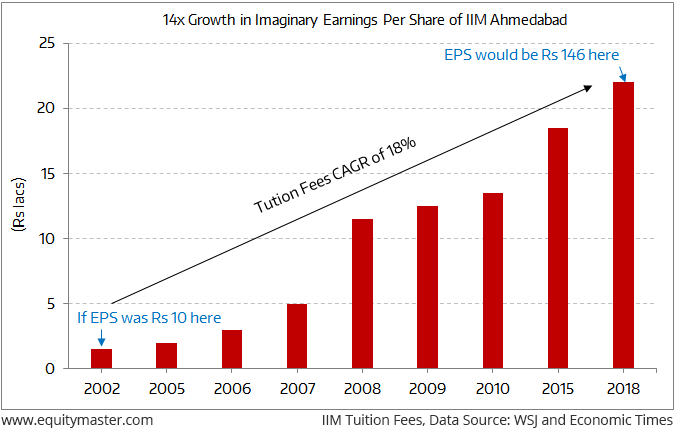 Now, do keep in mind that the opposite also holds true.
Just as pricing power helps businesses create shareholder wealth, the lack of it can destroy wealth.
How?
Just look at the top telecom companies in India.
They had healthy financials about a decade back. But intense competition and lack of pricing power brought them to their knees. Shareholder wealth is a now a thing of the past for the sector.
So, never assume that a business which grew 10 times in the past will repeat that feat.
Check its pricing power.
Some of my oldest StockSelect recommendations like Asian Paints and Titan, pass this test even today.
Warm regards,


Tanushree Banerjee (Research Analyst)
Editor, The 5 Minute WrapUp
PS: Have you heard about the exclusive Bombay Investing Society? It's a society that has given its members stock recommendations with a success rate of more than 70%. This exclusive society is now accepting new members. You too can join! Just click here...
Recent Articles