There's Much to Look Forward to from Your Cryptos
May 2, 2018
Editor's Note: Cryptos seem to be down and out. The recent correction seems to have taken the wind off the crypto market's sails. Is this the end of the crypto boom? What's next for bitcoin and other cryptocurrencies? As usual, I defer to Prasheel's expertise when it comes to this new asset class. Read on for his insight -
Rahul Shah (Research Analyst)
Editor, Profit Hunter
---
Summer's here.
Well, at least in India and the rest of the northern hemisphere.
In the crypto world however, winter still looms.
The 'crypto winter' which began in January this year, continues to rage on.
After reaching unsurmountable heights in December last year, crypto markets have been in a thaw since the beginning of 2018.
It's summer, but the crypto winter rages on
Bitcoin is down nearly 60% from its peak in December 2017.
Negative price action, along with all the doom and gloom headlines would have you believe the time for cryptos is over...
...Well, far from it!
Let's try to understand the current situation in cold and wintry cryptoland.
--- Advertisement ---


The Bombay Investing Society…

For over 16 years, members of the exclusive Bombay Investing Society have had access to solid safe stock recommendations…

Recommendations that generated double, even triple digit returns!

And the best part is…

This exclusive society is currently accepting new members.

Click here to find out how to join this exclusive society…
------------------------------
It is indeed a big correction. The total crypto market capitalization is down from US$ 825 million at its peak in December 2017, to US$ 250 million at its lowest, in the beginning of April 2018.
However, this drawdown has been primarily at the expense of the altcoins, reflected in the fact that bitcoin's market dominance (i.e. its overall percentage share of the total crypto market value) has increased to above 45%. Up significantly from 30% levels in January, when altcoins simply shot up.
Bitcoin Regaining Dominance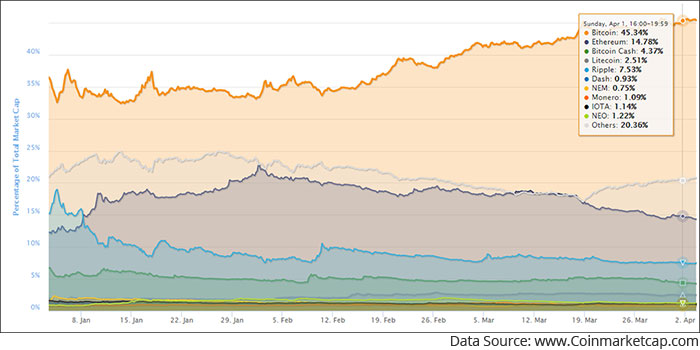 How you take the correction depends on how long you've spent in the crypto market.
If you've been on the crypto journey for long, you'd know that bitcoin has seen, 60, 70, 80% drawdowns in the past, and has only come out stronger. My crypto guru, Tama Churchouse - who has witnessed a lot more crypto winters than I have - holds a 'this too shall pass' mindset.
However, at the other end of the spectrum, if you've only been a participant in the crypto market since early January, then I'm afraid that all you know is pain, misery and loss.
Folks who came in at this time came in right at the peak and have simply seen nothing but 50 to 60% drawdowns in a matter of months.
It would be easy to give in to the fear and simply throw in the towel. But that would be a mistake.
Understand that the crypto market is like no other when it comes to volatility. But that is not necessarily bad news...
The rally in late 2017 was simply unsustainable, and was not going to last for long.
Now is a good time to understand that while crypto markets are going to be bumpy for a while now, the only thing that's changing in a magnified way right now is the market's psychology, not the technology.
What I am trying to tell you is that the technology and the fundamentals behind bitcoin and cryptos are still the same, it's just the psychology of the market's that changing.
Tama Churchouse shared a very simple way to look at the crypto markets right now:
The premise of bitcoin and other cryptos - the ways in which they will take over traditional existing businesses and create new ones, including currencies - and the price which the market ascribes at any given point in time accordingly are two very different things.

Great technological potential leads to hype, hype to mania, mania to correction, correction to despair... and despair to recovery...

But note that while the price volatility around that cycle is enormous, the potential hasn't changed, it's only strengthened. The fundamentals are still intact. And that's where we are in crypto today.
The correction is a reminder that crypto is a market that's wholly immature. And immature markets seldom act rationally.
That's why even if you're a seasoned crypto veteran, crypto should only constitute a low single-digit percentage of an investible asset base (starting with no more than 1% for total beginners). And I've stressed that volatility works both ways.
This correction will thin out the herd which can only be a good thing for the overall health and maturity of any market.
So, it is an opportunity to explore new opportunities, understand as much as you can about new projects.
Don't give in to the pessimism.
And on that topic, remember that the best time to buy in any market is usually at the point of maximum pessimism.
Now, I don't try and pick the top or bottom, rather I try and navigate the direction we're headed in. I don't know if we've reached the bottom just yet, but what I do know is that interest in crypto hasn't waned at all in the past couple of months, quite the opposite.
On the technological front, bitcoin Segwit adoption (which is a technological upgrade translating to faster processing and lower transaction fees) increased across the board, prompting major crypto exchanges around the world to slash withdrawal fees by over 50%.
The Segwit adoption has also brought down the previously high transfer fees down to just fractions of the values seen just weeks ago.
On the regulatory side of things, the G20 decided to come up with a unified regulation on bitcoin and cryptos, across all G20 members and has set a July 2018 deadline.
This is a major step for the crypto and blockchain space, as measured consensus from the world's largest crypto markets - allowing the innovation while keeping scamsters and illegal activities at bay - would go a long way in helping the space mature and gain mainstream adoption.
While India seems to have taken a backward view, all hope is not lost.
So, while it feels like the crypto winter is never ending, there are exciting times in store in the months to come. Keep reading my letters - and you will never miss a trick in the crypto corner.
Warm regards,


Prasheel Vartak, CBP (Certified Bitcoin Professional)
Editor, Crypto Confidential
PS: Prasheel has just released his latest newsletter for his Crypto Confidential subscribers today - and it is one that could change your view of that market entirely. If you want to venture into this cryptic world, make sure you know what he says before you get in. Subscribe here to follow Prasheel's confidential crypto commentaries.
Recent Articles