India's Third Giant Leap
This Leap Could Potentially Generate Gains
Far Bigger than Anything We Have Seen in Our Lifetimes
Are You Prepared for the Perfect Storm Coming Our Way?
May 2, 2022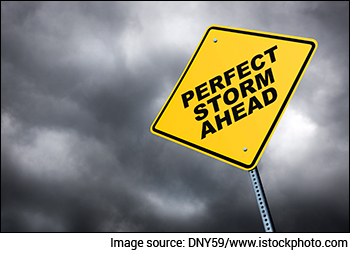 Back in my MBA days, I used to look forward to reading Swaminathan Aiyar's columns every week in the Times of India.
He had a knack of explaining a complex subject like economics in a way the common man can understand. This explains why I got a little nostalgic when I heard him in a recent interview on ET Now.
Mr Aiyar seemed a little disturbed with the turn of events, both globally as well as in India. In fact, he even went to the extent of warning there's a perfect storm headed our way.
And if we are not careful, we will have to pay a heavy price.
Here are his exact words...
These are very tough times. It is not within the power of the central or state governments to solve this. This is a typhoon coming globally from outside.

Secondly, it is not just oil. In the United States for instance, they have a record inflation of 8.5% but even if you strip out food and fuel, the other inflation is 6.5% against the norm of 2%.
Aiyar then goes on to argue that high inflation is going to be with us for quite some time even if Covid does not reappear or even if the Ukraine war comes to a reasonable end.
Well, Aiyar does have a point. As a matter of fact, a lot of experts across the globe share a similar view.
They don't agree the current high inflation is transitory. They believe it's going to be with us for a fair amount of time.
The Indian stock market however is showing no signs of being worried about the coming inflation tsunami.
The Sensex is down only about 4% so far this year. This is very low given how the stock market moves up and down in anticipation of a big macro development.
So if there is really a big inflation storm brewing, the index should have been down much more.
This also contrasts sharply with the US benchmark index, the Dow Jones. It has already erased 7% of its gains in the year so far. The tech laden NASDAQ has done even worse, down almost 20% since the start of the year.
To be sure though, the next few quarters don't look that good at all as far as the Indian stocks are concerned. There's every chance the markets may fall further if the situation doesn't improve.
But why do the next few quarters look challenging for India Inc?
Well, this is because big earnings downgrades await some of the largest Indian companies after the heady growth seen in FY21 and FY22.
The initial batch of corporate results haven't been quite encouraging to be honest and whole lot of downward earnings revision could be on the anvil.
If an article in Fortune India is to be believed, analysts now expect Nifty EPS for FY23 to be around 15% lower than the current forecast of Rs 873. This in turn may translate into a flat or single-digit growth for Nifty companies' overall growth in FY23.
Mind you, the markets are not attractively valued anymore whichever way you look at it. If not significantly overvalued, they are certainly slightly overvalued.
Therefore, any earnings downgrade is likely to lead to a sizeable correction in the near term. We already saw what happened to Infosys when it missed street's estimates.
A similar fate can befall other large companies too. Most companies have enjoyed massive tailwinds of lower interest rates as well as lower energy and material costs over the last couple of years.
However, now with the same factors turning into headwinds, growing the topline as well as bottomline at a decent rate is not going to be easy.
Therefore, with both stock prices as well as earnings growth at a risk of heading south, a significant correction is possible.
Isn't this a Catch-22 situation?
If high inflation is coming, then stocks should be your best bet to protect yourself against its ill-effects. But the stock market itself is finding it hard to sustain the momentum it's in real danger of a significant correction.
So what is an investor to do?
To be honest, there is no, single solution to this problem.
But what I've realised over the years is that an investor's choices in such situations are driven mostly by his dependence on his capital for managing his day-to-day expenses.
If he depends to a large degree on his capital for managing his expenses then he should have a mix of both stocks as well as bonds in his portfolio.
Every time the stock portion goes up significantly, he should sell some and put the money in bonds. Likewise, if the stock market falls a great deal, he should take money out of bonds and put it into stocks.
This rule will allow him to take more exposure to stocks when the stock market is down and reduce exposure after the stock market has gone up.
I can't emphasise enough how this simple rule allows an investor to do the right thing from a long-term perspective. Also, most people end up doing exactly the opposite in the stock market right now.
You see, bonds are not the best defence against inflation. Hence, you needs to have stocks in your portfolio.
But even stocks cannot protect you against inflation if you buy them when the market is trading at expensive valuations. So you need bonds to park your gains from stocks and you need stocks to beat inflation over the long term.
So far so good.
But what if you don't depend on your capital for managing your day-to-day expenses. What if you are still years away from retirement. Well, in that case, a systematic investment plan or an SIP, mostly in stocks, is your best bet.
As you are not dependent on your capital, you don't have to tap into your investments and sell them at an inopportune time. You can let it be and allow the magic of compounding to do its work.
To conclude, a perfect storm in the form of inflation and a stock market crash may or may not be headed our way.
We will be happy if these events don't occur. But even if they do, the action plan we just discussed can come in handy. It's simple but highly effective.
Warm regards,



Rahul Shah
Editor and Research Analyst, Profit Hunter
Recent Articles