Ride to Sensex 100,000 with These Stocks
May 3, 2018
Editor's Note: Thousands of Indians around the country are joining Tanushree's Bombay Investing Society? But, why? What makes Tanushree's ideas so brilliant?. This piece she wrote recently makes it abundantly clear - if there is a 'safe investing' guru I could recommend - it would doubtless be her! - Rahul Shah
---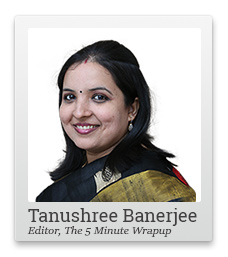 At the recent Equitymaster Conference, I talked about blue-chip stocks being the arch of a strong stock portfolio.
If you are an investor looking for big returns, blue-chip stocks probably don't appeal to you.
In fact, if I were to ask you to list the drawbacks of blue-chip stocks, these are some that might come to your mind.
Low returns
Low probability of being a multi-bagger
Slow capital appreciation
Not so great dividend yield (due to of higher stock prices)
You wouldn't be wrong.
Yet, these are not convincing reasons to shun blue chips altogether.
On the contrary, let's go back to the basics.
Here are the very compelling reasons to have safe blue chips in your portfolio.
--- Advertisement ---


Join The 'Bombay Investing Society' Today…

The Bombay Investing Society has guided over 7,000 of its members from around India towards a financially sound future for over 16 years now…

And today, you have the chance to join these 7,000 members…

Click here to do so right away…
------------------------------
Strong Brands
The world's best investor, Warren Buffett, is a big fan of companies with strong brands...and with good reason. For him, these companies have unbreachable moats thanks to their brands.
Strong brands give these companies pricing power even in a competitive environment. The ability to raise prices of their products and services, gives them an edge over their competition. Such companies typically enjoy high returns on capital.
High Quality Management
I recently talked about the importance of gauging management quality before investing in any company.
I outlined a few pointers that you should consider while evaluating the key people running the business.
Here's what I said:
For me, management integrity is crucial.

If I am not convinced about the management, then the stock is just not safe enough.
Resilience to Economic Downturns
Over a ten-year period, most businesses will go through ups and downs. So will the economy.
We will see at least a couple of years of slow growth every decade in the Indian economy.
The real mettle of companies is tested when times are bad.
The good companies think long-term as far as their growth strategy is concerned. They will invest in their core business even during a downturn.
They keep the big picture in mind. Short-term ups and downs in the economy do not deter them.
Low Debt
This is what Buffett said about debt in his latest letter to shareholders.
Our aversion to leverage has dampened our returns over the years. But Charlie and I sleep well. Both of us believe it is insane to risk what you have and need in order to obtain what you don't need.
Recently, I wrote to you about this.
Given my mantra of investing in safe stocks, I'm averse to recommending companies that are highly indebted.
I whole heartedly endorse safe blue-chip stocks.
But please understand the key word here is not blue chip but 'safe'.
Some people think all large, well-established companies are safe blue chips.
That is not true!
Why?
For one, they can be beset by scandals (think erstwhile Satyam and the recent scam ridden Punjab National Bank).
It could also be due to other reasons like the nature of their industry, bad allocation of capital, changes in government regulations, and so on.
This is why I've listed above the criteria for blue chips to be considered safe.
Read them again if you need to. I consider them crucial.
Is it a Good Time to be in Safe Blue Chips?
As I have been saying, I believe the Sensex will rise to 100,000.
But, before that happens, I believe that in the short-term, the Sensex could fall by 30% from its recent high. This much-needed correction will set the stage for the journey to the magical six-figures.
During times like these, the best thing you can do is to identify stocks that can ride out the storm.
These are the ones I call safe blue chips.
Warm regards,


Tanushree Banerjee (Research Analyst)
Editor, The 5 Minute WrapUp
PS: You don't need to take unnecessary risks to make solid double or triple digit gains in the stock market. Join Tanushree's Bombay Investing Society - and get a free year of her proven, safe wealth-building recommendations. Click here for membership.
Recent Articles