The Secret Shared by Netflix, Infosys, and HDFC to Avoid Wealth Destruction
May 3, 2022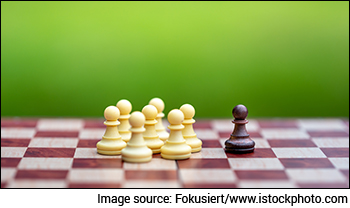 'Never ask the barber whether you need a haircut'.
That's what Warren Buffett told the audience at Berkshire Hathaway's 1994 AGM.
These words of wisdom have never been more relevant to investors than right now.
Let me modify the above statement from Buffett to suit the current context in the Indian stock market...
'Never ask a broker or a fund manager if you should sell and stay in cash'.
The scene from the famous stock market movie Wolf of Wall street starring Leonardo DiCaprio comes to my mind.
On his first day as a dealer Leonardo DiCaprio is taken for lunch by his boss. His boss emphasises an important point.
As a broker his job is always to make sure the client is invested. When a client makes a profit on his trade and wants to encash his money, he should always pitch him another stock.
The greed for more profits will ensure the client keeps investing. This means every time he trades the broker gets brokerage.
He ends on a funny note by saying everything in the market is 'Fugazi' or all in the air. Nobody knows what is going to happen.
--- Advertisement ---
Last Day to Access 'One Stock Crorepati' Opportunity

As you know, recently we went LIVE with our One Stock Crorepati MEGA Summit...

Around 10,000 readers like you had registered to attend this summit.

At the summit, they learned Richa Agarwal's secret blueprint of identifying potential 'crorepati' stocks.

Plus, they also discovered the details of one stock with crorepati potential...

If you missed this summit for some reason, then you can still get all the details by watching this special replay of the summit.

Watch Now (Available till 11:59pm Tonight)
------------------------------
This is the exact narrative which is playing out in our market. Brokers and dealers are recommending stocks to buy.
In fact, to judge the bias of brokerages (both domestic and foreign), let us look at 2 stocks - Infosys and HDFC Bank.
Infosys reported poor fourth quarter results in early April. The stock had a knee jerk reaction and was down 6-8% the next day.
I was going through some brokerage reports that day.
Most analysts agreed the results were way below expectations and attrition was at the company's highest level.
But the cut in the price target for Infosys averaged 3-5%. Yes, barely 3-5% on such poor results and such high valuations.
Of the 47 analysts tracking Infosys, 43 have a buy rating, 3 have a hold rating, and only 1 analyst has a sell rating. Only 1 sell rating.
And Infosys is not cheap by any means. It's still trading at historical P/E ratio of 29 times while its 3-year average P/E is 21x while its 5-year average PE is 16x.
The days where IT stocks were available at 16-18 times PE multiple may be gone...but 30 times?
How do analysts justify that?
What is the point of downgrading the IT sector when the damage has already been done half way?
--- Advertisement ---
"$2.5 Trillion Crypto Market Boom..."

A booming $2.5 trillion market...

Set to multiply by 100 times over the next decade...

With legendary investors like Warren Buffet, Elon Musk, and Peter Thiel pouring in billions of dollars all over...

Really Want to Miss It?
------------------------------
Mid cap IT stocks are down by 20-30% and continue to bleed.
Let's also look at HDFC and HDFC Bank.
After the merger announcement, most brokerages upgraded their target prices by 15-20% the very next day. In fact, the highest target price upgrade was 25%.
I honestly don't understand how an event which will take at least 18 months to consummate and could put some pressure in the short-term, re-rate the stock price by 20%?
My point is not that those analysts are wrong. We at Equitymaster too have gone wrong sometimes.
My point is the herd mentality and lack of independent thought.
Netflix reported horrendous set of numbers last week. The stock crashed 39% intraday. And Netflix was not an expensive stock.
Most analysts had a buy rating with a target price between US$ 600-700. After the results, the target price was cut by half by almost every analyst.
Why should investors listen to analysts if they are reactive and not proactive? After the bad news is out, and the stock price is down by 40%, what is the point of downgrading the stock?
To end this piece let me give you an example of a first-generation entrepreneur who I admire. Nithin Kamath, the founder and CEO of Zerodha.
He is part the broking industry, whose bread and butter is higher trading activity by clients.
Zerodha reported a 50% jump in profit in FY22. But the humility and conservative mind set of this man has is amazing.
Join Our YouTube Channel: Get Close to Our Editors and Stay Ahead of the Curve
While commenting on the FY22 performance he humbly attributed his company's performance to the ongoing liquidity driven bull market.
The most important point he made was this..
'In almost every bull market, it looks like the broking industry can grow forever, but it cannot. There are significant risks.
If the markets take a turn for the worse, the user growth drops, leading to a reduction in active traders & hence revenue.
And brokerage firms can do nothing; it is like being a sitting duck'.
The markets have recently taken a turn for the worse. Thus, it's important not to get carried away. Don't blindly follow the long-term bullish narratives floating around you.
The long-term story of India is very appealing but it's wrong to generalise. Also, always keep the valuations in mind. The picture isn't as rosy as it looks.
What do you think about the market, dear reader? You can write to me your views here.
Warm regards,



Aditya Vora
Research Analyst, Hidden Treasure
Recent Articles