Of a World of New Normals and a Smallcap Tech Firm Adapting to It
May 5, 2020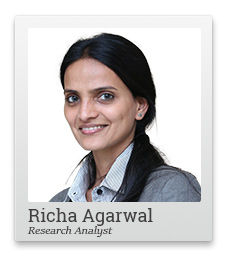 The last one month offered a lot of 'first times' in history.
The world, still reeling under the Coronavirus crisis, was caught clueless with some unexpected developments, on both the global and domestic fronts.
Oil prices quoted in the negative...suggesting oversupply and lack of storage facilities. The implications of it for traders, oil producers and even clean energy are far reaching.
China is flirting with the use of a digital currency, getting more aggressive about it, and challenging the hegemony of the US dollar. This is only bound to escalate tensions between China and the US, and it will have consequences for both global economies and stock markets.
At home, Franklin Templeton announced freezing its six debt schemes, dealing a blow to the concept of safety...reminding us that 'Caveat Emptor' applies to every single investment.
But not everything was so grim.
For the first time in history, Berkshire Hathaway Annual Shareholders Meeting was conducted online, where Mr Buffett shared his candid views on the company and everything else happening around.
From a stand in February that he won't be selling anything during the decline in the markets, he explained his decision to sell the entire stakes in the airline companies he owned because the world has changed.
And that's the mark of a genius investor. When things that have worked in the past stop working, it's time to adapt fast.
And this applies to Indian companies too.
--- Advertisement ---
Last Day to Grab the Biggest Opportunity of This Decade...

This is your last chance...

You had registered for Richa's emergency summit, Rebound Riches, but you missed it for some reason.

At the summit we revealed how the carnage on the stock markets has created a once-in-a-decade opportunity... a rare chance to grab high-potential stocks at very attractive prices.

The details of 3 such high-potential stocks are outlined in Richa's special report, 'Rebound Riches: 3 Stocks Set to Become India's Next Mega Stocks.'

If you act before 11:59pm tonight, then you can grab it for virtually FREE.

Because once the clock strikes 11:59pm, you might miss out on the biggest money-making opportunity of this decade.

Click here to grab the biggest opportunity of this decade...
------------------------------
Investing isn't just about valuations and moats anymore.
The ability to adapt and evolve quickly to the fast-changing world is crucial.
While many firms may stop existing by the time we are free from Corona, a few are adapting fast to it, and will potentially come out much stronger.
A tech company in the smallcap space is doing quite well on this front.
A critical supplier to blue chip companies of the world, this firm caters to diverse sectors, including telecom, digital and medical equipment.
Now these are the sectors not just most insulated, but also likely to do well in a Corona and post Corona economy. In fact, this company is at the forefront of fighting Corona, supporting the manufacturing of diagnostic kits that can deliver results in less than an hour for Covid 19.
--- Advertisement ---
3 Tech Stocks to Boost Your Wealth

Technology. That's where the growth is.

That's why we believe, it's time to load up on 3 specific tech stocks.

We've spent years to vet these stocks.

And our research says... these 3 cutting edge tech stocks could potentially create a wave of Indian millionaires.

Click here for the full details...
------------------------------
As uncertainty has only compounded with the extension of the lockdown, excel modelling seems to make little sense in these times when managements of companies, big and small, are themselves not sure what the next few months, and even years hold in store
While it is difficult to make sense of what's happening around us, there is only one thing one can be sure of and must focus on - Staying power of a business and margin of safety.
With healthy returns on capital, dividend yield of over 5%, an almost debt free business model, and net cash in the balance sheet accounting for over 25% of the current market cap, this smallcap tech company delivers on both fronts.
The insider buying in the month of March, at average levels higher than the current price, further offers comfort.
Hidden Treasure subscribers can access the original recommendation here.
I'm tracking this space for more opportunities in smallcap companies that have capacity to suffer and emerge stronger from Covid 19 crisis.
Warm regards,



Richa Agarwal
Editor, Hidden Treasure
Equitymaster Agora Research Private Limited (Research Analyst)
PS: A little known technology company has the potential to be a big winner in this crisis and create a lot of wealth for investors. Read the details here...
Recent Articles