The Next Sector to Outperform is Probably Not the One You're Bullish on Now
May 8, 2020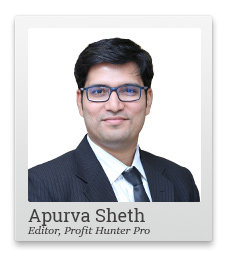 Covid-19 crisis has taken a toll on several businesses and economies across the world. The Indian stock market too has paid the price for it.
You might paint everything with the same brush if you don't have an eye for detail. All companies aren't suffering from the crisis. Some are doing well.
You can watch my video on the companies which are least affected, or even benefitting from, Coronavirus here.
On the other hand, there are some companies and sectors which are doing worse than others. Take banks for example.
The benchmark NSE Nifty is down about 24% this year. But the Bank Nifty, which tracks some of India's biggest listed banks, is down about 39%.
2020 Performance of Bank Nifty and NSE Nifty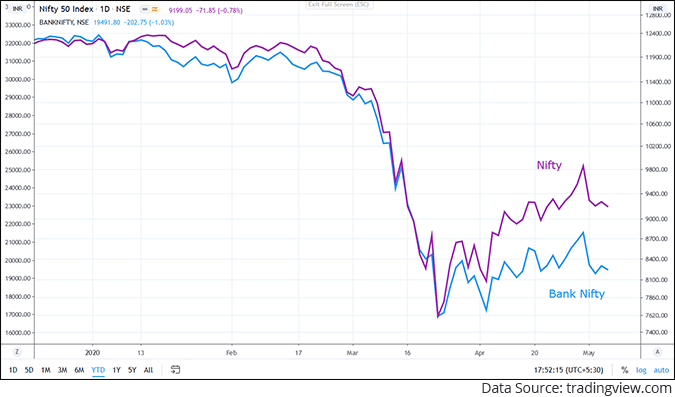 Nifty and Bank Nifty were moving in tandem until markets bottomed out on 23 March. The Bank Nifty has underperformed Nifty since then and continues to lag.
On 28 April, RBI Governor Shaktikanta Das reduced reverse repo rates to 3.75% from 4%. This was just one among several measures to pump liquidity in to the financial system.
Now it remains to be seen whether these liquidity measures help support economic growth. But it hasn't helped to lift sentiments in banking stocks which are still struggling because of the lockdown.
--- Advertisement ---
FREE Event on Equitymaster's New Project

On May 17, we are holding a FREE event to reveal Equitymaster's Great Indian Wealth Project.

At this event, we'll reveal the details of your first stock for a potential Rs 7 crore in long-term wealth.

Seats for this event are filling up fast.

Since there are limited seats, we urge you to register at the earliest.

Click here for free sign-up
------------------------------
However, I believe all this could change soon. Have a look at this chart now...
Ratio Chart of Bank Nifty to Nifty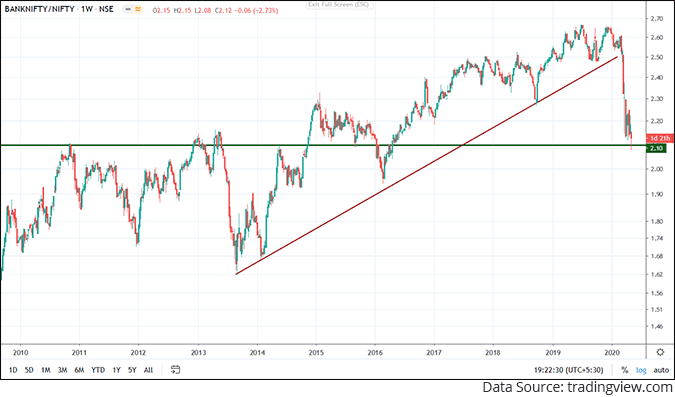 This is a ratio chart of Bank Nifty to Nifty. Here I have divided the closing prices of Bank Nifty by the closing prices of the Nifty. It shows how Bank Nifty is performing relative to Nifty.
A rising ratio line means Bank Nifty is outperforming Nifty. A falling ratio line means it is underperforming.
It is important to remember that a rising ratio line does not necessarily mean that Bank Nifty is rising and Nifty is falling. It simply means, Bank Nifty is outperforming Nifty. This could also mean that both are falling but Bank Nifty is falling less than Nifty.
Learn: How to Potentially Accumulate Rs 7 Crore in Wealth Over the Long-term
You will notice in the above chart, Bank Nifty was outperforming Nifty since 2013. It held up above the rising red trendline for almost seven years.
Bank Nifty breached this trendline and dropped like a rock in February 2020. Its underperforming Nifty by a wide margin over the last few days.
However, the ratio chart of Bank Nifty to Nifty is reaching long term support levels now. The horizontal green line in the chart above acted as resistance in 2011, 2013, and 2014.
Old resistances often act as supports. The probability of Bank Nifty outperforming Nifty is high. Smart traders can make the best use of such opportunities with pair trades.
You can read how one could have generated gains of Rs 59,250 with pair trading in 10 days here.
Warm regards,

Apurva Sheth
Senior Research Analyst, Fast Profits Report
Equitymaster Agora Research Private Limited (Research Analyst)
PS: Find out about the most exciting tech stock of 2020 here.
Recent Articles