A Simple Checklist for Picking Great Dividend Stocks
May 9, 2019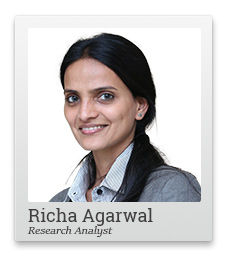 On Monday, I told you about how dividend stocks can boost your returns better than you can ever imagine.
So, should you go out and buy the next high dividend stock you see?
To answer this question, let's look at dividend stocks a little more closely...
Investing in stocks that pay healthy dividends may be a great idea.
But all high dividend paying stocks are certainly not made equal, and not all are the proverbial golden-egg laying goose.
There are some important points to keep in mind while selecting stocks for their rich dividends...
A good place to start would be to study how the company earns its revenues. Are its revenues stable or are they highly cyclical? For this, it is necessary to understand whether the business of the company is stable or volatile, cyclical, based on too much debt, etc.
--- Advertisement ---


This MEGA Summit Contains the Sensex 100,000 Secret

Senior Analyst and our Co-head of Research Tanushree Banerjee has just released a special guide.

In this report…She has identified an irreversible trend that could push Sensex above 100,000.

And in that process, could allow early investors to potentially make life-changing gains.

That's why we have published our special guide. You can download it here for free.

And if you really want to benefit massively from this guide…then join us for the Rebirth of India MEGA Summit at 5pm on 16th May. It's also FREE.

But we must warn you…

We expect more than 10,000 Indians to join us for this summit and we have a limited capacity.

So if you don't want to miss out then…



Download Your FREE Guide Now – In Just 1-Click!!
(Plus automatically get a free seat in Rebirth of India MEGA SUMMIT)


------------------------------
Look for the stable business. Because if the company's own income is dicey, then its dividend stream will eventually follow suit.
The second question to ask yourself is how does the company manage to keep its cash flows stable and growing? In other words, what competitive advantage does the company enjoy that it will not only be able to keep its cash flows stable but also be able to grow them?
The competitive advantage helps the company build a safety moat around itself. This moat would protect the business from competition. And if the company is able to use its competitive advantage to widen the moat over time, then it is the perfect business to be in.
Another question is whether the company is able to grow its earnings or not. If it has stable cash flows and is able to grow them, then it should ideally follow that earnings are growing too.
But if the company is growing its earnings and not its cash flows, then it could be possible that it is manipulating its earnings. This could be risky. If cash flows don't grow, then it will be hard for the company to pay out a growing dividends stream.
The final question is the risks associated with the company itself. For this you need to question things like competition, management honesty, vulnerability to technological disruption, management's capital allocation skills, etc.
And of course, all said and done, a high dividend yield doesn't necessarily mean a good stock price.
You need to see whether the company is available at a cheap valuation compared to its fundamentals or not. For if you pay too high a price for a good dividend stock, then in the long term your returns would be miniscule, if not negative.
--- Advertisement ---


Now Revealed: Our Complete 11 Year Track Record

Recently, our small cap stock recommendation service – Hidden Treasure – completed 11 years of recommending solid high-potential small caps…

And it has definitely been an extremely exciting journey!

Right from recommending stocks that went on to become 10-Baggers…To stocks that did not live up to our expectations…

Each and every report we published, taught us something more about this almost Hidden segment of the stock market. And today, we've decided to reveal it all!

So, don't delay…

Click Here To Read The FULL Small Cap Success Story…

And Find Out How You Could Potentially Profit From Our Experience.
------------------------------
Only when you buy a good stock at cheap valuations will you able to maximize your long term wealth from yearly dividend flows to your bank account.
Investors would do well to use this checklist next time they want to buy stocks purely for dividends.
Once again, in a nutshell, to find good, high-dividend paying stocks - ask these questions:
How does the company earn its revenues?
How does the company keep its cash flows stable and growing?
Is the company able to grow its earnings or not?
What are the risks associated with the company itself?
Sounds like too much work?
What if you could get a filtered, neatly compiled, ready list of dividend stocks with all this dirty work already done for you?
Fortunately, right now as we speak, the stock market has quite a few potential wealth compounders with lucrative dividend yields. And these could create some great cash flow streams for you from their growing dividends over the long term.
If you'd like in on the action, check out my latest report released yesterday - Steady Income Small Caps - to get your hands on precisely such stocks.
Warm regards,



Richa Agarwal
Editor and Research Analyst, Hidden Treasure
PS: To build a cache of cash, take a look at Richa's newest report just released, Steady Income Small Caps. Click here to get access and catch hold of the dividend-paying opportunities now.
Recent Articles