Revealed


India's Top 3 Smallcap Stocks
Is the Cure for Inflation Worse than the Disease?
May 11, 2022
Editor's note: Today, at 5 pm, India's top research analyst, Tanushree Banerjee, will be live online at the EV Gold Rush Summit. She will show you a little-known way to play the massive 15X EV opportunity in Indian stocks. Register for free here.
---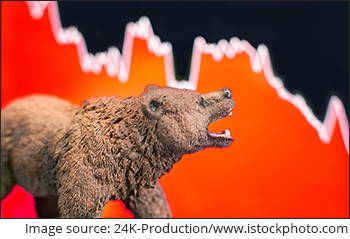 'Sell in May and Go Away'.
The relentless selling in the stock market reminds me of this stock market saying.
FIIs seem to believe this. They have sold stocks worth Rs 3 trillion in the last financial year...and they are still selling.
Just to gauge the intensity of the selling, during the 2008 crash, an equal amount selling by FIIs resulted in a stock market crash of more than 60%.
However, this time the markets are barely down 15% from the top.
Well, this time the retail public directly, and indirectly via SIPs, have done the heavy lifting.
Retail investors have pumped in Rs 110 bn in SIPs every month, along with direct invests too. This is no small feat.
--- Advertisement ---
Revealing On Wednesday at 5 PM

Details of Top 3 Potential 'Crorepati' Stocks for 2023

Use this link to join the India's Top 3 Smallcap Stocks MEGA summit on Wednesday at 5 PM.

Richa will be revealing the details of 3 companies with the makings of a 'Crorepati Stock' that are potentially set to soar high in the coming years.

If you haven't registered for the summit, please use the link below to save your spot right away.

FREE Sign Up Here
------------------------------
Now, the problem is this support by retailers cannot be extrapolated in the future.
Let me tell you why.
In the later part of 2020 and all of 2021, peoples income levels increased disproportionately after a big initial fall.
There was also an added tailwind in the form of low interest rates which created for a boom in consumption. Low interest rates mean lower EMI on loans for automobiles, housing, and even business.
So, a combination of lower interest rates and sharp increase in incomes over the past 2 years boosted the economy.
While this was the case in India (we were much more rational than others), the most western economies were pumped up on financial steroids.
I mean if you get free money credited to your account why would you go back to work for a long time?
In the United States, this helicopter money led to a sharp increase in wages. After all, wages had to be much higher than the lumpsum cash received by the average Joe.
All this, as we know, has led to inflation.
Now central banks and the markets gave each other an alibi of supply constraints.
A major part of inflation was due to a 3x increase in freight rates along with massive 'temporary' increase in commodity prices. So they said, 'Inflation is Transitionary'.
They later realised inflation was here to stay.
Finally, the Russia-Ukraine war was the trigger for central banks to realise they have been behind the curve.
As a result, sucking out the liquidity and raising interest rates is the #1 priority for central banks across the world right now.
So let's understand the pulse of the market.
'At what level will the market bottom out?' This is probably the most widely asked question today in the stock market.
Honestly, I don't have a definitive answer but let me point out some observations which will help you to gauge the answer.
Inflation has started to bite retail investors.
While we may talk about the retail power in the stock market, the fact is that inflation has started to bite them.
And this is even before the increase in EMI payments over the next 1-2 years.
The question is will income levels go up by the same level as household expenses?
The answer is no.
So, if you think the FII selling will be met with more fire power from retail, think again.
If America sneezes, India will catch a cold. India is not decoupled.
A lot of people have limited regard for macros and focus only on company prospects. This is a fine if you are doing bottom-up analysis. But the problem is that every stock market is dictated by fund flows from across the globe.
Is it turning out to be a case of the cure being worse than the disease?
20% of all US dollars in existence were printed in 2020 alone. I'm sure someone at some point will have to pay the price for free money.
Ideally the US Federal Reserve and other central banks should have gradually sucked out liquidity and raised interest rates. But they were behind the curve. This has led to high levels of inflation and an increase in bond yields.
Now that they have realised, it's turning out to be a case of the medicine used to cure the disease being deadlier than the disease itself.
Valuations continue to be expensive. India is not cheap by any means.
A lot of analysts have projected the Nifty EPS to be Rs 1,000 for FY23. That gives us a 1-year forward PE ratio of 16.3 for the Nifty.
You must be wondering how can a PE 16 be expensive? After all, during covid the Nifty had fallen to those levels and now covid is not a threat anymore.
Well, the point which people are missing out is that analysts tend to be over optimistic when they forecast earnings.
If you check the Bloomberg consensus estimates of earnings by analysts, you will see that in a bull market, analysts have always overestimated earnings...and in a bear market, they have always underestimated earnings.
Basically, target prices and projections go with the current trend. Seeing the current inflationary trends and the RBI's strong resolve to tame it, demand is likely to be destroyed in the short term.
In my view, the only way to cure the problem of inflation is by cutting growth. This will lead to at least a 10-15% downgrade in the Nifty EPS for FY23. What does that mean for you?
There could be more downside for the market.
Now with all these headwinds, what should an investor do? Here are two options.
Option 1: Keep 20-30% cash in your portfolio.
Option 2: Sell high beta and cyclical stocks (metals, cement, commodity producers, real estate, infra, etc) and move to low beta stocks.
When I say low beta, I don't mean you buy stocks trading at 50+ PE.
So what are the places to hide in this falling market?
Non expensive FMCG stocks
Pharma stocks
Let me end this article on a cautious note.
It's still not the time to do bottom fishing. As they say in Bollywood, 'Picture abhi baaki hain'.
Warm regards,



Aditya Vora
Research Analyst, Hidden Treasure
PS: Today, at 5 pm, India's top research analyst, Tanushree Banerjee, will be live online at the EV Gold Rush Summit. She will show you a little-known way to play the massive 15X EV opportunity in Indian stocks. Register for free here.
Recent Articles