Covid-19 Offers a Rare Opportunity to Own This Brand Leader
May 12, 2020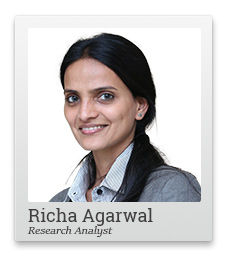 For around 1,300 years, Europeans believed that Black swans did not exist. That was until William de Vlamingh, a Dutchman went on exploration with his crew. In 1697, they were known to be the first Europeans to see the black swan disproving the long existing theory.
In the financial world, Black swan events are previously unseen, random events that occur and can have severe consequences.
The 2000 dot-com bubble or the 2008 global financial crisis can be termed as two of the major black swan events in recent history.
But are we seeing the mother of all Black swans in current times?
The coronavirus impact is spreading rapidly. Even as I write this...the new cases are rising everyday. We are already in an extended lockdown, and I'll not be surprised if there is a further extension.
How should we see this event that challenges our survival...That makes us choose between lives and livelihoods?
Even though the mortality rate of Covid-19 relatively benign, the repercussions it has for global economies are severe. And until a vaccine is developed (likely to take at least 18 months as per optimistic estimates), we might have to learn to live with the new normal.
I don't mean to sound grim. In the past, there was always a doomsday scenario predicted with any black swan event ...which most of the times never came true.
--- Advertisement ---
Here's an urgent profit opportunity from us that no mainstream media is revealing...

The #1 Stock for 2021.

...An innovative stock with the industry giants chasing it for its technology to touch millions and millions of people every day.

It serves several clients across the globe, but what got me is this...

The stock is leaving all its competitors behind despite the COVID crash, and now the price has already started to move.

There's actually one more reason why this stock could take off and make its early investors rich.

It's revealed here in this note with transparency.
------------------------------
Like humans have shown throughout history, we will find a way out (China apparently has recovered from the worst as I write this).
Yet, amid a high degree of uncertainty, investors would be better off being conservative, focusing on margin of safety and being very selective about businesses they choose to invest in.
Until a few months ago, as a smallcap analyst, my focus was on businesses with strong moats, managements, healthy financial performance and attractive valuations.
Covid-19 has made me add one more criterion - Is the business strong enough to survive if there is a slowdown due to the virus, and potentially emerge stronger from it?
Fortunately, there are such opportunities present in the smallcap space.
--- Advertisement ---
Going Live on 30th September 6pm To Answer A Burning Question

Economies across the globe have collapsed.

However, despite all the weak economic data, the stock markets have rallied.

But how sustainable is this rally?

The burning question of the hour is

"Where are the Stock Markets Headed?"

And that is exactly where our upcoming live and exclusive free webinar will help you.

Join Nilesh Shetty, Associate Fund Manager, Equity Funds and I.V. Subramaniam, Director, Quantum AMC LIVE as they address your most pressing concerns...and try and fulfill your need for the next big investment opportunity.

If you are a serious investor, you cannot afford to miss this opportunity.

Register FREE for this upcoming webinar in 1-click
[Yes! I want to attend this Exclusive Webinar]

Yes, also send me your financial planning newsletter, Quantum Direct, free of charge.

Date: 30th Sept. | Time: 6pm | Venue: Your Computer
------------------------------
For instance, one of the companies we recently recommended in Hidden Treasure is the largest player in a niche food segment and owns a very well-known brand. Given the nature of the business, even during the most stringent phase of the lockdown, the company has witnessed a jump in online sales. What also works in its favour is a competitive advantage that is not easy to disrupt, especially in these times. Hidden Treasure subscribers can access the recommendation here.
The legendary investor, Peter Lynch, once said: "Insiders might sell their shares for any number of reasons, but they buy them for only one: they think the price will rise."
What further adds comfort in this smallcap stock is significant insider buying in the last few months, both in pre and post lockdown. Not to mention a strong margin of safety in valuations due to coronavirus induced correction in the smallcap space.
Investing is said to be driven by two key emotions - greed and fear. There is a third - regret on missing great buying opportunities, that mostly comes in hindsight. I hope you will make the most of the opportunity in this smallcap and others like it.
Warm regards,



Richa Agarwal
Editor, Hidden Treasure
Equitymaster Agora Research Private Limited (Research Analyst)
PS: Read about my #1 stock pick for 2020 here.
Recent Articles