India On the List of World's Most Innovative Nations
May 13, 2019
Once when I was a naughty teenager, and when phones weren't as smart as today, I played a prank on my dad one morning.
I hid the newspapers the moment the delivery boy dropped them outside the apartment. When dad woke up, I saw him rush to the door to get his morning dose of news, only to be disappointed by their absence.
'How come the papers haven't arrived yet?' I saw him mumbling to himself first, and then to each one of us present in the house.
No one knew, except me of course. But I managed to wear a clueless look.
I'd thought he would move on and go about his morning chores.
But to no avail.
I saw him get very restless, pacing up and down the living room. He opened the door several times, just to check if the newspapers had arrived.
His restlessness soon turned into agitation. He started cursing the 'lousy' delivery boy, and decided to go to the news-stand and fetch the papers on his own.
By now, I'd realized that my prank had gone a bit too far.
But admitting the crime at this stage was suicidal.
So, I sneaked the papers behind my back, opened the main door, and called out my dad saying that the papers had arrived.
Finally, he was relieved. And so was I. 😊
I bet most of you do start your day with the newspaper. (These days, of course, the trend is veering towards smartphones.)
For many, just like my dad, this morning ritual is indispensable.
You browse through the newspaper (or the newsfeed on your phone) to know what's happening in the world around us.
--- Advertisement ---


"We Expect Over 10,000 Indians to Tune in 'LIVE' for This…"

Already well over 9,000 Indians (as of writing this) have blocked their FREE seats for an upcoming MEGA SUMMIT.

By the time we finish writing this, many more Indians would have grabbed their FREE seats too.

You should attend it for three reasons:

#1 – You could find potentially the greatest investment opportunity of your lifetime…

#2 – You will get full details about one secret, an irreversible trend that is leading to what we call the Rebirth of India.

#3 – We will reveal details on specific opportunities that could guide you in potentially profiting BIG as the Sensex rushes all the way to 100,000!

We have NEVER ever done any summit this BIG in the last 23 years.

On 16th May, we will reveal EVERYTHING… but only to those Indians who will show up.



Book Your FREE Seat Now – In Just 1-Click!
(Plus automatically get a free copy of our special guide: Rebirth of India)


------------------------------
Scanning and knowing the environment is a very primitive survival instinct. For the primitive human, having critical information about food, predators, and other environmental factors often meant the difference between life and death.
While most of us don't inhabit the jungles anymore, and there is no threat of lions and tigers, this survival instinct is hard-wired into our brains. And this is the reason why the first thing we reach out for once we're out of bed is "news".
Later when I was studying journalism in college, I got a much deeper insight into the making and functioning of the current age news industry.
It was then that I started questioning and challenging the news and views that were thrown on me as facts and truths.
It struck me that this passive submission to someone's ulterior biases and prejudices was creating a distorted worldview for me.
My skepticism towards blind consumption of news media grew stronger as I entered the field of investing.
Some may wonder what's the big deal about what we read every morning. Moreover, why does it even matter in the context of investing?
I'll tell you why...
Every piece of news and information that you consume is like a piece of the jigsaw puzzle. It helps you create a mental blueprint of the world around you.
How you react to certain events tends to be heavily influenced by this mental blueprint that you hold in your head.
Now, the question is: What if this mental blueprint is flawed and misleading?
In the world of investing, this could burn you a hole in the pocket, and even keep you away from great wealth-creation opportunities.
I'm going to show you at least three ways (there are many) in which the news media distort people's worldviews and make them bad investors.
Sensational vs Essential



When you open the front pages of the newspaper, or when you accidentally tune into the mind-numbing, yelling contests on news television, pause for a moment and ask this question: Is this the most important piece of news about the future of this country? Or does it just make for spicy political gossip?

Often, the answer will be the latter. What appears on the front pages with big pictures and big fonts is not necessarily the most important news.

Negative News Bias - Tiger vs Food



As I explained earlier, our tendency to scour for news comes from our primitive survival instinct when we were trying to protect ourselves from predators.

When I was studying behavioural finance, I discovered something very insightful about the human brain - it doesn't react with same the intensity to good and bad news. The neurons fire with a very high intensity when faced with danger or adversity than on the discovery of food and potential mates.

What this means is that our brain assigns too much weightage to bad news than good news. For the primitive man, this survival instinct made sense. It often saved his life. But for the modern man with no threat of predators, this instinct often creates a fearful image of the world around us.

This tendency makes some people highly paranoid investors, who panic at the drop of a hat. For them, every piece of negative news validates their doomsday vision of the world falling apart.

Stuck in the Tunnel



Many people view the world through a very narrow tunnel based on their prejudices and biases. After a point, they become extremely rigid in that narrow framework. And instead of letting new information shape and evolve their worldview, they selectively choose information that fits their narrow tunnel.

Most of the mainstream media take advantage of this tendency by feeding and perpetuating views and biases that people already hold. But by living in this narrow tunnel, people often lose touch with the constantly changing, evolving ground realities.
Something from my personal experience...
Over the last few years, I've travelled to different parts of the world. And it's always very fascinating for me to see how they perceive India.
When I was in Brazil, I was asked more than once if there were yogis and babas in every street of India, and if I had met any spiritual master in the Himalayas. (Obviously, they had just finished reading Autobiography of a Yogi by Paramhansa Yogananda).
When I was in Vienna, a friend sincerely asked me if Indians prayed all the time. (I'd jokingly said a 'yes' initially 😊).
--- Advertisement ---


JUST RELEASED: 3 Rare Steady Income Small Caps…

Richa Agarwal, Editor of our extremely popular small cap recommendation service - Hidden Treasure, has just published her LATEST Special Report…

Steady Income Small Caps.

Now, in this report you will find full details on 3 rare small caps which not only hold immense long-term wealth creating potential…

But the best part is that they pay out regular dividends too!

And the best part is that all 3 of these Steady Income Small Caps are available are far below their 'Real Worth' and thus you could consider buying them right away! So, don't delay…

Click Here To Register Now!
------------------------------
These encounters have often made me revisit my own idea of India. You see, being an Indian, I often fall prey to the 'I-know-my-country' trap. But the truth is that my idea of India is just a product of my limited past experience and (mis)understanding.
So, when my colleague Tanushree Banerjee put forth the idea of 'Rebirth of India', I was intrigued. And I decided to give myself a chance to discover India once again.
The biggest finding that Tanushree and her team had through their research was that some big, structural changes are converging in the Indian economy that are set to catapult it into the big league of the global economy, and provide serious long-term investors a rare, once-in-a-lifetime opportunity to build massive wealth.
Does this match your view of India? Whatever be your answer, I believe it's never a bad idea to challenge your existing views and assumptions.
I highly recommend you download and read Tanushree's free report - Rebirth of India.
Recently, I came across a piece of news that seems to validate Tanushree's optimism about India's future.
For the very first time, India has appeared in the list of the world's most innovative nations in 2019.
The chart of the day shows the scores of the nations that ranked among the top five (in red) - South Korea, Germany, Finland, Switzerland, and Israel. India, with a score of 47.93, ranked 54th in the list.
India Enters List of World's Most Innovative Nations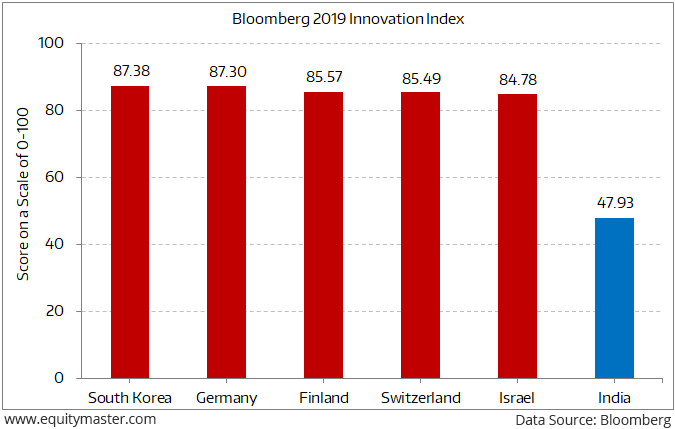 Bloomberg has been publishing the innovation index since the last seven years. But India hadn't made it to this list before.
The annual Bloomberg Innovation Index analyzes dozens of criteria using seven metrics, including research and development spending, manufacturing capability, concentration of high-tech public companies, patent activity, among others.
It is interesting to note that the ranking process in 2019 began with more than 200 economies. Each economy was scored on a 0-100 scale based on seven equally weighted categories. Nations that didn't report data for at least six categories were eliminated, trimming the total list to 95.
The final list published by Bloomberg consisted the top 60 economies.
Anyone who still thinks India is a poor country of elephants and snake charmers needs to seriously rethink.
Warm regards,



Ankit Shah (Research Analyst)
Editor, Equitymaster Insider
PS: Dear reader, I strongly urge you to download and read - Rebirth of India: The First Step to the Biggest Investment Opportunity of Your Lifetime. It has the potential to dramatically change your life for the better. When you download it, you will automatically get a seat at the Rebirth of India MEGA SUMMIT where Tanushree will reveal full details about the Rebirth of India.
PPS: Bet on these 3 high potential small caps with regular pay cheques... get our Steady Income SmallCaps report with 3 dividend stocks you could consider buying right away.
Recent Articles