The Rise and Fall of Julian Robertson (And an Investing Lesson You Shouldn't Forget)
May 14, 2018
The dot com bubble extracted a heavy price from Julian Robertson. The hedge fund legend who absolutely smashed the benchmark index for close to two decades - and for whom even Warren Buffett had enormous respect - was forced to shut shop in the aftermath of the bubble.
His mistake?
He did not load up on garbage tech stocks when everyone around him was doing so. He paid the price for looking like a fool in the near term so that he could look smart in the long term.
A post mortem a few years later revealed that if Robertson's investors had stayed with him, they would have earned another 120% over the next six and a half years - excellent returns by US standards.
In comparison, Warren Buffett was up just 38% during the same period.
Yet, while Buffett continued to thrive, Robertson's frustration with his investors forced him to call it quits.
Great long-term performance doesn't always come from intelligent stock picking.
Robertson's story is a strong reminder of this.
--- Advertisement ---


We probably shouldn't be telling you this…

What we're going to tell you today — well, it's a bit controversial…

And maybe we shouldn't be sharing this with you…

But you see, anyone who's in on this wealth-generating technique, can effectively start with just Rs 2,000…

And ultimately secure one's financial future — forever.

Here are the details.

Now we don't know if this will work for you…it's not for everyone.

But a few people have figured out a way to exploit this secret.

You can check out their story here.
------------------------------
For if you don't attract the right kind of capital, even the best stock picking may not help you over the long term.
When we praise Warren Buffett, most of the praise is reserved for his investment acumen, his ability to grasp the fundamentals of the company and give it an appropriate valuation.
There aren't many who know that Buffett's success also has to do with the cash he has at his disposal and the ability of his business to keep generating billions of dollars in cash flow every year.
Robertson simply didn't have this luxury. Not only did his investors asked for their money back at precisely the wrong time, he also did not have substantial sums to invest in the market in the event of a sharp correction. And therefore, despite his superior stock picking skills, he had to shut his hedge funds down.
Buffett on the other hand, has used every crisis to load up on good quality companies and further improve his long-term performance.
And as I write this, Buffett's cash pile is the largest it has ever been. At more than US$ 100 bn, Buffett has enough ammunition to bargain hunt for stocks should there be a meaningful correction in the markets.
A lot of people consider huge amounts of cash as a burden. Why earn a negative real rate when the same money can be deployed in stocks to earn significantly higher rates, they wonder.
Well, it is all about perspective.
Warren Buffett doesn't really see cash as a low return generating asset class. He sees it as an option or a price of being able to load up on bargains when they become available. And given how markets are ruled by greed and fear, the bargains inevitably appear sooner or later.
Guess who else is in favor of not staying fully invested in the markets always and varying one's cash (or cash equivalents) levels based on how plentiful or scarce the bargains are? It is none other than Benjamin Graham, the father of value investing.
His prescription? Be 75% in stocks when markets are cheap and 25% in cash and cash equivalents. And when markets are expensive, be only 25% in stocks and have the remaining 75% in cash.
Strategic Cash Allocation Helped MCM to Outperform Sensex by Big Margin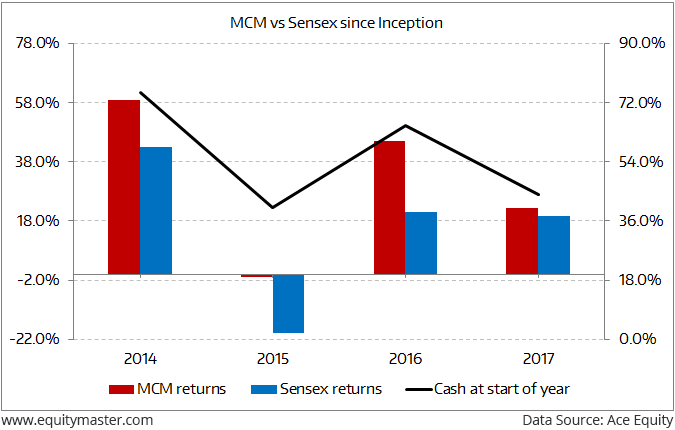 We have been following this rule in our Microcap Millionaires service and just as Buffett got opportunities to scoop up assets on the bargain, our high cash component came in handy during 2014 when markets were cheap.
And what is more, when markets turned expensive in 2015, our high cash allocation ensured we did not lose much in the year when Sensex cracked as much as 20%.
All in all, just as high cash holdings helped Buffett put up a great long-term performance, it has also helped our Microcap Millionaires subscribers outperform the markets by more than 2x since inception.
And with the stock market history firmly on our side, we are pretty sure this strategy will continue to do wonders over the long term.
Good Investing,


Rahul Shah (Research Analyst)
Editor, Profit Hunter
PS: Pick the right stocks at the right price - and your investments are golden. Don't know how to pick - that's okay. Our small-cap service is just your ticket to the world of great stocks - subscribe by clicking here.
Recent Articles