3 Stocks to Bet on to Become a 'Dividend Millionaire'
May 14, 2019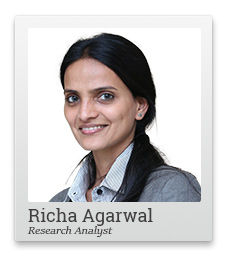 It's a real story...
In late 1940s, Quincy, a town in Florida, became the richest (per capita).
It wasn't the natural resources or a flourishing trade that helped the city bag this title.
It was in fact, one man's taste for aerated drinks.
That man was Pat Munroe, a well-known banker in the town.
--- Advertisement ---
One Stock to Buy Now in the Times of Uncertainty

This little-known technology stock comes from a futuristic industry.

The technology from this industry has been a life-saver in the fight against coronavirus in China and South Korea.

Tanushree Banerjee, the co-head of research, is confident that this stock has the potential to emerge as a big winner of tomorrow.

Now after the coronavirus crash, this stock is available at a very attractive price. And the returns from this price could be mind-boggling... Potentially Rs 1 crore or more in the long run.

The window of opportunity to buy this stock is open today. Because as soon as the fears of coronavirus abate, we could see a massive rally in the price of this stock.

Click here for more details...
------------------------------
In the 1920s, when the entire US economy was caught in the grip of recession, Munroe made an interesting observation. He noticed that while people were cutting down spending amid the slowdown, one small luxury they were not willing to give up on was a bottle of Coca Cola. This was a product with evergreen demand.
Amid a conflict with bottlers and sugar companies, the stock had crashed 50% from its offer price when it went public in 1919. A savvy Munroe began loading up on the shares of Coca Cola. He further asked the folks in the town to do so. He even lent money to people to buy Coca Cola shares, and underwrote bank loans, backed by these shares.
Over the next two decades, Quincy perhaps was the only town that was relatively unscathed by the great economic depression, thanks to the dividends from the stock. Some used these to buy more of the stock.
Over the next two decades, this modest farming town became the richest town (per capita) in the US.
--- Advertisement ---
This Lockdown Become a Pro Investor...FREE

We have great news for you.

For the duration of the lockdown – we are giving everybody completely free access to our two most popular learning courses.

Equitymaster's Secrets– an online course that will reveal the complete process behind our own stock–picking strategy.

DeriVantage – an online course that will teach you to trade derivatives – and develop your own trading strategy to create short–term and long–term wealth.

This is a one–time opportunity...with no strings attached. Access is absolutely free – no credit card required.

Just click below and we will instantly activate your free access to either or both courses.

Click Here for Free Access: Equitymaster's Secrets | DeriVantage
------------------------------
As per the news reports, Quincy became home to at least 67 'Coca Cola Millionaires', who passed this wealth to next generation.
Here's the most fascinating part...
Since listing, the stock has undergone multiple splits. As per various reports, a US$40 investment (offer price for Coke) in 1919 would have multiplied wealth by over 5,50,000 times, assuming all dividends were reinvested. Someone who chose to not reinvest dividends and spend them instead, would have multiplied wealth by over 20,000 times!
I'm sure a lot of you would be wishing your grandmas were born then and had followed Mr Munroe's advice.
Such is the power of well-run dividend paying companies.
When bought at reasonable valuations...they can be the best compounding vehicles.
But dividend investing is hardly this simple.
A company that borrows to pay you dividends is unlikely to add any value to your portfolio. Also, you can't just bet on the stocks with high dividend yield. You must make sure that these dividends will keep flowing.
The key is to bet on bargain stocks with solid fundamentals, that are led by competent and ethical managements, and offer healthy dividends too. My recent report - Steady Income Smallcaps shares 3 such dividend multibaggers opportunities.
As markets continue to rattle amid earning season, upcoming elections, volatile crude price and US China trade war, it's a great idea to add some stability to your portfolio by adding dividend stocks.
Warm regards,



Richa Agarwal
Editor and Research Analyst, Hidden Treasure
PS: Bet on these high potential small caps with regular pay cheques... get our Steady Income SmallCaps report with 3 dividend stocks you could consider buying right away.
Recent Articles