Here's How You Can Take Advantage of the Upcoming Dividend Season
May 15, 2019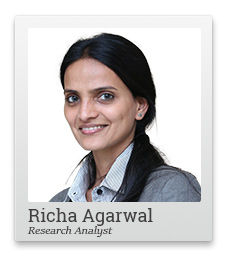 In today's volatile markets, I wouldn't really blame you if you find yourself annoyed with stocks. Getting decent returns from them is proving highly elusive indeed.
But there's good news too.
There's no dearth of stocks these days floating around with mouthwatering dividend yields.
Thing is, BSE 500 companies' dividend payout ratios - dividends as a percentage of their annual profits - hit nearly 40% last year in FY18. And this more than double the previous year's 17% as per reports.
In fact, this ratio is the highest since 23% in FY09 (the year since data is available).
If you're wondering, here is one of the reasons for this phenomenon...
The reason listed companies in India have handed out the biggest dividends in at least 10 years during the financial year 2017-18 - ironically - is the sluggish business environment.
The full-fledged recovery in demand and capital expenditure hasn't materialized yet, and companies are not operating at full capacity.
In fact, many companies are finding it so hard to come by investment opportunities to expand and grow, that instead they've begun paying out a higher portion of their profits to shareholders.
The best part?
With FY19 coming to a close, companies will soon begin the process of distributing the year's dividends to their shareholders...
In this volatile stock market, it's nice to get these neat little dividend cheques that go straight to your bank accounts - especially when the stock price is doing nothing for you.
Such high dividend yields are tempting...some would even say they are indicative of these stocks being bargains.
Yes, they are, but with one major weakness.
What you must remember is companies' dividends are sustainable only to the extent their earnings are sustainable.
Tomorrow, if earnings reduce, these high dividend yields of today will count for nothing.
--- Advertisement ---
3 Rare Small Caps You Could Consider Buying… BEFORE 23rd May!
Richa Agarwal – One of our Senior Most Analysts and Editor of our Small Cap Recommendation Service – has just published her LATEST Special Report – Steady Income Small Caps.

This report reveals full details on 3 Rare Steady Income Small Caps which hold immense wealth building potential…and which are still available cheap!

However, we both know how the stock market could shoot up if people find the election results to be favourable…

In fact, the opportunity could be gone even sooner, if the exit polls present a clear picture…

That is why it is critical that you consider adding these 3 Dividend-Paying Small Caps to your portfolio right away!

Click Here To Find Out How You Could Get Full Details On These 3 Dividend-Paying Small Caps…Virtually FREE!
------------------------------
In such cases, not only will the dividends disappear - they also won't save you from the severe crash in stock prices that will follow to reflect the company's fall in earning capacity.
The moral of this story: Though high dividend yield stocks may be a great starting place to search for deep value bargains, never pick stocks on dividends alone.
Like I told you last week, there are whole host of other factors you should check about a stock before you can buy it for its high dividend yield.
Remember, you're not looking for eggs, as much as you're looking for an egg-laying chicken.
My recent report - Steady Income Smallcaps shares multiple such dividend multibaggers opportunities.
It's a neatly filtered compilation of dividend stocks that I've hand-picked myself. And they check all the right boxes to set yourself up for the upcoming dividend season...
Indeed, the stock market has quite a few potential wealth compounders with lucrative dividend yields. Picking the right ones means you could potentially create some great cash flow streams for yourself from their growing dividends over the long term.
Warm regards,



Richa Agarwal
Editor and Research Analyst, Hidden Treasure
PS: Bet on these high potential small caps with regular pay cheques... get our Steady Income Small Caps report with 3 dividend stocks you could consider buying right away.
Recent Articles