Here's Your Chance to Profit from US Fed Chief's Warning
May 15, 2020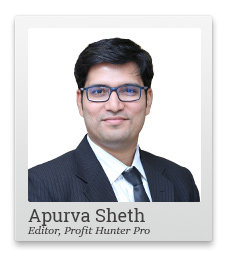 It's a season of stimulus. Governments and central banks have opened their coffers and pumping in liquidity left, right, and center.
India is the latest to join this list. It's leading the pack at number 3 position when it comes to stimulus announced as a percentage of GDP.
Check out this chart Tanushree shared in this Profit Hunter article earlier in the week.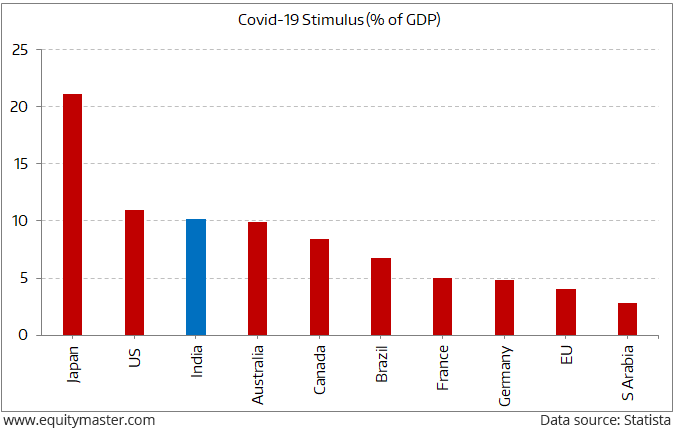 India announced a Rs 20 trillion Covid-19 recovery stimulus package. This is the largest stimulus package ever announced by India.
At about 10.2% of GDP, it's also among the biggest stimulus packages announced over the past few months by governments all around the world.
--- Advertisement ---
[NOW OUT] Equitymaster's Top Stock Pick for 2021

If there's one thing you need to do today, it's this...

Read all about Richa Agarwal's No. 1 stock pick here...

All we can share in this message is that it's a little-known stock with massive potential in the near future... already working with trusted FMCG GIANTS.

Just continue reading all about it here...
------------------------------
Covid-19 and the lockdowns which followed have hit the world economy hard. Central bankers have stepped in at the right time. But even they are worried that the situation may take a while to improve.
The US Fed Chief Jerome Powell warned of an extended period of weak growth and stagnant incomes. He also pledged to use more of the central bank's powers and increase fiscal spending to support the economy.
All this may sound too dreary but there is a massive profit-making opportunity out there.
I recorded a video on this opportunity for my Fast Profits Daily viewers last week. The video is a hit with more than 3,000 views and 175 likes in just 3 days on YouTube.
--- Advertisement ---
For Those Looking to Buy Stocks

If you're looking to buy stocks now, then we've uncovered 3 great stocks for you.

Our research says, these stocks have the potential to create a wave of Indian millionaires.

Get the Details Now
------------------------------
This is what I said...
This profit signal occurs rarely, but whenever it does. It presents huge profit-making opportunity to anyone whose tracking it.

So, what is this unique profit signal and how is it generated?

The biggest central bank in the world - the US Federal Reserve, generates this signal.

How does it generate this signal and what should you do?

When the Fed starts to aid the economy, that's your signal to buy gold.
I want you to go through this video so you don't miss out on this solid profit opportunity which the US Fed chief has signaled himself.
Enjoy this video and I promise to bring more such profit opportunities closer to you.
Warm regards,

Apurva Sheth
Senior Research Analyst, Fast Profits Report
Equitymaster Agora Research Private Limited (Research Analyst)
PS: Read about Richa's #1 stock pick for 2020 here.
Recent Articles