Forget Gold - Get These Stocks to Ride Out the Volatility
May 16, 2019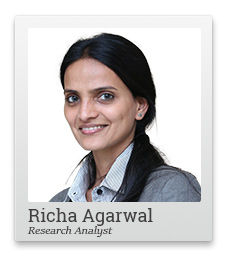 We Indians are fond of gold.
It is passed from one generation to the next in the form of family heirlooms.
And the love for gold cuts across economic class barriers.
In fact, Indians see gold not just as an investment but as security against uncertain times.
This is because the value of gold is intrinsic to the metal itself and has remained resilient over long periods of time.
And sure, gold does have value as a hedge against volatility... but...
It is unfit for those who want to live off their assets.
Gold does not produce any income, which is ironic since it is touted as a stable currency. Every currency, stable or not could generate some sort of income return over a period of time, except gold.
It is true that investors could sell a chunk of their gold each year in order to meet their expenses, but this would leave investors with a diminishing amount of gold. The rate of decrease of the amount of gold holdings in your portfolio would depend on the fluctuations in the commodity markets.
If you are someone who would rather own an asset that could not only generate potential capital gains but also pay you to hold it your answer is not gold.
Dividend stocks are the answer.
According to Warren Buffett, well-established franchise-based businesses that operate on little or no investment but generate hordes of cash offer gold-like economic moats.
So, these are the kinds of businesses investors must latch on to.
The best dividend stocks have strong competitive advantages, which allow the companies to pass any cost increases to consumers, which lets us increase profits over time.
This leads to a higher dividend payment over time as well, which provides an inflation adjusted stream of income.
In other words, investors in solid dividend stocks do not have to sell off their holdings in order to meet expenses.
--- Advertisement ---
3 Rare Small Caps You Could Consider Buying... BEFORE 23rd May!
Richa Agarwal - One of our Senior Most Analysts and Editor of our Small Cap Recommendation Service - has just published her LATEST Special Report - Steady Income Small Caps.

This report reveals full details on 3 Rare Steady Income Small Caps which hold immense wealth building potential...and which are still available cheap!

However, we both know how the stock market could shoot up if people find the election results to be favourable...

In fact, the opportunity could be gone even sooner, if the exit polls present a clear picture...

That is why it is critical that you consider adding these 3 Dividend-Paying Small Caps to your portfolio right away!

Click Here To Find Out How You Could Get Full Details On These 3 Dividend-Paying Small Caps...Virtually FREE!
------------------------------
They could just pick the right dividend stocks, create a diversified dividend machine, and live off dividends. And if they choose to reinvest dividends, they can generate even more earnings through the power of compounding
Dividend paying stocks can provide solid hedges for volatile environments like the one we are currently in.
As I pointed out yesterday, even when stocks are going down, companies are set to pay a large proportion of their profits out as dividends as they declare their annual results.
Steady dividends can be a big reprieve in such markets when the stocks are only going down.
But this doesn't mean you should pick up any high dividend paying stock. It may well be the case that it may not be able to sustain dividends if its business is in doldrums.
You need to narrow down and filter your list of best dividend paying stocks to make the most of them.
My latest report- Steady Income Smallcaps - contains exactly such dividend paying stocks.
These stocks offer not just high dividends but also good growth potential. They are ideal candidates for long-term investors.
Be sure to check out the report and set yourself up for a smart hedge with steady income.
Warm regards,



Richa Agarwal
Editor and Research Analyst, Hidden Treasure
PS: Bet on these high potential small caps with regular pay cheques... get our Steady Income Small Caps report with 3 dividend stocks you could consider buying right away.
Recent Articles