Find Out
How to Find One Stock with Crorepati Potential? >> READ MORE
3 Rules to Prevent Your Portfolio from Sinking
May 16, 2022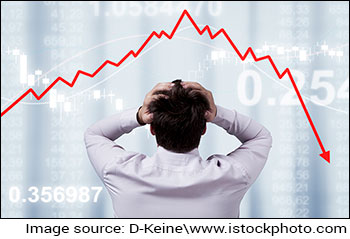 For those who love watching documentaries around animal and plant life, the name David Attenborough must surely ring a bell.
He is an English broadcaster, biologist, natural historian, and author, all rolled into one.
Once Attenborough was being praised on BBC for being the most widely travelled and one of the most knowledgeable naturalists.
He replied that Charles Darwin, arguably the greatest naturalist who ever lived and had more effect on our thinking than anybody, spent only four years travelling and the rest of the time thinking.
So what's the key takeaway here?
Attenborough seems to be saying, one is better off spending less time on collecting data or information and more on thinking and analysing.
I can't help but wonder how useful this insight can turn out to be in the field of investing.
Take the current market situation for example. Investors are gathering all kinds of information and data in the hope to find a way out of this wealth destruction.
--- Advertisement ---
A One Stock Gift in 1990 Turns into Rs 130 Crores

In 2017, Ravi made headlines by calling a leading business news channel with a surprising announcement - his grandfather had left him 20,000 shares of only one stock.


And on the day of his call - these shares were worth Rs 130 crore.

Can you guess which is this company?

It's MRF.

Ravi's story is one of the amazing stories of becoming Crorepati from a single stock.

But the question is, how to find that one stock with crorepati potential?

To find the answer to this million-dollar question, join our 'One Stock Crorepati' MEGA summit on 30th June, where we will reveal details of what we call a potential 'crorepati' stock...

Click here for full details...
------------------------------
However, as Attenborough pointed out, it's not data or information that could help us out here.
We need to put our thinking caps on and try and figure out factors that lead to long term wealth creation in the stock market.
Luckily for us, thinking along these lines has already been done before. And it was undertaken by none other than Benjamin Graham, widely acknowledged as the father of value investing.
After spending close to 60 years in the stock market, Ben Graham had to come to the sobering conclusion that he had no confidence in either his ability or anybody else's, to predict the market.
He went further and argued that most stockbrokers, financial analysts, and investment advisers are no doubt above average in intelligence and perhaps in honesty and sincerity as well.
But they lack experience and an overall understanding of common stocks. They spend a large part of their time trying valiantly, to do things they can't do well.
Well, these comments have Attenborough written all over it.
Do not try to collect large amount of information or data. Instead, think and figure out how to make money over the long term. Then apply those principles on a consistently.
--- Advertisement ---
"$2.5 Trillion Crypto Market Boom..."

A booming $2.5 trillion market...

Set to multiply by 100 times over the next decade...

With legendary investors like Warren Buffet, Elon Musk, and Peter Thiel pouring in billions of dollars all over...

Would You Really Want to Miss It?
------------------------------
As per Graham, there are 3 main principles you need to follow to earn market beating returns over the long term.
The individual investor should act consistently as an investor and not as a speculator. In other words, try and figure out what a company is worth and then buy it a small discount to this value.
The investor should have a definite sell policy for all his common stock commitments.
Finally, the investor should always have a minimum percentage of his total portfolio in common stocks and a minimum percentage in bond equivalents.
As they say, the proof of the pudding is in the eating. So let's construct some real-life portfolios and see whether Graham's principles do stand the test of time in the rough and tumble of the stock market.
Here's what I did.
I asked Microsoft Excel to give me 10 random dates over the last 10 years. I created a 20 stock portfolio on each of these days with a holding period of 2 years.
So, if one of the random dates was 5th January 2013, I started a portfolio on that day, held it for two years, and then liquidated the entire portfolio on 5th January 2015.
This was my buying rule. The stock should have a revenue of at least Rs 2 bn for the latest financial year, average liquidity of at least Rs 1 m for the past one year, price to book value of 0.8 or lower, and a debt-to-equity ratio of almost zero.
EXPOSED: The Shocking Truth Behind Today's Hottest Investment Opportunity
A price to book value ratio of 0.8 or lower ensures I'm acting like an investor and not a speculator. I'm buying the stock below its fair value, which in this case, I am assuming to be its book value.
A low debt to equity ratio of almost zero is to help me stay away from highly leveraged companies that are often of poor quality and can turn into value traps.
My selling rule is pretty straightforward i.e. liquidate all the positions after two years and create a brand new portfolio with the proceeds.
Last but not the least, I intend to allocate 75% to stocks and 25% to bonds if the Sensex PE on the date of portfolio creation is less than 25 and vice versa if the Sensex PE is more than 25.
You see, the Sensex has averaged a PE of around 20-21 over the last many years. So a PE of more than 25 makes is significantly overvalued and prone to a market crash. This is why an allocation of only 25% to stocks if PE is more than 25 and 75% if lower.
Here are the three rule again.
Buying rule: Price to book value below 0.8 and DE ratio of almost zero.
Selling rule: Sell after two years.
Allocation rule: 75% stocks if Sensex PE less than 25 and only 25% if the PE more than 25.
So, if you take these rules and feed them into a company database and compile the results, here's what they look like.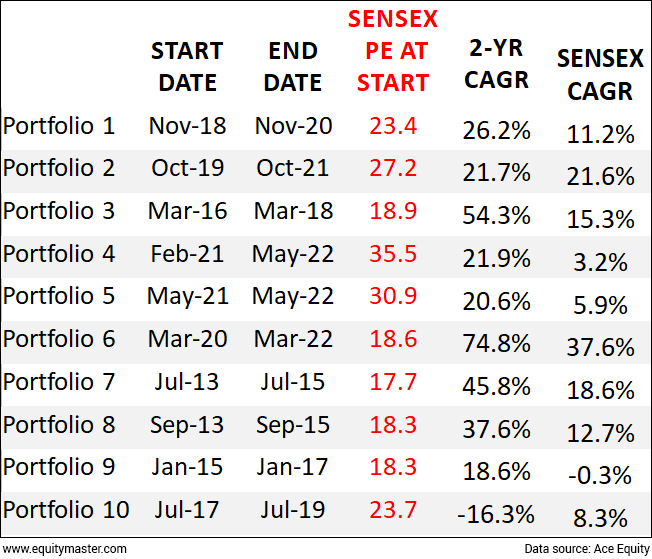 The results are impressive whichever way you look at it. Except for portfolio number 10, all others outperformed the benchmark index and that too by a significant margin.
Portfolios 2, 4, and 5 were the ones where the Sensex PE was more than 25 on the start date. Hence, only 25% was allocated to stocks here. Even then, the CAGR has been in the region of 20% for all three.
In fact, some portfolios, like number 6, has an outstanding CAGR of almost 75%, which is off the charts in my view.
Well, both Ben Graham and David Attenborough were right after all. When it comes to the stock market, a lot of information and data often proves counterproductive.
In order to succeed over the long term, Ben Graham's three principles do the job quite well. They are simple, logical, and are proven in the stock market as we just saw.
So, ignore all the noise out there and start applying these simple principles right away.
Of course, your rules do not necessarily have to be the rules I used. As long as you are sticking to the three principles, your buying, selling, and asset allocation rules can be different. You can base them on your own temperament, time horizon, and long-term goals.
As Graham says, the investor needs patience to apply these simple criteria consistently over a long enough stretch so that the probabilities operate in his favour.
Happy investing!
Warm regards,



Rahul Shah
Editor and Research Analyst, Profit Hunter
Recent Articles