Find Out
How to Find One Stock with Crorepati Potential? >> READ MORE
Do This When Stock Markets Turn Volatile...
May 17, 2022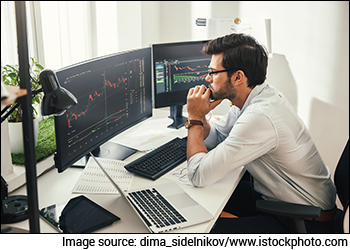 This has been a brutal month for the Indian stock market.
The BSE Sensex is down 10%. The BSE Smallcap index is down 14%.
The Russia-Ukraine war, supply chain issues, the US Fed's rate hikes, the RBI's rate hikes, the exit of FIIs, inflation, high crude oil prices, worries about corporate profits due to rising input costs, the economic slowdown in China...
The bull market has hit a series of speed breakers. There are so many things the market is worried about these days.
But should you be worried?
My answer is not straightforward.
You should be worried if you are in the stock markets to make some quick gains. History tells us that all the reasons I mentioned above will influence the markets in the short run.
--- Advertisement ---
A One Stock Gift in 1990 Turns into Rs 130 Crores

In 2017, Ravi made headlines by calling a leading business news channel with a surprising announcement - his grandfather had left him 20,000 shares of only one stock.


And on the day of his call - these shares were worth Rs 130 crore.

Can you guess which is this company?

It's MRF.

Ravi's story is one of the amazing stories of becoming Crorepati from a single stock.

But the question is, how to find that one stock with crorepati potential?

To find the answer to this million-dollar question, join our 'One Stock Crorepati' MEGA summit on 30th June, where we will reveal details of what we call a potential 'crorepati' stock...

Click here for full details...
------------------------------
And we know these speed breakers won't go away soon.
History also tells us that a long investment horizon is a great competitive edge in investing. It's an almost zero loss strategy.
Yes, really it is. I've done a video on it.
So, if you are in the markets for the long term, you should be worried only if you don't have the stomach for volatility.
How much volatility?
Well, it could mean seeing your entire portfolio going down 40%.
If you can stomach such volatility, trust me, you will be fine. History is on your side.
Why do I say this?
You see, successful investing is not just about finding a good business and buying it at an attractive price.
These skills are critical of course. But investing is more than this.
It's about managing risks and surprises of the stock market. It's about reacting to unexpected and unfamiliar situations.
You need not go too far into history to validate this.
--- Advertisement ---
"$2.5 Trillion Crypto Market Boom..."

A booming $2.5 trillion market...

Set to multiply by 100 times over the next decade...

With legendary investors like Warren Buffet, Elon Musk, and Peter Thiel pouring in billions of dollars all over...

Would You Really Want to Miss It?
------------------------------
In March 2020, when it seemed like the end of the world, it was this skill that separated winners from losers over the next 2 years.
Many of my friends curse themselves for chickening out, and not making use of what seemed like once in a decade opportunity.
But only in hindsight. The recent correction brings out the same fears.
Now we cannot predict how markets will behave. But we can prepare for its eccentricities.
How about working with this question...
'Which are the businesses I would be comfortable holding, even buy more, if the stock market falls 40% from current levels?'
This forces you to work to shifts the power away from the moody Mr market and give it back to you.
On the same lines, with a few more scenarios, you could design a portfolio to hedge for risks. Like scenarios based on factors that are out of your, or the business' control.
It could be exchange rates, protectionism policies, geopolitical risks, commodity prices, interest rates...pretty much everything that makes you worry.
From a bottom up perspective, look for the managements that have survived past downturns. The ones who have steered their businesses well amid crises.
EXPOSED: The Shocking Truth Behind Today's Hottest Investment Opportunity
Look for brands that have remained relevant over the years despite all the disruptions over time.
Let's now come to stock picking skills...
Remember my statement on the beauty of long term investing and shielding yourself from any loss?
Well, just like any other statement in investing, it doesn't go unqualified.
I remember working on a series of articles titled 1992 Batch of Sensex stocks. It included companies like Century Textiles, Premier, Hindustan Motors, and Bombay Dyeing.
Some were pioneers. Some were market leaders. But could not keep pace with changing times and competition.
Some died a natural death. Others withered and fell in size from bluechips to smallcaps.
A long term holding strategy or the 'coffee can' strategy with this batch would have turned out to be very costly mistake.
So don't assume the future will be different. If anything, the winds of disruption have accelerated like never before. More businesses will go extinct than in the past.
Moats are shrinking. What used to be first mover advantage that helped a business gain market share, is turning out to be legacy problem.
Big marketcaps are no refuge for safety. Being nimble, proactive, and evolving all the time are the secrets to survival and growth.
Finding stocks and businesses with these traits requires not just a study of businesses but assessing management quality too.
Bottom up research is not enough. You need to be aware of the macroeconomic shifts, technological trends, and geopolitics before opting for a 'Buy and Hold Forever' strategy. You need to be very selective and focused.
It's hard work, and you need to simplify.
Keep in mind these words of wisdom from Warren Buffett himself...
"I could improve your ultimate financial welfare by giving you a ticket with only 20 slots in it so that you had 20 punches, representing all the investments that you got to make in a lifetime.

And once you'd punched through the card, you couldn't make any more investments at all.

Under those rules, you'd really think carefully about what you did and you'd be forced to load up on what you'd really thought about. So you'd do so much better."
Warm regards,



Richa Agarwal
Editor and Research Analyst, Hidden Treasure
Recent Articles