A Smallcap Stock to Ride the Digitisation Megatrend
May 18, 2021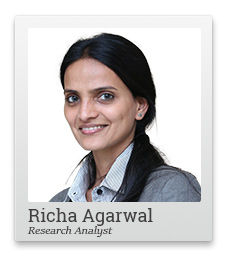 A few months ago, if someone had asked me about the possibility of another lockdown, I would have had ruled it out.
I in fact travelled, thinking the worst is past us.
How things have turned around!
Covid infections and casualties are no more statistics, but something personal for most of us who have either been sick, are attending to the sick or have lost family members and friends.
Social chat groups are now full of requests for drugs, injections, or hospital beds. We are in a mess.
With most of us homebound, and little to keep days occupied, the mass gambling instinct has been turned on.
To some extent, that explains the disconnect between economy and the stock markets, the IPOs rush, as well as the rise (and subsequent fall) of NFTs and SPACs.
But the biggest reflection of this could be seen in cryptocurrencies.
The popularity of bitcoin has led to a surge of 'me too' revolution in crypto coins. The irony is self-proclaimed joke currencies are witnessing gains of the order of 14,000%.
A few days ago, a friend pinged to ask me if I had any idea about Shiba Inu coin. He was tipped by his friends to buy it.
I hadn't heard of it.
But a quick google search suggests it's a joke coin, invented by someone named 'Ryoshi'.
Apparently, this isn't even the real name of the inventor. It was wrongly listed by an Indian crypto exchange at Rs 3.
After it was discovered that a misconfiguration caused the listing at a higher value, the price crashed to 0.0015 levels.
I told him he should go ahead, as long as he is mentally prepared to lose whatever amount he is betting.
Even though I am not a crypto coin advocate, if that's the game one wants to play, there is nothing wrong with it.
But it's wrong to build a narrative around something one doesn't have the faintest idea about.
And then start believing in it, not knowing when to stop.
--- Advertisement ---
WATCH: FULL Replay of Our Urgent Broadcast

The full replay of our urgent broadcast on India's Revival is available for a limited time now.

In case you missed watching our broadcast LIVE...

You can see all the important highlights from our broadcast in this replay.

Please note that we may take this replay off the internet any minute.

So it is highly recommended you watch it immediately.

Click Here to Watch the Replay NOW
------------------------------
I hope the U-turn by Elon Musk on bitcoin, who seems to have only recently discovered the environmental damage caused by it, will serve as a lesson to blind followers who speculate with borrowed conviction and call it 'investing'.
To be sure, investing is not an exact or perfect science. It involves a decent amount of calculated risk, with a spectrum of possible outcomes.
Yet, it comes with a certain competence and knowledge, that helps you weigh the probabilities of these outcomes - the upsides versus the downside.
Amid the second wave, partial lockdowns, and markets nearing all-time highs, the degree of confidence in the estimates for most businesses is low.
And the margin of safety in valuations narrow to nil.
In these times, it helps to focus on trends that are more certain than others and on lesser followed stocks that are riding these trends.
One such trend is digitisation and the rise of the internet economy.
India's internet economy has witnessed a sharp rise in the last 5 years, with the rise in affordable smartphones and data consumption.
Be it shopping, reservations, meetings, food/content consumption, gaming, and office work - everything that could has gone online.
BREAKING: It's Good Time to Invest in Gold, but Just Don't Go Blindfolded
And there is still a great opportunity with increase in digitisation pan India.
The good thing is, I believe it's an irreversible megatrend, rather than a fad.
So how can you ride this trend?
There are two ways.
The first is quite obvious, with the ongoing IPO rush for ecommerce firms and internet based startups (Nazara, and potential IPO of Zomato, Nyka etc).
However, I'll be very cautious of going that way.
For these all pervasive megatrends, most of these business are burning cash, selling a product or service worth Re 1 at a few paise, and have little profit (or huge losses) to show, not just presently but for the coming years ahead.
I would rather bet on the not so visible beneficiaries and enablers of this megatrend.
Enablers that have a good track record of strong balance sheet, profits, and most importantly, positive cash flows.
And I'll pick only those business where I find valuations are within comfort zone.
My latest stock recommendation (subscription required) is one such play.
This smallcap PSU is leading the digitisation drive from the frontlines.
The lockdowns has put this business on the fast track. Almost all services of this PSU have witnessed growth amid the pandemic.
And before you let the PSU tag make you turn away, let me tell you this one is an exception.
In fact, it puts private players to shame. With diversified offerings, it enjoys the highest net profit margin and highest operating margin among its peers, that includes some big private firms.
At a time when the future of a lot of businesses has been virus struck, the company's strong order book offers 4 years of revenue visibility.
I believe it could be a perfect bet for these uncertain times. Hidden Treasure subscribers can read the recommendation here.
For more such opportunities in smallcap space, join me online on Thursday at the Smallcap Revival Summit.
I'll show you how to profit from the upcoming massive revival in smallcaps.
Warm regards,



Richa Agarwal
Editor and Research Analyst, Hidden Treasure
PS: Join online on 20 May, at the Smallcap Revival Summit. I'll share details of my top 3 smallcap recommendations.
Recent Articles