Find Out
How to Find One Stock with Crorepati Potential? >> READ MORE
How to Buy Perfume-Like Stocks at Grocery Prices
May 18, 2022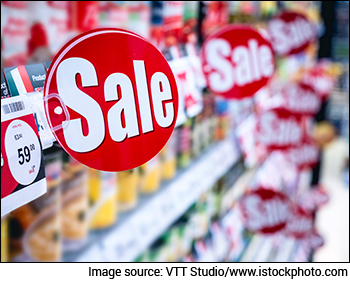 When was the last time you bought yourself bags full of perfumes?
Possibly never!
Perfumes are a treasured purchase. We usually buy one at a time. We buy exactly the brand we love. And don't mind paying the listed price.
Compare that with your grocery shopping. We spend 10X the time and effort.
Why?
Well, for one, we buy them far more often. And two, we must be careful to evaluate the quality.
Though the value of groceries purchased are a fraction of the price of perfume, we are more value conscious in the case of the former. Even the 10-minute grocery delivery apps boast of big discounts.
But discounts in the stock markets are not equally thrilling. Seeing the stock prices nosedive does not always bring out the sentiment of greed that grocery sales do.
In fact, most investors complain about their portfolios being in the red. They suddenly start finding stocks too risky.
The media feeds them with enough reasons to see the risk they so far ignored. Inflation, stagflation, oil prices, rate hikes, recession, 10-year yields, war...
--- Advertisement ---
A One Stock Gift in 1990 Turns into Rs 130 Crores

In 2017, Ravi made headlines by calling a leading business news channel with a surprising announcement - his grandfather had left him 20,000 shares of only one stock.


And on the day of his call - these shares were worth Rs 130 crore.

Can you guess which is this company?

It's MRF.

Ravi's story is one of the amazing stories of becoming Crorepati from a single stock.

But the question is, how to find that one stock with crorepati potential?

To find the answer to this million-dollar question, join our 'One Stock Crorepati' MEGA summit on 30th June, where we will reveal details of what we call a potential 'crorepati' stock...

Click here for full details...
------------------------------
You name it and there is a risk for every stock that is out of favour.
What happens then is something you will never find yourself doing in a shopping mall during a sale.
For instance, a market crash gets investors to...
1. Keep Buying Trash
What do you do when your favourite department store offers big discounts on the best brands? Do you still go looking for the cheapest products?
Well, that's exactly what most investors do in a bid to buy the dirt-cheap stocks in a falling market. The lowest PE multiple stocks find favour notwithstanding the poor quality of the businesses.
2. Freeze or Exit in Panic
What do you do when your favourite smartphone is being offered at 50% off? Do you exit the store in panic?
Stupid as it may sound, that's how investors behave when they find stocks like HUL, Nestle, Titan, and Bajaj Finance are crashing.
Well, it's easier said than done to see large, popular companies losing 30% to 40% of their marketcap. Truth be told, seeing billions of rupees exiting the market can be unnerving.
After all, nobody likes losing money. Studies have shown we actually feel losses twice as deeply as gains.
--- Advertisement ---
"$2.5 Trillion Crypto Market Boom..."

A booming $2.5 trillion market...

Set to multiply by 100 times over the next decade...

With legendary investors like Warren Buffet, Elon Musk, and Peter Thiel pouring in billions of dollars all over...

Would You Really Want to Miss It?
------------------------------
But loss aversion can hurt you.
Many investors tend to sell off their winning stocks just to earn a profit while also refusing to accept defeat on big losses.
When an investor sees a stock plummet, their first reaction is to stop losing money, which can lead to panic-selling or exiting the market. Instead of riding what may be a temporary dip, they prefer to stay on the sidelines.
However, many investors don't want to sell a stock that is losing big. They hope it climbs back up to the price they bought. In both situations, loss aversion can hurt.
3. Miss Out on the Best Bargains
What do you do when your favourite fine dining restaurant is offering discount coupons? Would you still favour the local Udipi joint?
Ignoring some of the most consistent businesses just to buy stocks at 52-week lows, is a similar act.
I'm never surprised to find subscriber queries on penny stocks and stocks at multi-year lows during the market crashes.
EXPOSED: The Shocking Truth Behind Today's Hottest Investment Opportunity
Investors perceive safety in the havens of such distressed franchises. They ignore the fact that distressed businesses take longer to recover than they can imagine.
So, it's true that stock market discounts can force you to behave differently.
Every time I think of a sale in the stock market, I'm reminded of Benjamin Graham's quote...
Buy stocks like you buy your groceries, not like you buy your perfume.
I would paraphrase it to...
Buy perfume-like stocks at grocery prices.
Steep market corrections offer the rare opportunity to buy the businesses you have always wanted to own. So why settle for less?
Buying the best of businesses and consistently taking larger stakes in them during market crashes is the perfect recipe for forever wealth.
I would not do it any other way.
Nor should you.
My mission is to curate a list of only 20 stocks to own forever. I call the group of empowered investors who are acting on this list, the Forever Stocks tribe.
Warm regards,



Tanushree Banerjee
Editor, StockSelect
Equitymaster Agora Research Private Limited (Research Analyst)
Recent Articles