This 'Essential Product' Smallcap is a Must Have for a 'Covid-19' Immune Portfolio
May 19, 2020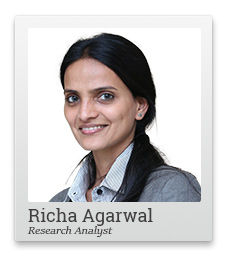 This is hardly a response the Finance Minister Mrs. Nirmala Sitharaman would have expected to her revival plan.
In response to the eyeball grabbing Rs 20 lac crore stimulus for the economy, worth 10% of India's GDP, already Rs 4 lac crore of investor wealth has been lost.
Already reeling under the stress of bad debts, a new wave of second order effects is likely to hit the banking and finance sector. No wonder the stocks in the sector are bleeding.
Meanwhile, the Covid-19 infection count in India had reached one lakh. While lockdown measures have eased, there are no signs yet of a demand revival.
For discretionary products and services, while shops are reopening, there is hardly any customer traffic or demand. Lay-offs are common, and not every company is making public announcements about it. It will be a long time before things go back to normal. By then, a lot of damage would have been done.
While it's good to be optimistic, I hope you are not counting on a positive turn in the macro affairs while betting on stocks.
Don't get me wrong. I don't mean you should stay sway from the Indian stock market. On the contrary, this could be the biggest opportunity in a decade to make money in the stock markets.
--- Advertisement ---
Asian Paints offered 2,372%, This Stock Has Similar Potential

Asian Paints stock went from Rs 72 in 2009 to Rs 1,780 now.

A mind-blowing return of 2,372%

Do you know, there is one stock which has similar potential?

A little company which very few people know about.

In fact, Asian Paints itself relies heavily on the technology of this company.

Its stock price is already up by 35% in last one year.

With its entry into a fast growing Rs 4 trillion industry... there is no limit to how high the stock price can potentially go.

More details about this stock will be revealed at our 'One Stock Crorepati' Mega Summit on 17th July.

Click here to sign-up.
------------------------------
However, it will help to do so with a skeptical view on the overall economic recovery. This means that you need to be highly selective. You also need to ensure a huge margin of safety in the stocks you are buying.
Warren Buffett has said: Everybody's got a different circle of competence. The important thing is not how big the circle is. The important thing is staying inside the circle.
The coronavirus led uncertainty has shrunk this circle for everyone - experts, economists, analysts, and even managements. I'm no exception.
But within this reduced circle of competence, there is one thing that I can say with utmost conviction - Essential products and services will continue to do well. So will the market leaders that provide it.
It is with this lens that I'm exploring fresh opportunities in the smallcap space since the last few months. The search has not been in vain.
URGENT OPPORTUNITY: Top 5 Stocks That Could Potentially Give the First 50-100% Gains Very Fast
In my latest Hidden Treasure recommendation last week, I zeroed in on a stock that met all my filters for investing in the times of Covid-19.
These include:
Market leadership in a niche segment
Having an 'indispensable' business, with a product/service that is essential or critical to its clients and the economy
Zero or minimal debt
High profit margins
Comfortable cash position
Strong management quality
Attractive valuations
This smallcap company enjoys a 10% market share in the niche segment that it operates in. This segment itself is expected to grow in double digits in the long term.
The company is in the business of developing and supplying a critical product for the agriculture sector that employs the biggest chunk of working population and commands the largest land area in the country.
Its products are critical for domestic food security and the economy. The demand for its product is pull rather than push based.
To be sure, I'm not counting on the much-touted stimulus measures for the farmers and in the agriculture segment.
With a debt free balance sheet and operating margins about 30%, the company is well positioned to weather tough macroeconomic environment.
The chairman of the company is a first-generation entrepreneur who has built the business from scratch. Over last three decades, the management has built a strong business model that enjoys market leadership and has been generating free cash flows.
Now that was about selecting a good business.
The next aspect is margin of safety. And things are in investors' favor on that front as well.
The Covid-19 induced market crash has led to a correction of over 25% from the stock price levels in January 2020. The stock is now trading well below its long-term median valuations and well below its intrinsic value as per my conservative projections.
As an extra safety net, the company's net cash and liquid investments at 38% of total assets and about 20% of current market cap offers a handsome margin of safety in valuations.
As an aside, the stock has witnessed insider buying in the most stringent phase of the lockdown in the economy.
If you're a Hidden Treasure subscriber, you can read the recommendation report here. Please note you need to be logged in to your account.
If you haven't subscribed to Hidden Treasure, you can do so here.
A wise gentleman once said: 'Never waste a good crisis'. I hope you will grab the stock while the opportunity lasts.
For more such opportunities, stay tuned.
And stay safe!
Warm regards,



Richa Agarwal
Editor, Hidden Treasure
Equitymaster Agora Research Private Limited (Research Analyst)
PS: Read about my #1 stock pick for 2020 here.
Recent Articles