Exit Polls May Go Wrong, These Stocks Won't
May 21, 2019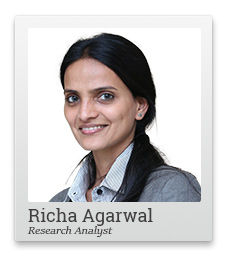 The biggest voting exercise in the world's largest democracy is over.
The curtains are drawn. The exit poll circus has begun.
While mainstream media is silent on acche din, Modi's resounding comeback has been announced.
Almost all polls estimate a clean sweep for BJP led NDA.
As I write this, Nifty at 11,634 is close to lifetime highs. The Sensex has opened 900 points higher.
A new life has been breathed into the market.
Dear investor, before you get carried away, do note that exit polls across the world have a poor track record.
--- Advertisement ---


What Modi's Expected Win Could Mean for These 4 Stocks...

The exit polls have clearly indicated who the winner of Elections 2019 could be.

And if you're a Modi-supporter or not, this could be great news for you.

Why?

Because this has the potential to trigger a strong uptick in the markets...

The market rose 1,400 points yesterday.

And this is just the beginning...

The beginning of a massive wealth-creating opportunity for early investors.

You can read all about this opportunity here, along with details on Richa Agarwal's top 4 stocks to profit from now.
------------------------------
India is one of the toughest markets to predict. In the past, pollsters have been way off the mark in state and Lok Sabha elections.
Yet, year after year, they continue to throw estimates. And stock markets too tend to swing sharply with the noise.
This phenomenon is not too different from the earnings consensus before the actual results are declared...except in frequency.
Every three months, analysts arrive at estimates for the next quarter. The stock prices swing in line with these estimates for a while...
Until actual results are declared, often much different from the estimates.
Over the last few years, the underperformance has led to continuous earnings and target price downgrades for most stocks.
Yet, the divergence from actual results has not deterred the analyst community from this futile exercise... nor has it encouraged them to think long term and build in margin of safety.
Sadly, some managements continue to be a party to this quarterly drama. They share short term guidance, with almost consistent failure to meet them.
In cases where they don't, the analysts force some numbers out of them repeatedly asking them questions that can't be answered with certainty.
However, not all managements conform.
I saw this no-nonsense attitude of the management in a recent earnings call.
When one analyst asked for revenue guidance, the promoter had a very interesting answer.
Here's what he said (reconstructed from memory):
As a policy, we do not give revenue guidance. We do not want to pressurize our operations team to chase the topline in the short term, at the cost of quality of growth.
This was refreshing.
Mind you, this is a company that has been growing its profits in double digits consistently for the last four years.
I had the chance to meet the management team at the corporate office in Mumbai a few months ago. And I was quite impressed with their vision and execution.
--- Advertisement ---


The 7 Most Promising Stocks to Buy as Modi Rises to Power Again

And it looks like a Modi victory again this time around...a resounding one, at that!

This could be good news for the markets...

More importantly, we believe 7 stocks could be amongst the biggest gainers, as the Modi-led government implements their various ideas and initiatives.

Read more about these 7 stocks here...
------------------------------
This company is a great play on affordable housing megatrend (a theme which I believe will play out irrespective of the Government in power)... and it comes with none of the baggage that typical real estate developers do.
Over the next few years, the stock could offer a great money multiplying opportunity. Hidden Treasure subscribers can read more about this opportunity here.
As for General Elections 2019...
Don't take the hype seriously.
While markets may remain volatile over the next few days, attractively valued stocks of the companies with strong business models and efficient managements will do well in the long term, irrespective of who comes to power.
So if you are interested in riding the volatility and earn great returns in the long term, you could join my small cap club and invest in these 4 solid small caps.
Warm regards,



Richa Agarwal
Editor and Research Analyst, Hidden Treasure
PS: We all know what a Modi win could do to the markets - but are you prepared with the right stocks in your portfolio to take advantage? Here are 4 rebound stocks that could shoot straight up when election results are announced - get them now.
Recent Articles