A Crucial Thing to Bear in Mind as You Watch Modi Take the Prize Today...
May 23, 2019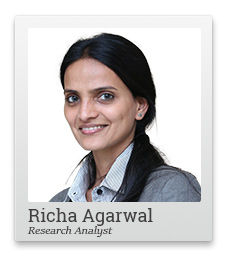 The most awaited day is here now. Soon all speculation will be put to rest.
While the final results are yet to be announced, and the counting has just begun, the election trends suggest a clear victory for the NDA, and the return of Narendra Modi as Prime Minister.
The Indian stock markets defied gravity post the exit polls - which predicted a thumping NDA victory - and touched an all-time high of 39,571 points, rising a record 1,400 points in one day.
Already questions are being asked such as 'will the markets cross 40,000 on the day of the election verdict'?
The Modi wave and the euphoria that surrounds it has engulfed the markets for now, boosted by foreign money inflow.
However, we wonder if there will be a rub off on the Indian economy as well, which has been witnessing a slowdown in recent months...
---

Advertisement

---

What You Should Know Before Counting Starts Today...

The counting of votes for the national elections begins today...and in all likelihood, we will have the results today.

Now, the exit polls have already predicted a win for Modi...

News of which caused the markets to skyrocket 1,400 points in a day.

But we see a bigger opportunity here.

We see a massive wealth-creating opportunity in a few stocks...that could potentially gain in double or triple digits in the months to come.

You'll find more details on the top 4 stocks to buy here...
------------------------------
The BSE Sensex is currently trading at an absurdly high trailing 12 months P/E (Price to earnings) ratio of 28.7x. That is expensive for our markets - very expensive.
Going by the valuations - an early economic recovery and corporate earnings turnaround seem to be already priced in.
But is it even realistic to assume that the new government will revive the economy so soon?
That's incredibly unlikely.
Even in the best-case scenario, remember that an economic recovery is still a few quarters away.
And in fact, an adverse turn of events on the macroeconomic front with respect to exchange rate, crude prices or foreign money flows could rattle the markets in a matter of days.
The economy faces a host of challenges, both internal and external.
Let's take a look at the internal state of affairs for now.
Going forward, for an economic recovery, India will need to boost structural and policy reforms, the list for which is unending.
At home, India's unemployment rate is at nearly 3-year highs.
Both domestic consumption and private investments need a boost.
Manufacturing activity too has slowed down.
Announcements to curb these issues will hardly make a difference unless implementation follows.
And India certainly has a poor track record for the latter. The need to build a consensus for the reforms and multiple stakeholders with conflicting interests are likely to prolong the process.
Unless policy measures are implemented on the ground, the fundamentals of the Indian economy will not improve quickly.
This will take time. For example, a big-ticket infrastructure project will require a two-year cycle from the concept stage to implementation.
This may be a harsh reality check - at a time when you could be celebrating.
And by all means celebrate away.
But as an investor - remember to also remain rational.
We long term investors don't invest on emotion and market euphoria - we invest on sounder fundamentals.
So, rationally speaking, until an economic recovery is underway, the investment cycle will be held back.
Not to mention that issues such as the IL&FS-led NBFC crisis, and quality of assets in the banking system will need a lot of balancing even as growth measures are considered.
Then there are external factors such as the steadily increasing crude oil prices.
Notably, the Modi government benefited immensely from low crude oil prices at the start of its tenure in 2014.
The global trade environment is also in turmoil given the US-China trade war.
The new government cannot wave a magic wand to make all these disappear soon.
Hence, I suggest investors - and especially my subscribers - not to get carried away.
---

Advertisement

---

The 4 Stocks to Buy If Modi Comes to Power Today...

The exit polls have clearly indicated who our next Prime Minister could be...

Causing an instant market rally of 1,400 points.

When the election results are out, we'll know for sure.

But this isn't about profiting from short-term rallies - a BJP win could significantly boost the economy and the stock market in the long run as well.

Starting with these 4 stocks...which Richa Agarwal has recommended a strong BUY on.

You'll find the details here.
------------------------------
More than being euphoric, I believe this is the time investors should be cautious and make sound rational long-term investing decisions.
Hence, I recommend investors to be realistic...
Follow a bottom-up approach in selecting stocks.
Minimize risks associated with investing by sticking to the ideal asset allocation.
The new government can uplift the fortunes of the Indian economy.
There huge scope for India to grow provided it overcomes a host of challenges.
However, today, as the results start flowing in, investors need to remember to temper your expectations because change will not take place overnight.
In the meantime, the disciplined approach that one needs to follow in the world of stock investing will not change.
Don't get carried away by the rally and predictions of what the Modi government will do next.
It is very important, now more than ever, to invest in only fundamentally sound stocks trading at reasonable valuations.
And if you are itching to invest right now, reap strong returns by investing in these 4 companies that have robust business models, are available at attractive valuations, and could be hugely profitable in the future.
Finally, I leave you with these famous words of Warren Buffet - which you already know - but I believe bears reminding at this juncture:
'Be greedy when others are fearful and fearful when others are greedy.'
Warm regards,



Richa Agarwal
Editor and Research Analyst, Hidden Treasure
PS: We all know what a Modi win could do to the markets - but are you prepared with the right stocks in your portfolio to take advantage? Here are 4 rebound stocks that could shoot straight up when election results are announced - get them now.
Recent Articles