Find Out
How to Find One Stock with Crorepati Potential? >> READ MORE
How to Find India's Tesla
May 23, 2022
Editor's note: Join Tanushree and Richa at a special online event TODAY - The EV Gold Rush - where they will share with you the best ways to profit from the EV megatrend in India.
---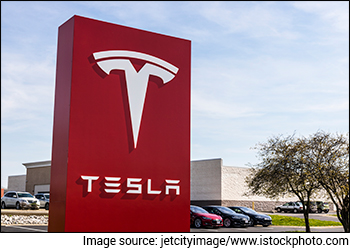 Tesla isn't just an electric vehicle maker. It's also a technology company.
Take two of the biggest tech companies in the world, Apple and Microsoft. When they want to update their operating systems, they don't tell you to go back to the store with your laptop.
They push out software updates over the internet to you and all other users.
Tesla does the same thing.
It sends out a software update to its internet-connected fleet. This upgrades existing Teslas to the most advanced self-driving cars in the world. With other carmakers, you have to bring your car back to the dealer to have a software update installed.
And here is what most investors ignore.
Tesla is actually one of the world's most advanced AI (artificial intelligence) companies.
--- Advertisement ---
A One Stock Gift in 1990 Turns into Rs 130 Crores

In 2017, Ravi made headlines by calling a leading business news channel with a surprising announcement - his grandfather had left him 20,000 shares of only one stock.


And on the day of his call - these shares were worth Rs 130 crore.

Can you guess which is this company?

It's MRF.

Ravi's story is one of the amazing stories of becoming Crorepati from a single stock.

But the question is, how to find that one stock with crorepati potential?

To find the answer to this million-dollar question, join our 'One Stock Crorepati' MEGA summit on 30th June, where we will reveal details of what we call a potential 'crorepati' stock...

Click here for full details...
------------------------------
AIs pilot self-driving cars and Tesla's AI pilots are the best in the world. That's because AIs learn from processing vast amounts of driving data.
Teslas have accumulated more self-driving miles than any other company.
So, the technology analysts do not value Tesla in terms of number of vehicles sold. But the number of self-driving miles.
As of July 2021, Teslas had driven themselves 1.6 billion miles. Within the next 2 years, it is expected to touch 10 billion miles. That's exponential growth.
Duplicating the Tesla hypothesis for India's largest carmakers, therefore, borders on idiocy.
None of the Indian automakers have a huge technology advantage, yet. Leave alone one that can offer them an edge in electric vehicles.
So, hoping that any of them could create wealth like Tesla could only bring disappointment.
--- Advertisement ---
"$2.5 Trillion Crypto Market Boom..."

A booming $2.5 trillion market...

Set to multiply by 100 times over the next decade...

With legendary investors like Warren Buffet, Elon Musk, and Peter Thiel pouring in billions of dollars all over...

Would You Really Want to Miss It?
------------------------------
Nevertheless, India's EV gold rush is real.
And there are companies with huge technology advantages that are the hidden wealth creators in India's EV ecosystem.
My colleague Richa and I put together two special reports with all the details.
Electric Vehicle: Ultimate Market Intelligence Report
3 Backdoor Stocks to Play the 15x EV Opportunity
To get these 2 reports, join us at our special online event TODAY - The EV Gold Rush - where we will share with you a little known way to play this massive EV opportunity in India.
Warm regards,



Tanushree Banerjee
Editor, StockSelect
Equitymaster Agora Research Private Limited (Research Analyst)
PS: EV stocks are the hottest trend in the equity market today. These stocks have the potential to deliver huge returns. The EV Gold Rush online summit will reveal the top 3 stocks to ride this massive opportunity.
Recent Articles