5 Reasons Why the Markets Fell Despite an Overwhelming Modi Victory
May 24, 2019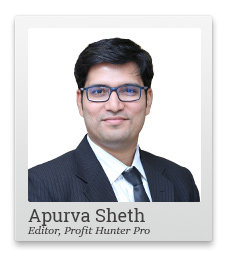 Commuting to office yesterday reminded me of the good old days when Mahabharata was broadcasted on Doordarshan every Sunday. The streets would remain empty as people across India were glued to their television sets.
It felt like I had travelled back to that era. The streets were quiet, vehicular traffic was minimum, and trains were running empty.
It seems people chose to stay back to watch the election results from the comfort of their home.
I am sure most of them are happy that the Bharatiya Janata Party (BJP) led National Democratic Alliance will be in power for the next 5 years.
Narendra Modi will be the first Prime Minister to win a second mandate with clear majority after Indira Gandhi.
This could be the second straight time when the parliament does not have an official leader of opposition as no other party except BJP has secured more than 10% of the seats.
This is turning out to be a landslide victory for Modi and BJP. That's what the markets wanted...
But despite getting what they wanted the markets ended the session with losses.
The benchmark Nifty ended with a cut of 80 points and Sensex ended with a loss of almost 300 points.
From the peak of the day Nifty was down more than 350 points while Sensex was down almost 2,000 points.
Are you surprised by the market's movement?
I am sure you are...
But I am not at all surprised.
The markets did nothing which I didn't expect. The markets opened strong as the initial trends were in favour of NDA.
The Nifty crossed 12,000 mark and Sensex crossed 40,000 during the day as NDA emerged as clear winner.
And then the markets couldn't sustain its peaks and slid lower after 11 am.
I expected this could happen on 20th May and even wrote about it to my Profit Hunter Pro subscribers in this article titled Buy on Exit Polls and Sell on Results?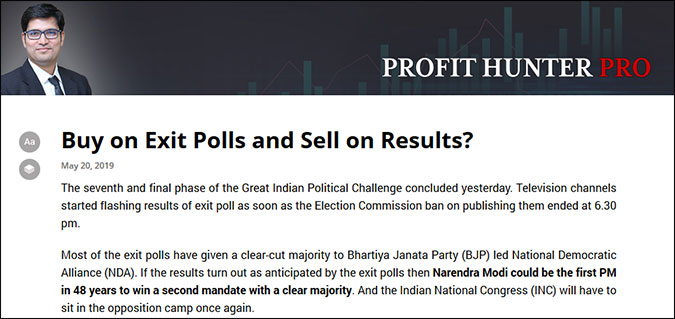 Now I am neither a psephologist nor an expert in predicting markets reaction to the results.
But after spending almost a decade in the markets I have gone through a couple of cycles and gained a behavioral edge which not many newcomers have.
I believe there are 5 things which indicated that markets would end in the red yesterday.
Euphoria

When things are going great, we feel nothing can stop us. It's the same with market participants as well. A BJP victory with more than 272 seats was the best outcome possible. Expectations of most market participants were met and it is common to get excited about the possibility of making more returns. This is the point of maximum risk. The markets were in to a euphoric mood after the victory and it reached this point of maximum risk.

Everyone who can buy has already bought in

When market reaches a euphoric phase almost everyone believes whatever he touches would turns in to gold. So, he buys as many stocks as he possibly could. When everyone who can possibly buy has bought there's no one left to buy more. When there aren't as many buyers prices fall.

Nothing more left to surprise the market

I told Profit Hunter Pro readers on 20th May that a Modi victory already seems priced in to the markets. So, once it became clear that Modi is coming back to power there was nothing left to surprise the market. A Modi victory was already priced in on the 20th when the index ended with largest single day gain in six years. It also surpassed the gains market witnessed after Modi came to power for the first time in 2014.

Smart money moved out while retail investors moved in droves

Smart money or institutional investor who are early entrants in the market generally book profits at market highs when retail investors get in. There were signs of retail investors getting active after a lull for a few days. Family and friends' WhatsApp groups were hyperactive and almost everyone was looking for investment ideas after Modi victory. Some of my colleagues got calls from stock tipping companies to buy their services as Modi was back in power which was good for the markets.

Focus back to fundamentals

The excitement of Modi Victory evaporated quickly as markets have other things to worry about now. Markets are grappling with issues like the US Chin trade war, rising oil prices, consumption slowdown, NBFC crisis etc.

Since the election results are out now markets have one less factor to worry about now. Nothing much has changed for us at Profit Hunter Pro.

We will continue to focus on price action and I will bring best of the best recommendations to my readers as usual.

Some of my recent recommendations in Kotak Bank, Maruti Suzuki and Hero MotoCorp have generated gains like 9.09%, 3.85% and 4.56% respectively during this week.

If you too are looking up to make similar gains from trading ideas in fundamentally strong companies then Profit Hunter Pro is the place to be.

Happy Trading.

Warm regards,


Apurva Sheth
Editor and Research Analyst, Profit Hunter Pro

PS: When the market ups and downs are more pronounced - as they are now - is a great time to get in for short term trades. And who better than to guide you than the editor of our techno-funda service Profit Hunter Pro. Join his list here.

Recent Articles