Who Will Be Crowned the 'Multibagger Blue Chip' of the Decade?
May 25, 2020
A value investor like me swears by two kinds of analysis.
Quantitative Analysis
Qualitative Analysis
An average investor has more than a fair idea of what is a good stock qualitatively.
He knows that stocks like Asian Paints, HUL, and Nestle are the bluest of the blue chips and will continue to have good long-term prospects.
But are his quantitative standards up to the mark?
Does he know the different elements governing the intrinsic value of a stock?
Does he know what is the approximate price to earnings multiple that he should pay to these stocks and whether these multiples should be applied to past, current or future earnings?
I don't think so.
I don't believe the average investor has a definite rule book against which to determine the intrinsic value of a stock.
In fact, forget the average investor, even experts seem to be sorely lacking in this area.
Therefore, when the quantitative standards are indefinite, investors don't determine the correct multiples for the stock. The market does it for them.
And in the process, the investor ends up being guided by the market instead of him guiding the market.
When this happens, no valuation multiple is high enough. Even a very high multiple is justified in the absence of a definite standard of valuation.
Is this what is happening to the stocks I just mentioned?
Are Asian Paints, HUL, and Nestle trading at high multiples because the market is lacking in any definite standard of valuation?
The chart below will perhaps help us solve this mystery.
Three Blue Chips Trading at Significant Premium to the Sensex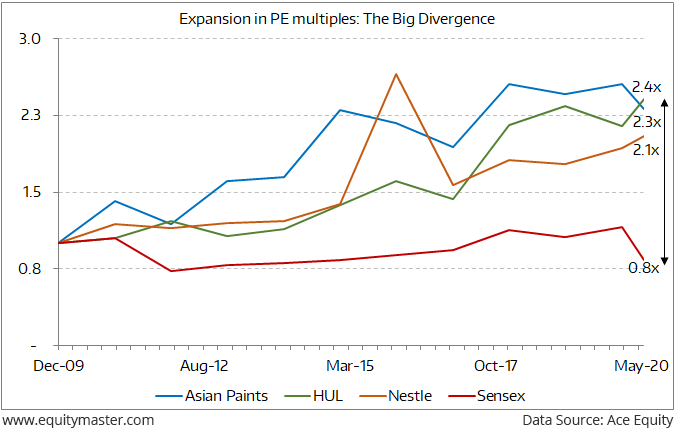 The blue chips like Asian Paints, HUL, and Nestle have all diverged from the Sensex in their PE multiples. In fact, the gap right now is the highest it has been in years. On an average, all three are trading at a premium to 2.5x to 3x as compared to the Sensex PE multiple.
Now, to be fair, these three are all quality companies. Therefore, they deserve some premium compared to the Sensex.
But is the premium as high as 3x justified?
--- Advertisement ---
Mark This Date on Your Calendar...

e would recommend you clear your calendar for 5pm, 10th July - and pay close attention to this...

On the 10th, we are inviting an expert to show readers like you how to potentially generate:

• Rs 15,150 in 10 minutes
• Rs 21,950 in 3 hours 11 minutes
• And Rs 17,650 in 3 hours and 13 minutes

*these are mock trades. Not Equitymaster recommendations.

This expert has been doing this himself for years now - generating what he calls 'Instant Income' - without buying or selling a single stock.

He calls it 'Instant Income' because the payouts could potentially be so quick - sometimes within minutes, that it is almost instantaneous.

Join us by clicking here - there are no payments to make to attend this event.
------------------------------
In fact, all three are part of the Sensex right now. Therefore, if you leave out these three companies from the Sensex, the premium could be much higher.
And by the way, I have not even compared the valuations of these blue chips to good quality mid and small caps. Here, the premium would be even higher.
Given that all the stocks are part of the same economy, this premium is hard to justify.
Is the market assuming these stocks will continue to grow faster than the general economy?
If that's the case, it is a wrong assumption in my view. Continuous high growth attracts competition and this leads to either loss of market share or lower margins or both.
Neither is an economic system possible where only the large companies grow forever and the smaller ones keep struggling.
Do remember, it is the smaller companies that create jobs and therefore, allowing only the large companies to grow will eventually lead to political intervention.
Thus, either ways, the current premium to Sensex or other companies look too large for comfort to me.
NEW REPORT: 3 Best "Profit-Pulling" Small Caps Present in the Market Right Now
While I cannot predict what will happen in the near term, there is a strong possibility these stocks may not perform as strongly in the upcoming decade as they have done in the past.
The last 10 years have been wonderful for these stocks. All three are up anywhere between 7x to 9x.
But my sense is that the leadership will change in the next decade. We may have to bet on different blue chips if we want market beating performance.
On what possibly could be these stocks, my guess is as good as yours for now.
But I will keep exploring this topic in the future. So, do stay tuned.
Also, do feel free to come up with a few suggestions of your own.
Share your views in the comments section below.
Good Investing,



Rahul Shah
Editor, Profit Hunter
Equitymaster Agora Research Private Limited (Research Analyst)
PS: At 5 PM sharp this evening, Tanushree will reveal her One stock Crorepati strategy. Don't miss it dear reader! Please click here for the details...
Recent Articles