This Smallcap is on the Frontline in the Battle Against Coronavirus
May 26, 2020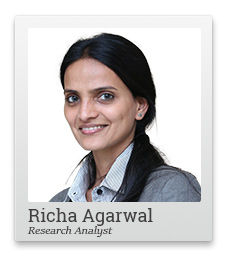 You have been hearing my views on how Covid-19 crisis could turn out to the best opportunity in a decade to invest in select smallcaps.
To be honest, this crisis is a big blind spot for company managements and for the analyst community.
Just having a bottom up approach is not enough. Here we look at the company specific fundamentals, arrive at an intrinsic value, and recommend the stock if the gap between intrinsic and current market price is significantly positive.
That's because the intrinsic value itself is under a big question mark for most of businesses.
Businesses, especially in sectors like airlines, real estate, finance, capital goods, tourism, auto and so on are under duress.
It's time to combine a top down investing approach (where we look at macro factors first before coming to finer details) with the bottom up approach.
That is, focus on sectors where the impact of Covid-19 will be a lot less severe than others.
In my last few articles, I've shared with you stock opportunities in certain sectors that the economy, even under a lockdown, cannot do without.
Here the demand is relatively inelastic. Hence companies in these sectors are set for a quick recovery. Think of sectors like FMCG, IT, agriculture, pharma, packaging, and ecommerce.
And even here, you should focus on niche leaders and debt free players with strong cash reserves on the balance sheet.
Continuing the same thread, today I want to share with you a specific opportunity in an IT stock.
--- Advertisement ---
3 Stocks for Potentially Massive Gains

COVID-19 has triggered a fundamental shift in the global economic and geopolitical map.

This reshuffling of the geopolitical map is just ONE of the forces fuelling the great Indian revival.

A revival that will restore the power, wealth, and influence we once enjoyed.

And, those who invest in the companies at the heart of this revival could turn a small stake into generational wealth.

Our co-head of research, Tanushree Banerjee, has narrowed down on 3 specific stocks.

She strongly believes, these 3 "revival stocks" could potentially offer massive gains.

Click here to learn more about this mega opportunity
------------------------------
As a world leader in Internet of Things (IOT), this company has the DNA to thrive in the digital world. Some of its loyal customers include players like Microsoft, IBM, and HP. To some of its clients, it's been a preferred partner to develop their artificial intelligence (AI) platforms.
Let me give you a flavor of what this means...
In financial services, artificial intelligence can help analyze a 10-year history of stocks and real estate holdings in fractions of seconds, as opposed to hours or days. It can even help investors make data-driven decisions on when to buy, hold, and sell equities.
Robots, drones, and cargo-carrying transportation, governed by AI, can play a role in tracking trends in location-related business data.
It could track the locations of customers that buy a certain manufacturer's product, or identify regions with an ideal demographic for high-end electronics.
The company is instrumental in making all this possible for its clients.
Revealed: 3 Stocks for Potentially Massive Gains
What more, it's playing an active role in tackling Covid-19 crisis as well in the following ways:
The crisis has led to a flood of calls to healthcare contact centres, over burdening the healthcare staff, and low accuracy in collecting information of incoming calls. This company is helping health systems implement Covid-19 rapid response across the world.
It has developed a mobile application that can be quickly deployed by healthcare providers to educate the general public, calculate exposure risk, and monitor patients after initial treatment.
It is supporting one of the two key diagnostic makers in testing of Coronavirus.
It has contributed to building an interactive pandemic surveillance dashboard.
A perfect stock to bet on in these time has to qualify both on top down and bottom up parameters. Let's see how it fares on business fundamentals.
Over the last five years, the company's topline has been growing at over 13% CAGR (compound annual growth rate). The operating margin of the company has been robust, an average of over 15% over last five years.
Over this duration, the average return on equity (average ROE) has been over 15%. The company has zero debt on the balance sheet. Dividend payments are a cherry on the cake, with a five-year average payout ratio of 25%.
With a niche technological focus backed by a strong management, I believe this company has all the tools at its disposal to move to the next level of growth.
Hidden Treasure subscribers can access this stock opportunity here. Please note you need to be logged in to your account.
If you haven't subscribed to Hidden Treasure, you can do so here.
Covid-19 is an unfortunate chapter in the lives of billions. For investors who act with discretion, it could be the best year to grab smallcap multibaggers available at beaten down valuations. A rebound from these levels could be sharp.
I hope you will not waste this crisis!
For more such opportunities, stay tuned...
Warm regards,



Richa Agarwal
Editor, Hidden Treasure
Equitymaster Agora Research Private Limited (Research Analyst)
PS: For my#1 stock pick of 2020 please click here.
Recent Articles