The Big India Revival
A Once-in-a-Generation Wealth Building Opportunity
With 1,000% Long-term Gain Potential
Should You Buy Tata Motors or Tata Power with Oil @ US$ 100?
May 27, 2022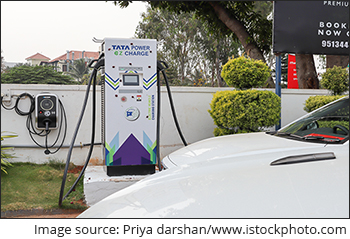 The bad news comes at a steady drip.
Around the world, inflation is at a decadal high. A recession looms.
Central banks are keen to end the era of "easy money".
An energy crisis is choking out global growth expectations.
Crude oil prices at over US$ 100 per barrel have taken the steam out of consumption businesses.
A host of factory inputs are linked to price of crude and crude derivates. So, manufacturers are bearing the brunt.
But the biggest victim of high fuel prices has been auto stocks, which have barely shown any signs of recovery post Covid.
Truth be told, legacy auto companies have had a tough time even in the pre-Covid years. As Europe and China showed a fast faced adoption of e-mobility, carmakers world over scampered to catch up. Giants like General Motors pledged a shift to electric vehicles.
In India too, the government's EV policies and tax incentives galvanised auto companies towards EVs.
Some even invested in EV start-ups to fetch better market valuations.
--- Advertisement ---
The Big India Revival

3 Hidden Forces Converging To Trigger a Multi-Trillian Dollar Shockwave

That Could Mint Countless Dollar Millionaires in India

You Could Be One of Them

Full Details Here
------------------------------
Until early 2022, Tesla's soaring stock price got every automaker greedy.
But the shift to EVs largely depended on the balance of two variables. The cost of fuel (for IC vehicles) and batteries (for EVs), and the availability of funds.
2022 brought in a sharp change in these variables.
Crude prices shot up to historically high levels and breached 100 dollars a barrel. Lithium, cobalt and other key inputs for EV batteries, saw their prices soar.
Supply disruptions due to Covid and the Russia-Ukraine war made matters worse. Meanwhile, funds dried up as investors fled to safety.
Stocks of US-listed Chinese EV firms such as Nio Inc., Xpeng Inc. and Li Auto Inc. as well as their American peers Tesla, Rivian Automotive, and Lordstown Motors Corp., lost their sheen.
Looking for India's Tesla is no longer a mouth-watering proposition for investors.
But should you truly give up on EV stocks?
Are the cheap legacy auto stocks now value buys?
Is oil @ US$ 100 a barrel not a reminder of the necessity for sustainable EVs?
To put it simply, how can you take advantage of market volatility to ride the inevitable trend towards e-mobility?
Well, first understand that your choices are not restricted to these comparisons...
Tata Motors versus Maruti Suzuki
Tata Motors versus Hero MotoCorp
Maruti Suzuki versus M&M.
Yes, each of these legacy automakers are formidable EV companies in the making.
And they may continue to receive investor attention as the world moves away from fossil fuels.
But the EV makers are facing stiff competition. They are not just competing with the US' Tesla and China's BYD but also Indian start-ups and legacy automakers.
Even the likes of Hindustan Motors (maker of Ambassador cars) are hoping to revive their fortune with EVs.
So, the EV manufacturing space is getting hyper competitive. Generating profits will be long drawn and dependent on cost of batteries etc.
On the other hand, companies in the other segments of the EV ecosystem will have a head start.
Why?
First, because they will build the initial infrastructure necessary for mass EV adoption.
Second, with limited competition, they may quickly move towards profitability.
Tata Power, for instance, will be among the few companies to set up India's EV charging infrastructure. Being a significant player in solar energy, the company is well poised to make the shift to renewable energy.
So, don't get disappointed by the stock price crash of global EV makers. And do not chase supposedly cheap auto companies in the middle of the market turmoil.
Keep a close watch on the EV ecosystem. This will allow you to spot opportunities that can make a big difference to your returns.
The choice between Tata Motors versus Tata Power is, therefore, not about the scope of the EV opportunity. That opportunity is a given, whether or not oil stays at US$ 100.
But it is all about selecting the best play to ride the EV boom without compromising on shareholder returns.
Warm regards,



Tanushree Banerjee
Editor, StockSelect
Equitymaster Agora Research Private Limited (Research Analyst)
Recent Articles