The Stocks That Will See the Most Upside Under Modi 2.0
May 28, 2019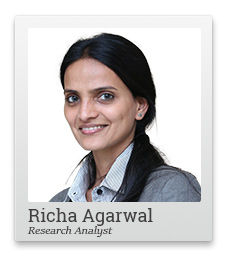 It's been less than a week since election results were announced and Mr Modi was declared winner with a clear mandate.
The market has given Modi two thumbs up.
The Sensex has touched 40K. And it looks like it won't take long for it to cross the 1 lac mark.
But there is an even more exciting trend that I believe is going to unfold in equity investing.
In fact, it is already visible. And this, I believe, should be your investing strategy for Modi's second term.
I have been writing to you about smallcap rebound for quite some months now.
Modi's victory seems to be the inflection point this phenomenon has been waiting for.
---

Advertisement

---

How Modi Could Take The Sensex from 40,000 to 100,000

A few days ago the Sensex hit 40,000…for the first time ever.

This was right after the election results revealed that the BJP-led NDA was on course to secure a large majority in the Parliament.

Sensex 40,000 seemed like a distant dream until not too long ago…but we have breached it.

And now, we're confident that over the course of the next few years, the Sensex is headed to 100,000.

Here's how you could profit from the journey…

NOTE – As the Sensex scales new heights and inches towards 100,000…there are 4 stocks we believe will perform exceptionally well, and potentially multiply investors' wealth. Here are the details.
------------------------------
In the last week itself, the small cap index is up nearly 8%. And this is just the beginning...
You see, over the last one and a half year, a huge gap has emerged between smallcap index and Sensex.
Despite a lackluster performance on earnings front for both, smallcap stocks crashed...while Sensex flirted with lifetime highs.
Since Jan 2018, the Sensex has gained 14% while smallcap index has lost 25%. That's a relative underperformance of 39%.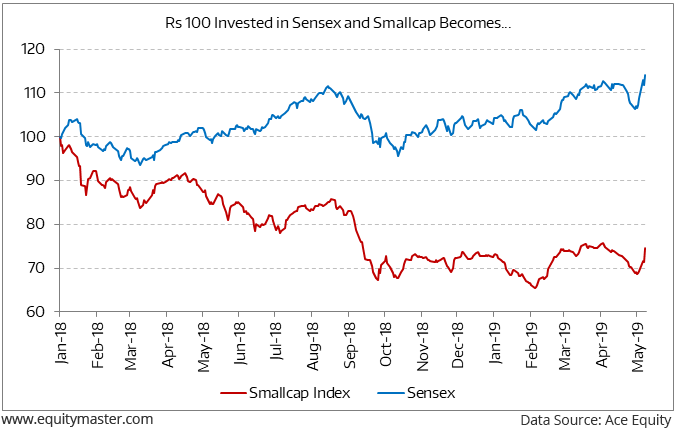 But this dichotomy cannot keep on growing forever.
You see, last time the market showed a similar trend was in the year 2013...just before Modi rose to power.
Between January 2013 to August 2013, the smallcap index has crashed by over 30%, while Sensex stayed put. And smallcaps were approached with the same scepticism they have witnessed over the last year.
But what happened after that was even more interesting.
Within a few months post August 2013, the smallcap index caught up with the Sensex. And it didn't just catch up.
Under Modi's first term, until January 2018, the smallcap index rose nearly four times versus a less than 2 times gain in Sensex.
In my view, history is going to repeat itself.
But it's not just any or all smallcaps that will participate in the next smallcap bull run.
---

Advertisement

---

7 Stocks Likely to Benefit Greatly From Modi's Policies In The Coming Years…

We believe that thing that set Modi apart from the first day he took office in 2014 was his ability to take difficult policy decisions.

We believe his policies have helped a number of companies grow in the last 5 years.

And now, our Co-Head of Research, Tanushree Banerjee, has identified 7 stocks that could benefit greatly during Modi's second tenure and beyond also.

Full details of these 7 stocks are included in Tanushree's special report.

Click here to know how you could get this report for FREE now…
------------------------------
As more money flows to the smallcaps, it will chase stocks with strong fundamentals, competent managements and most importantly, companies with good corporate governance practices.
Of all the open positions we have in Hidden Treasure, there are 4 smallcaps that I believe are ripe for a smallcap rebound and offer downside protection as well.
So if you are interested in riding the volatility and earning great returns in the long term, you could join my small cap club and invest in these 4 solid small caps.
But mind you, the opportunity to get in may not last for long.
As Sensex rides to the 1 lac level, the rise in select smallcaps could be even quicker, and the window to enter these smallcap stocks, shorter.
That's because smallcaps being less liquid tend to move fast. So make the most of this window while it lasts.
Warm regards,



Richa Agarwal
Editor and Research Analyst, Hidden Treasure
PS: We all know what a Modi win could do to the markets - but are you prepared with the right stocks in your portfolio to take advantage? Here are 4 rebound stocks that could shoot straight up when election results are announced - get them now.
Recent Articles