A Rare 11x Bluechip Stock to Profit from India's Revival
May 28, 2021
Editor's Note: Our safe stocks expert and co-head of research, Tanushree Banerjee, is excited about huge money-making opportunities in India's Revival that will open up in the market. In this editorial, she writes about one such stock...
---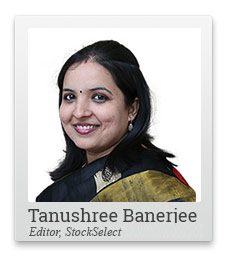 Never let a good crisis go waste.
I've heard these words more often in the past twelve months than the rest of my life. It's almost a cliche .
But one company I have been researching for years, did just this. Not just amidst Covid-19, in 2020, but even in its early days.
It actually used the worst crisis of its life to become the strongest player in its core business.
It all started in the year 1988 in Gujarat. The company's business was booming. It was in fact able to sell its products at a price double that of competitors.
A successful initial public offering (IPO) gave the company plenty of funds for growth.
--- Advertisement ---
Click Here to Watch the Replay of the Great Indian Wealth Project Event

At our Great Indian Wealth Project special event, we gave away these valuable resources virtually FREE.

This bundle includes our comprehensive wealth creation guide titled- Eight Steps to Your Eight Figure Fortune

And 3 high-potential stocks covered in our latest special reports...

To immediately get you started towards accumulating Rs 7 crore in wealth over the long-term

If you missed this event for some reason, then you can watch the special replay of this event.

Click Here to Watch the Replay...
------------------------------
But then came the pressure from investors to diversify into other products.
What followed brought the company to near extinction. The company spread itself too thin and ended up in bankruptcy.
Not one to give up, the company's founder used the crisis to break free from its past. He exited the unrelated products and focussed on innovation for the core product.
So much that the rate of innovation at the company outpaced the rate at which its products were copied by competitors!
Increasing the company's return on capital became the central focus. It moved to an asset-light model.
It shut down its own factory and outsourced manufacturing to third parties. All it owned were the design and intellectual property.
Over time, the company was not only one of the largest players in its space in India but also supplied to large clients in the US, China, Vietnam, Middle East, and Mexico.
The stock is up 11 times in the past decade.
Watch Now: A Massive 15x Opportunity in Electric Vehicles
The government's initiatives to make India a supply chain hub for the post Covid world is an inflection point for the company.
In fact, I believe the PLI (Production-Linked Incentive) scheme would do wonders to the company by ensuring complete self-reliance.
However, this is not the only company set to ride India's supply chain megatrend.
There are a couple of other such companies following a once-in-a-lifetime trend, which I call India's Revival.
I will talk about India's revival at length at the India's Revival Summit.
Join me at this online summit to know more.
Warm regards,

Tanushree Banerjee
Editor, StockSelect
Equitymaster Agora Research Private Limited (Research Analyst)
PS: Join me at the India's Revival Summit. I'll show you how to profit from the huge upcoming wave of economic prosperity. Register for the summit here.
Recent Articles