The Locusts Are Coming! Are You Buying the Right Stocks?
May 29, 2020
If the coronavirus crisis wasn't enough, we must deal with locusts now. Several states in India are attacked by locusts.
I am sure you may have seen videos of locusts in cities like Jaipur which went viral on the web. As I write this piece I am getting calls and messages from relatives and colleagues that locusts have entered Mumbai.
My mom is frantically shutting every window in our house while I laugh my wits out.
Mom, it's just locusts and not a lion, I said but she ignored me and shut down each window.
My mom certainly wants to be prepared before the locusts arrive and do any damage to us or our house.
My mom was feeling relaxed after she shut down each window in our house. It didn't matter to her whether the locusts arrive or not. She was fully prepared!
And the prior warning helped her prepare and protect.
What if we had a similar warning system to protect ourselves from any downside in the market? Even better, what if we could use it to our advantage and profit from it?
Well, we already have such a system.
I'll tell you what it is but first...check out this chart.
This is the performance of agrochemicals and pesticides companies this week on the NSE.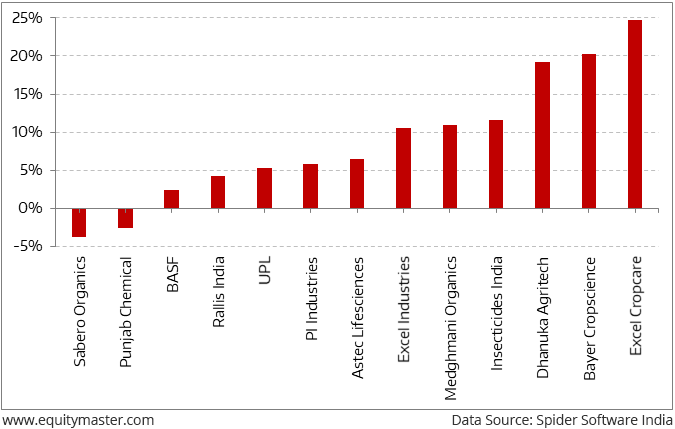 The locust attack may have an adverse impact on food grain production and may even lead to some amount of inflation.
But what might be a crisis for some is probably turning out as opportunity for others. Most of these stocks have done quite well this week.
Locusts entered India via Pakistan about a week ago. Farmers would need pesticides to protect their standing crop. This would be a big positive for these companies.
It seems obvious now but may not have been a week ago. That's because there's lot of flow of news and information in our lives. It's difficult to filter out the signal from the noise.
Fortunately, we have a system which does that for you. The system uses nothing but price action to filter the signal.
--- Advertisement ---
Happy Independence Day (Gift Below)

Are you taking advantage of our Independence Day Sale?

Right now, we're offering our readers a chance to Claim 1 FREE YEAR of Hidden Treasure - our most trusted smallcap service.

This means you can Get Our Best Smallcap Picks - FREE for A Year!

Yes, this might be your best chance to Build Potentially LIFE-CHANGING WEALTH.

But the Offer Goes Away in Less Than 72 Hours.

See How to Claim Your FREE YEAR Right Now.
------------------------------
Smart traders would have gone ahead and bought these stocks early. This buying activity would leave certain imprints in the price action. We must know how to identify them.
I share a T20 list every day with members on our Telegram channel. Here's a post I shared on the channel on Tuesday along with an excerpt...
May 26, 2020
New 20 Day High
New 20 Day Low
20 Day Volume Gainers
20 Day Top % Gainers
20 Day Top % Losers
BASF
AUBANK
IRB
BIRLACORPN
INDIACEM
CHALET
BAYERCROP
BAJAJCON
JINDALSAW
JKLAKSHMI
MPHASIS
IBVENTURES
BIRLACORPN
CCL
JKPAPER
BAYERCROP
LTI
MAGMA
COROMANDEL
CENTRALBK
KIRLOSENG
ABCAPITAL
BAYERCROP
IBULISL
DELTACORP
CHENNPETRO
KPRMILL
STARCEMENT
CGCL
IBREALEST
EMAMILTD
CHOLAHLDNG
KTKBANK
INDOSTAR
OFSS
SHOPERSTOP
GODREJIND
COCHINSHIP
LAKSHVILAS
GODREJIND
REDINGTON
GET&D
GPPL
CREDITACC
MAGMA
HEIDELBERG
ISEC
FRETAIL
GRINDWELL
DBCORP
MMTC
ORIENTCEM
EDELWEISS
AUBANK
INDIACEM
DCAL
NESCO
DALBHARAT
ADANIGREEN
HFCL
JKCEMENT
DCBBANK
NLCINDIA
IEX
JBCHEPHARM
DCBBANK
JKLAKSHMI
FLFL
PGHH
JKCEMENT
JKLAKSHMI
SHK
KSCL
FORTIS
PNBHOUSING
SCHAEFFLER
BIRLACORPN
EIHOTEL
MCX
GESHIP
PNCINFRA
BASF
ADANIGAS
WABAG
MPHASIS
GICRE
PTC
LAXMIMACH
COROMANDEL
SUNTECK
RESPONIND
GNFC
REPCOHOME
FSL
DELTACORP
CHENNPETRO
GREAVESCOT
SCHAEFFLER
GARFIBRES
VAIBHAVGBL
GRAPHITE
HEG
SHRIRAMCIT
DCMSHRIRAM
SYNGENE
DBCORP
HFCL
SUNTECK
INDIACEM
APLLTD
IRB
IBULISL
TCNSBRANDS
PRSMJOHNSN
OMAXE
DHFL
IBVENTURES
TIINDIA
IIFL
WELCORP
Notice the stocks hitting new 20 day highs in the T20 list. 4 out of 20 are agro-chemical companies. I have marked them in bold. Locusts could lead to a bounty for such companies. Keep an eye.
--- Advertisement ---
3 Tech Stocks to Boost Your Wealth

Technology. That's where the growth is.

That's why we believe, it's time to load up on 3 specific tech stocks.

We've spent years to vet these stocks.

And our research says... these 3 cutting edge tech stocks could potentially create a wave of Indian millionaires.

Click here for the full details...
------------------------------
A stock hitting a new 20 day high is a sign it's breaking out of last one month's trading range. Such a breakout needs good level of interest from buyers as they must absorb all the selling from traders who may have bought the stocks recently and want to book profits.
So this is an imprint of buying and acts as a signal for ones who know how to look at such data.
Now the locust may go away and these stocks might also cool off in the next few days. I can't say what will happen in the future with certainty.
But one thing I know is that whenever the next opportunity arises it will leave an imprint on my T20 list.
Are you getting this list daily?
If not then you are missing out.
Join Equitymaster's telegram channel and benefit right away.
Warm regards,

Apurva Sheth
Senior Research Analyst, Fast Profits Report
Equitymaster Agora Research Private Limited (Research Analyst)
Recent Articles