These 4 Stocks Can Skyrocket in Modi's Next 5 Years
May 30, 2019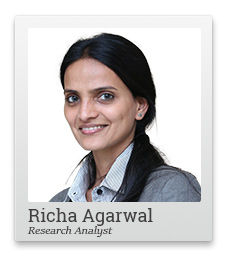 As I wrote to you yesterday, the market is latching on to the euphoria of Prime Minister Modi's return to power.
Today, as Narendra Modi takes oath as Prime Minister and the new government announces its cabinet of ministers - the ones in-charge of the governance of the country for the next five years - the market is set to be even more euphoric as it cheers the formation of a stable government.
The domestic market has been on the rise since the exit polls' results started pouring in.
--- Advertisement ---
How to Unlock Almost 3x More Gains During the Corona Crisis...

Good News...

Our top analyst Richa Agarwal just identified 5 "pandemic-proof" smallcaps that could win the war against coronavirus...

And deliver up to 50-100% gains really fast!

She has revealed the exact details of these 5 high-potential smallcaps in her latest special report...

Check It Out Now...
------------------------------
The BSE Sensex is up over 4.2% and near life-time high levels since the exit polls. But what most investors are not paying attention to is this...
The BSE Smallcap index is up a whopping 11.8% in the same period!
As you would know, in a rising market, most stocks generally go up. As they say, a rising tide lifts all boats. The effect is amplified for smaller vessels - just like it is for smallcaps.
When markets go up, smallcaps tend to outperform.
And with Modi 2.0 back in power, markets are seemingly cheering him on.
Does this mean that smallcap stocks are now out of reach?
Not at all.
Short Presentation: For Those Looking to Buy Stocks
Despite the quick rise in smallcap stocks, they are still a way off from the highs they saw in 2018. And with a lot of interest and euphoria focused on the Sensex hitting all-time highs, there are quite a few opportunities available in the smallcap space.
One can make good gains with a careful selection of stocks and long-term horizon, irrespective of the index levels.
Thankfully, Hidden Treasure subscribers are in safe hands.
Right now, they can buy over thirty fundamentally solid smallcaps for the long-term.
This brings me to the point in question.
With the formation of a new stable government, should all investors, even those new to the stock markets, buy smallcaps at all?
We at Equitymaster are very clear about our answer.
Yes!
And we have legendary investor, Warren Buffet to back us up:
It's a huge structural advantage not to have a lot of money. I think I could make you 50% a year on $1 million. No, I know I could. I guarantee that.

The universe I can't play in has become more attractive than the universe I can play in. I have to look for elephants. It may be that the elephants are not as attractive as the mosquitoes. But that is the universe I must live in.
The truth is, Buffet envies retail investors like you.
Think about it. Most people don't have the kind of money to invest that fund managers do. This is a good thing. It means you don't need to look for elephants. You can swat the attractive mosquitoes instead!
Here's why every stock market investor should have the best quality smallcaps in their portfolio.
High growth potential: Imagine two companies in the same industry having similar solid fundamentals. Then, in the long-term, the company which grows faster will create more wealth. A good example: Amara Raja v/s Exide.
Valuation disconnect: Good quality smallcaps tend to significantly outperform largecaps in the long-term. But the key word is 'long-term'. For investors patient with smallcaps, the returns are huge. You can use periods of valuation disconnect to slowly accumulate such stocks.
Lack of institutional ownership: Remember Buffett's words? Institutional investors are busy hunting elephants. This is great news for the aam investor. If you can get in early, before the big guys, then big gains await you!
Liquidity: Many smallcaps are not heavily traded. This presents a good opportunity. A good quality smallcap, which is growing earnings over time, will attract attention. As the public becomes aware, demand for the stock goes up. When this happens, many investors bid for a limited number of shares on offer. The result? You guessed it! The stock price rises rapidly.
If you believe that high quality smallcaps belong in your portfolio, then the next logical question is how do you find them?
---

Advertisement

---

7 Stocks That Could Gain Sharply As The Sensex Races to 100,000…

We believe Sensex 100,000 is coming. And Modi's re-election could make it happen sooner than everybody expects.

Now the important thing to note here is…

For the stock market to show that kind of growth, there have to be businesses that create a LOT of wealth for their shareholders in the coming years.

Keeping this in mind, our Co-Head of Research, Tanushree Banerjee, has identified 7 stocks that could grow substantially as the Sensex heads towards 100,000.

Full details of these 7 stocks are included in Tanushree's special report.

Click here to know how you could get this report for FREE now…
------------------------------
Smallcaps are riskier than largecaps.
How to mitigate the risks?
How much exposure should you take in each small cap?
I do this for a living. And I can assure you, the process is not easy.
But the good news is you don't have to do the heavy lifting yourself - I've got you covered. Of all the thirty odd, open positions we have in Hidden Treasure, there are 4 smallcaps that I believe are ready for a turnaround, and yet are resilient enough to withstand a correction.
If you are willing to wait for a few years for big gains...
I believe this is the best time to buy these 4 businesses at huge discount.
But mind you, the opportunity to get in may not last for long. If you are a Hidden Treasure subscriber, you can get the report here. If not, go here for more details now.
Warm regards,



Richa Agarwal
Editor and Research Analyst, Hidden Treasure
PS: As the Modi Government announces its cabinet today and begins the process of implementation of its promises in earnest, it won't be long before these 4 fantastic rebound smallcaps get out of reach - get them now.
Recent Articles