5 'Essential' Smallcaps for a Pandemic-Proof Portfolio
Jun 2, 2020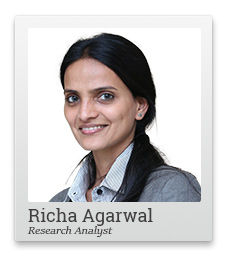 The bad news is pouring in.
As if rising Covid-cases was not enough, we have a fresh challenge to deal with.
Barely two weeks after Amphan hit West Bengal creating havoc, we are facing a cyclonic threat on the west coast.
In another development, for the first time in over two decades, Moody's has downgraded India's sovereign rating to the lowest investment grade.
These would not be standalone setbacks. They are likely to bring with them a fresh set of challenges. That too at a time when our systems and resources are already stretched in dealing with the pandemic.
As investors, you must be prepared.
I'm not saying you should be out of the markets. That might give you the comfort of not having to deal with near term volatility.
But over next two or three years, you would see this as the lost opportunity of the decade.
I believe it's time to go defensive. Fortify your portfolio with disaster proof stocks.
Most people would consider being defensive as flocking to the perceived safety of large-cap stocks.
I have different views on this.
While there has to be allocation to largecaps in the portfolio, it should purely be from a diversification perspective.
For the same reason, a good portfolio must have a decent allocation to small-cap stocks as well.
You see, despite all the setbacks, the BSE Sensex is still not cheap enough. It is inching above the median price to earnings ratio of 19.7 times.
Below is a table showing Sensex valuations and returns post Virus outbreaks historically.
Since price to earnings ratio for the smallcap index makes little sense, I've used the ratio of smallcap index to Sensex to asses valuations.
This ratio, at 0.34 times, is well below the median ratio of 0.44 times.
In other words, smallcaps seem to be in a sweet spot for a sharp rebound.
Sensex
Smallcap Index
Virus Outbreak
Estimated Period
Returns During Outbreak
P/E (Median
~19.7x)
1 Year Return Post Outbreak (%)
Returns During Outbreak (%)
Smallcap to Sensex Ratio (Median ~0.44 )
1 Year Return Post Outbreak (%)
Avian Influenza
Jan - Aug 2004
-12.2
18
50
-9.8
0.37
198
Ebola
Dec 13- Feb 14
1.6
17.7
39
4.5
0.31
75.6
Zika
Nov 15- Feb 16
-13
19.5
24
-15.4
0.44
43.4
Covid -19
March -May 20
3
20.3
NA
-1.8
0.34
NA
Data Source: Ace Equity, Equitymaster
Now this does not mean that you should pick any smallcap that seems cheap in the hope of a rebound.
All these unprecedented disasters are likely to leave huge casualties in their wake.
--- Advertisement ---
These 3 Stocks are the Dark Horses of the Stock Market

The mainstream media mostly ignores them.

Mutual funds and hedge funds can't buy them in bulk.

Stock brokers rarely cover them.

These stocks are the dark horses of the stock market.

They only come in limelight after they have rallied by hundreds or even thousands of percent.

Our head of smallcap research, Richa Agarwal, has a knack for identifying such stocks before they begin their rally.

Over the years, she has spotted such stocks which have gone on to offer triple and even quadruple digit gains for investors. (* Past performance is no guarantee of future results)

Today, when the markets are near all-time high... and some investors are thinking of booking profits... Richa has spotted 3 such stocks which are set for a massive rally.

She will reveal the details of these 3 stocks on 28th June at her free online summit.

Click here to sign-up. It's free.
------------------------------
So, you need to be highly selective in the smallcap space.
There are two basic filters that smallcaps you choose must clear, over and above the conventional filters.
Which companies are financially fit to sail through the coronavirus crisis?
Which companies will not only survive, but also thrive in a post-pandemic environment?
Over the last few days, my team and I have been busy recommending stocks that are not only resilient to the crisis but are likely to emerge stronger from it. These stocks would be well positioned for a sharp rebound.
The result has been a report on 5 'Essential' Smallcaps to Ride the Covid-19 Rebound.
Please note this is a new premium report for Hidden Treasure subscribers. For others, subscription is required.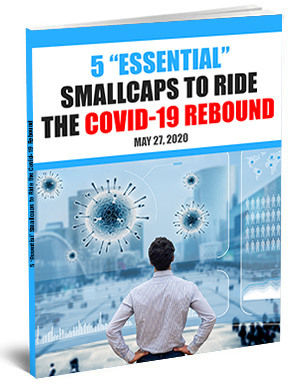 Of these 5 stocks, the first is a leading FMCG player - a market leader in a very essential food item. The company is has seen a 100% jump in online sales during the lockdown. It's also tying up with food delivery apps like Zomato for wider access of its products. The company is also the world's largest exporter in its niche segment and its flagship brand commands over 70% market share in the gulf markets.
The second stock provides crucial services to the financial markets...has been continuously growing its market share even amid the lockdown. It's a great proxy to ride the twin megatrends of financialisation and digitalisation in my view. One-third of its revenues are annuity based.giving it a strong buffer against the current slowdown.
The third stock is a critical supplier to the biggest bluechip companies of India. It's the only company globally to make its own robots in this segment, that too at one third of the cost, and dominate its niche segment with 25% market share. With the food segment (one of the most resilient to the Covid crisis) as its fastest growing segment, I believe it is well placed to weather the storm.
The fourth stock is a technology company with the DNA to thrive in a world adopting digitisation and artificial intelligence at unprecedented rates. It's also very adaptive to the macro environment. It's already involved in supporting and empowering the healthcare sector to combat the Covid-19 crisis.
The fifth stock is in agribusiness. It offers a product that plays a key role in India's food security. With almost 10% market share in its niche, it supplies the most essential ingredient to the most important sector of the economy.
Here's a glimpse of the fundamentals of these stocks.
| | Return on Equity (%) | Return on Capital Employed (%) | Operating Profit Margin (%) | Net Profit Margin (%) | Debt to Equity |
| --- | --- | --- | --- | --- | --- |
| Stock A | 21.5 | 22.8 | 31.5 | 26.9 | 0 |
| Stock B | 20.1 | 20.8 | 21 | 12.2 | 0.3 |
| Stock C | 17.6 | 19.4 | 17.6 | 7.9 | 0.5 |
| Stock D | 15.2 | 20.8 | 17.5 | 9.5 | 0 |
| Stock E | 14.7 | 18.9 | 66 | 47 | 0 |
Data Source: Ace Equity, Equitymaster
The market sentiment has brought these stocks in to a very attractive zone from a valuations perspective.
BREAKING: It's Good Time to Invest in Gold, but Just Don't Go Blindfolded
The first 50%-100% gains could come fast. In fact, two of these stocks have hit upper circuits in the last few trading sessions.
But we are more interested in the long-term returns. I believe these five stocks have the potential to run up nearly 3x from the current levels in the next four to five years.
Hidden Treasure subscribers can access the report here. Make sure to use your login details while accessing the link.
If this opportunity interests you and you have not subscribed yet, click here.
Covid-19 is an unfortunate episode in the lives of billions. It will remarkably influence the way we live, and businesses are run. For investors who act with discretion, it could be the best year to grab multibagger stocks available at beaten down valuations. A rebound from these levels could be sharp.
I hope you will not waste this crisis!
For more such opportunities, stay tuned...
Warm regards,



Richa Agarwal
Editor, Hidden Treasure
Equitymaster Agora Research Private Limited (Research Analyst)
PS: If you haven't subscribed to Hidden Treasure, you can get access to my new premium report here.
Recent Articles