Rs 2 Trillion Stimulus Coming to a Stock Market Near You
Jun 2, 2021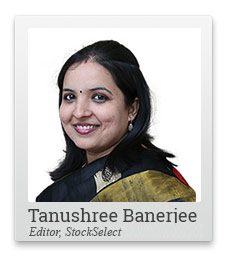 The United States had the longest list of new billionaires in the decades following the Great Depression.
From John D. Rockefeller to Henry Ford to Sam Walton, scores of entrepreneurs found themselves in the reckoning of the wealthiest in the world.
That's because America saw an unprecedented demand for cars, fuel, and retail products in the years following the depression.
New highways were built at a never before pace in the US in 1930s.
Believe it or not, 90% of rural America had no electricity until the Great Depression.
American power infrastructure changed dramatically in the years that followed.
China has had a similar story in the past two decades.
--- Advertisement ---
This is a Powerful Mega Trend Playing Out in India

We have uncovered a powerful mega trend that is playing out in India right now.

It could potentially generate immense wealth for early movers.

Our co-head of research Tanushree Banerjee has also zeroed in on one specific stock riding this mega trend.

It's her #1 stock pick right now.

And she believes, this could be one of the top stocks to get to potential Rs 7 crore wealth over the long term.

Tanushree will reveal all the details about this mega trend and her #1 stock at her special online event on July 29.

At the event Tanushree will also show you, how to potentially accumulate Rs 7 crore in wealth over the long term.

What you learn at the event could possibly change your financial fortunes forever.

Click here to reserve your FREE seat.
------------------------------
Chinese entrepreneurs have joined the ranks of wealthiest globally. Even as China's factories buzzed and new technology businesses gained prominence, IPO billionaires became common.
Zhong Shanshan from China, became the 14th wealthiest person on earth in 2021. He has 24 other Chinese billionaires competing with him.
Most of them got to the position on chasing IPO riches. These include promoters who were formerly teachers or accountants or software engineers.
During Covid-19 lockdown, stock markets globally were buoyed by an army of retail investors looking for quick returns.
The Chinese IPOs created a bunch of billionaires and scores of millionaires amid the pandemic.
Interestingly, India is set to see a surge of such liquidity in the stock markets in 2021.
It won't be an exaggeration to say that the newfound liquidity could act as a huge stimulus for Indian stock markets. One that could take the valuations to higher stratosphere.
Free Signup: The Smallcap Revival Summit
Indian stock markets could see a record Rs 2 trillion coming in by sale of shares in 2021. Of this, 40% could be via initial public offers (IPOs).
PSU disinvestment and offers for sale (OFS) could make up the rest.
Popular startups like Zomato and Paytm are planning to tap the primary markets this year.
Add to that the government's plan to privatise or divest stake in some PSUs (even big ones like LIC) to raise funds for infrastructure spends.
To put this in perspective, the fund flows into primary markets this financial year could exceed the cumulative inflows over the past decade.
As you know, I am constantly on the lookout for rare wealth creation stories on the back of India's Revival.
So, I do find the prospect of India's crorepati IPOs exhilarating.
However, I won't hesitate to warn you that not all companies lining up in the stock markets would create wealth.
Even some popular startups may disappoint post listing with their capital allocation and profitability.
So, invest with caution.
India's Revival is a huge megatrend that is here to stay. Possibly for decades.
So do not get carried away by the short-term market stimulus.
Rather, prepare well to create your fortune.
I will share more ideas and insights with my subscribers and readers who wish to profit from this megatrend.
I have created a Telegram group to share all that is essential to keep track of India's Revival.
If you are interested, you can join my Telegram group here.
Warm regards,

Tanushree Banerjee
Editor, StockSelect
Equitymaster Agora Research Private Limited (Research Analyst)
PS: Three hidden forces are converging to trigger India's revival. This could potentially mint countless new millionaires. On 9 June, I will reveal once-in-a-generation opportunity to potentially make 1,000% long-term gains. Full details here...
Recent Articles