How to Invest in Stocks Now After Nifty 10,000
Jun 4, 2020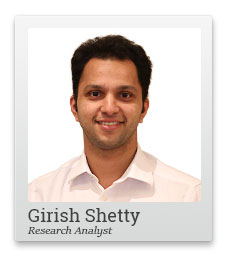 Something unbelievable happened yesterday. Unbelievable for a majority of investors. The NSE Nifty crossed the 10,000 mark.
Is it happening for the first time? No.
Then why is it shocking?
Well, around two months back the Nifty was close to the 7,500 mark. If you 'd told investors that Nifty would gain 33% and touch 10,000 in two months, they would've called you crazy.
But that's exactly what has happened.
Has the Coronavirus impact gone away? In fact, it's the opposite. The number of Covid-19 cases has now crossed 200,000 from 500 just two months ago when the lockdown began.
Yes, the Indian economy is slowly opening up from the lockdown now.
But, is everything back to normal? Surely not.
Then what explains this rally?
One, the markets always looks ahead. There is more certainty about the virus. The damage it can cause. The precautions that we need to take to protect ourselves. The fear of Covid-19 is lesser now than it was two months back.
--- Advertisement ---
Good News: Our No.1 Stock Pick for 2021 has Already Started to Move

Our Head of Small-Cap Research, Richa Agarwal, revealed her top stock for 2021 just a couple of days ago.

...And now, the stock has already started to move. Meaning, it has begun to potentially make its early investors rich.

As the word spreads, there's a chance that this could move up RAPIDLY.

You Could Find the Complete Details of this Revolutionary Stock Here in this Note
------------------------------
Two, the most important thing is the nature of the markets. There are too many forces at play to say why the Indian stock market went up.
Somewhere, a foreign investor might be forced to buy or sell based on some parameter. A domestic fund might be forced to buy or sell based on customers investing or withdrawing money from their fund.
If you are a short-term trader, you need to track these closely.
But for a long-term investor, breaking your head over the BSE Sensex or Nifty50 movements is a futile exercise. It will leave you stressed most of the time. So, don't waste time worrying about the Nifty getting back to 10,000.
Then what should you do in such situations, dear reader?
Focus on individual businesses you have invested in. Have a long-term view. It is the only thing you can control.
Ask these three questions about the business you hold...
Does it generate cash consistently year on year?
Is it able to generate high returns by investing this cash?
Are there reasonable opportunities to grow the business?
If your business ranks high on these parameters, you've got a potential wealth creator on your hands.
REVEALED: How to Unlock Almost 3x More Gains During the Corona-Crisis...
These companies are rare to find. But you will find them in the BSE Largecap, BSE Midcap, and BSE smallcap spaces.
But there is one major difference.
The margin of safety.
The BSE Smallcap index is down 25% over the last 3 years. The natural human tendency of fear has taken over this space. Most investors have labeled small-cap stocks as a no go zone.
A few businesses with qualities I mentioned above are in the smallcap space.
We have shortlisted 5 such stocks for our Hidden Treasure subscribers.
Apart from our quality checks, we've asked one more question...
Will the business survive this coronavirus crisis and come out stronger?
The 5 stocks that we've chosen, answer an emphatic yes to these questions.
And yes, these are attractive even at Nifty 10,000.
--- Advertisement ---
4 Excellent Tech Stocks to Buy

The covid-induced crash induced havoc on the market...

However, there was one mysteriously calm person...

And in fact, he was ready to book double-digit gains very soon...

Who was this person?

How was he prepared for the covid-induced market crash?

And how did he book double-digit gains in the market rally that followed it?

Click Here for the Presentation
------------------------------
The pessimism surrounding the smallcap space has meant these businesses are now available at throwaway prices.
I believe, the wealth creating opportunities in these 5 stocks will be huge for the patient long term investor.
Warm regards,



Girish Shetty
Research Analyst, Hidden Treasure
Equitymaster Agora Research Private Limited (Research Analyst)
PS: Get access to our recommendation report on the top 5 small-cap stocks in the market here.
Recent Articles