Didn't Get a Call From KBC?... You Can Still Become a Crorepati In Less Than 5 Minutes
Jun 5, 2019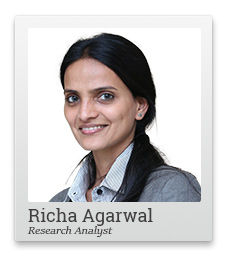 Growing up, people have different dreams.
I fancied becoming a crorepati.
Not always... In school, biology was my favourite subject. I thought I would become a doctor. It was rather a family ambition, which I never fulfilled (and thankfully, no one complains about anymore).
However, one fine day, my focus shifted.
It all started with the first season of Kaun Banega Crorepati.
The grand set, the charming host Mr Amitabh Bachchan, and most importantly, the Jackpot worth Rs 1 crore...
I was hooked.
I shared the contestants' anticipation for the hot seat...their confidence for the first few questions...their anxieties as the stakes got higher...their elation at getting the answer right...and their disappointment at quitting and losing.
---

Advertisement

---

Are You Ready to Profit From Small Caps On A Rebound Post Modi's Victory?

Post Modi's victory…or rather, right after the exit poll results were out…many small cap stocks that were down earlier started on their rebound path.

But not all of these small cap stocks are good. And not all will continue to rise in the long run.

Finding the right small cap companies to benefit from in the long run requires a proven and effective strategy.

And we not only possess the strategy, but also 4 small companies identified using the same strategy that you could consider investing in.

To get the full details on the 4 stocks and our proven strategy, just click here…
------------------------------
I played vicariously through them.
I once even dreamt I was the on the hot seat, with Mr Amitabh Bachchan in front of me, welcoming me to the show, asking me to share my life story, and explaining all the rules to me.
That dream never came true.
They never called me. All I got from that obsession was perhaps better general knowledge.
My only solace was a group of equally smitten friends and neighbours who did not got lucky either.
Over the years, I gave up hope.
As registrations start for Kaun Banega Crorepati Season 11, I now look forward to it only as an audience... No more as a wannabe contestant.
You see, the probability of getting a call from the show is low. And even if you get lucky, the chances of winning a crore aren't very handsome, as plainly seen in the past 10 seasons of Kaun Banega Crorepati.
However, what I have not given up on is the pursuit of a path to easy and huge money. A path that does not require too much effort or initial capital, is righteous, and rewarding enough to turn around lives.
In some ways, it was this drive that attracted me to the stock markets.
The journeys of the likes of Dolly Khanna, Rakesh Jhunjhunwala, and other big investors who started small and became crorepatis have inspired me.
And reading and listening to Warren Buffett, Peter Lynch and Charlie Munger has shown me the right way.
After a decade long career in equity research, I know that making crores from the stock market, even a single stock, is entirely possible.
---

Advertisement

---

How to Rake In HUGE Profits From The Market's Faith In Modi…

Modi is India's PM once again…

And we believe the market's faith in him and his governance could push the Sensex all the way to 100,000 in the coming years.

Now in our view, the best way to profit from the market's faith in Modi is to make a handful of solid investments and let the market do the rest for you.

Yes! Our Co-Head of Research, Tanushree Banerjee, has identified 7 specific stocks that are potentially best placed to benefit greatly from this coming surge as the Sensex heads to 100,000.

But these stocks may not remain in the buy range for long.

So hurry, just click here for full details now…
------------------------------
What's more - it comes with a better probability of success.
In fact, the gains in some of the small cap recommendations under my Hidden Treasure service - such as Page Industries, NIIT Technologies, Can Fin Homes, City Union Bank and Balkrishna Industries - have been strong enough to realise the crorepati dream from the stock markets.
But do such returns really come so easy?
No, of course not. If it was that easy - everyone would be a one stock crorepati.
But there is an answer - a blueprint, in fact.
It took me many years and numerous case studies to figure out why there are only a few crorepati stocks... And what goes into making them.
Now I am all ready to share my findings with you.
So, if you are interested in acquiring my 'crorepati stock' secret, join me for my webinar on June 24 @ 5PM.
All you need to do is sign up here. And unlike KBC - your invitation is assured.
Warm regards,



Richa Agarwal
Editor and Research Analyst, Hidden Treasure
PS: Richa Agarwal, our small cap guru, will reveal the 'one stock crorepati' secret for Equitymaster readers only - on the 24th of June @5PM. Click here to put your name down - and be sure to be there.
Recent Articles