Rating Agencies Are Noise Makers. Ignore them and Focus on Price Action
Jun 5, 2020
The Indian stock markets have bounced back sharply from the lows of March. The benchmark indices are up almost 30% from their lows.
Markets even shrugged off a sovereign ratings downgrade and moved higher after Moody's dropped our ratings to BAA3 from BAA2. It's just one notch above junk status now.
Coronavirus cases have only increased with each passing day. The only curve which seems to be flattening is the GDP growth curve. Despite all this, the NSE Nifty crossed the psychological mark of 10,000 recently.
You may feel that something might be wrong with the markets.
But, I would say this is the nature of the market. It's a beast with its own mind. It doesn't require confirmation from ratings agencies for any kind of movement.
In any case, the ratings agencies don't have the credibility to move the markets either ways especially after what happened during the 2008 global financial crisis.
I believe if you want to make money as a trader then price action is the most important thing you must focus on. You can ignore everything else including what rating agencies say.
I told you banks could outperform a few weeks ago. Banks have done phenomenally well over the last few days. More on that later...
--- Advertisement ---
Mark This Date on Your Calendar...

e would recommend you clear your calendar for 5pm, 10th July - and pay close attention to this...

On the 10th, we are inviting an expert to show readers like you how to potentially generate:

• Rs 15,150 in 10 minutes
• Rs 21,950 in 3 hours 11 minutes
• And Rs 17,650 in 3 hours and 13 minutes

*these are mock trades. Not Equitymaster recommendations.

This expert has been doing this himself for years now - generating what he calls 'Instant Income' - without buying or selling a single stock.

He calls it 'Instant Income' because the payouts could potentially be so quick - sometimes within minutes, that it is almost instantaneous.

Join us by clicking here - there are no payments to make to attend this event.
------------------------------
Now I have found one more person who share similar views with respect to ratings agencies, their track records and outlook on banks.
She is none other than Tanushree Banerjee, co-head of Research at Equitymaster. Tanushree believes Moody's downgrade could help Indian Banks.
She shared her views with you earlier this week. Here's an excerpt...
Well, one look at the data of India Inc's overseas borrowing in the past year will answer the question.

The government is not a big borrower in the overseas markets.

Rather, the top corporates in India raise funds overseas (via instruments like ECBs and FCCBs) using India's sovereign rating.

So, a downgrade in India's sovereign rating raises the overseas borrowing cost of the bluechips.

And in turn, they will find borrowing from Indian banks more attractive.
India Inc's Overseas Borrowing Over Past Year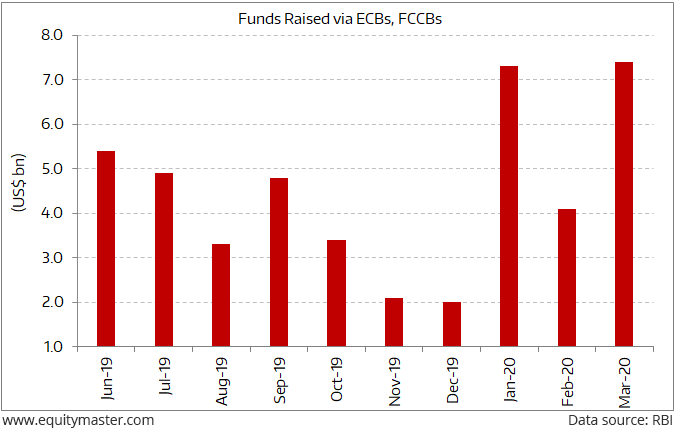 Now, data from the RBI shows that Indian companies borrowed almost US$ 44 bn overseas in the past fiscal.

That is almost 50% of the incremental credit disbursed by PSU banks and private sector banks during the year.

So, if the rating downgrade brings even a fraction of the credit demand from overseas markets back to India, it could massively stoke economic activity.

In fact, it could even kickstart a virtuous credit cycle which eventually could bring about India's Swoosh recovery.
NEW REPORT: 3 Best "Profit-Pulling" Small Caps Present in the Market Right Now
Bank Nifty was underperforming the benchmark index Nifty after they hit their lows in March. There were several reasons behind its underperformance - a rising NPA risk, lack of credit growth, and overcautious nature of banks in lending.
These problems haven't gone away but banks have still managed to outperform Nifty in the last two weeks.
Check out this chart...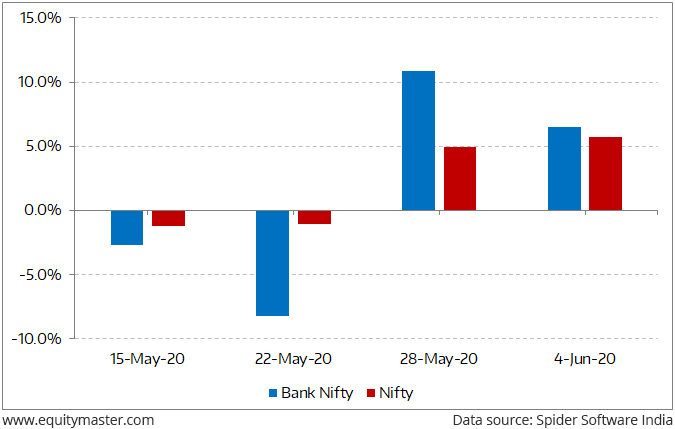 The only reason why I believe banks outperformed over the last two weeks is price action. The price action of Bank Nifty when compared to Nifty suggested that banks are beaten down sharply.
The Instant Income Summit: Free Registration
Bank Nifty to Nifty ratio had reached an extreme. The ratio had dropped way below its average and reversion to the mean was due.
The ratio is still far below its average and Bank Nifty will attempt to claw back. Obviously, this won't happen in a hurry or in a straight line. There will be lot of zig-zag moves which will create opportunities for smart traders.
To know how you can make the most of such opportunities, I recommend you read this piece.
Warm regards,

Apurva Sheth
Senior Research Analyst, Fast Profits Report
Equitymaster Agora Research Private Limited (Research Analyst)
PS: Get access to our recommendation report on the top 5 small-cap stocks in the market here.
Recent Articles