Should You Get out of Small Caps Now... Before the Fall Worsens
Jun 6, 2018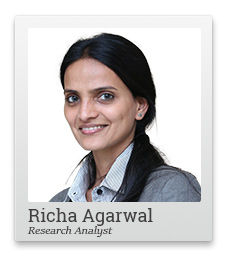 As the editor of Hidden Treasure, my mission is to travel the length and breadth of the country to find exciting small cap opportunities.
This year alone I have made several trips that have taken me to all the corners of this country.
And in the process my team and I have identified and recommended some very interesting companies...
The Hidden Treasure team spotted recommendations like Page Industries, City Union Bank, Balkrishna Industries, and so on, well before the markets took notice.
And these are just a couple of examples - for Hidden Treasure, the success ratio since inception has been over 67% (ie, successful recommendations out of total recommendations).
Now, in case you are wondering, there's a reason why I am telling you all this...
You see, finding multibagger small caps is a journey.
And sometimes that journey gets interrupted...
--- Advertisement ---


A Method That Doesn't Take YEARS To Grow Investors' Money…

The fact is, most stock market strategies take YEARS to grow investors' money.

But what if a person needs the returns fast for some reason?

A method revealed by research analyst, Apurva Sheth, has the potential to generate returns in a fairly short time. And that too, from some of the best companies in the market.

Yes! To find out all about that method, just click here…
------------------------------
In fact, it is being interrupted as I write: Small caps are in correction mode.
Of late, and not surprisingly, the number of worried letters I have received from my readers has shot up.
The smallcap index is down 19% from its peak in January 2016.
Currently, 560 stocks are trading at 52-week lows. And most of these beaten down stocks are from the small cap space.
Small caps, being less liquid compared to others, have taken the worst hit.
If you have been investing in small caps, it's natural for you to be anxious and wonder what to do next. To worry that the correction could get deeper and last longer.
Honestly, I do not know how deep the correction could go.
Or how much time the recovery in the small caps stocks could take.
Any attempt to answer that question amounts to speculation - something I'm not good at.
What I can tell you is that...
I'm quite excited about this correction.
Until the recent correction, small cap stocks had been soaring. This rise could not be explained by earnings recovery. The stocks had been riding the liquidity wave.
With big investors in the exit mode, the trend has reversed.
In some cases, the correction has been more than warranted. In case of others, I believe more correction is due (the small cap index is still up 8% YoY).
--- Advertisement ---


Grab Reliable Small Companies Before Others Find Out About Them

Did you ever find yourself thinking, "I wish I had invested in Titan while it was still young?" Or even in Pidilite for that matter?

These were once-unknown-small companies that have grown rapidly in the last decade to become household names in India today. But there was no way you could have known that sooner… until now…

Through our Hidden Treasure service, we're providing opportunities like that today.

Click here to know all about Hidden Treasure…
------------------------------
As stocks correct further, I believe it would be a great opportunity to enter some quality small caps.
(By the way, this correction has brought some great small caps into the Buy zone. Check out our latest performance review for small stocks that one could consider buying now).
But what about the stocks that you are already holding?
Should you average down?
Or should you get out now, before the correction deepens?
The answer to this depends on whether there has been any change in your rationale of buying the stock in the first place.
In other words, the decision has less to do with price correction and more to do with the fundamentals of the business. If the fundamentals are intact, it might make sense to hold, even buy more.
And while it is difficult for me to put a timeline, here is an analysis that will reinforce your faith in long-term value investing.
An Almost Zero Loss Strategy That Works Best When Markets Correct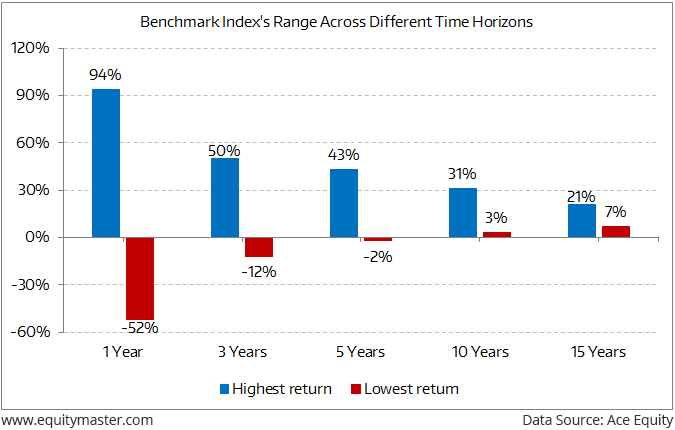 Note: Period considered is December 1981 to June 2018. Assumption is that the investment is made at the end of the year. Further, CAGR (Compound annual growth rate) returns are considered for periods longer than a year.
The chart above captures Sensex's value since December 1981 and includes bull and bear runs. It shows the highest and lowest average annual returns at the end of each year since 1981, across different time horizons.
As you can see, the volatility, or fluctuation, is the highest for the shortest investing horizon period in the chart, ie, for one year. As the time horizon increases, the volatility diminishes. For a time, horizon of 5 years, the lowest returns are limited to just 2% and are far outweighed by gains.
And there are no losses for intervals of ten years or more!
The takeaways from this exercise are...
As your time horizon increases, the odds of earning positive returns on stock investments improve.
For 10-year intervals and beyond, the probability of negative returns is almost nil.
While you could say that the quantum of gains has been higher over one year than over a long period, remember you cannot time the markets and make gains all the time.
If you have had a string of successes in short term investing, you will mistake your luck for ability, get addicted and make bolder and bigger debts until you lose.
And that one loss could be big enough to wipe all gains in the past.
Not to mention there will be churning costs.
I have used Sensex data for this exercise. Imagine the quantum of gains you could make with this strategy if you hold quality stocks in your portfolio... And buy at a time when markets are in the correction mode.
Even if some of the stocks fail, your gains are likely to more than compensate for losses.
Hidden Treasure, for example, has beaten the benchmark index by nearly three times.
While the success ratio can be attributed to stock selection, beating benchmark indices is largely a function of longer horizon periods.
So, remember this chart when markets are in correction mode.
Do not let the current volatility overwhelm you. Focus on the fundamentals and long term, and buy the stocks where quality meets value.
Regards,



Richa Agarwal (Research Analyst)
Editor, Hidden Treasure
PS: Every value investor knows that we buy when markets are correcting. The worry then becomes - buy what? The small cap space has enormous potential - and especially at a time like this. Do not miss this moment - get Hidden Treasure now.
Recent Articles