India's Third Giant Leap
This Leap Could Potentially Generate Gains
Far Bigger than Anything We Have Seen in Our Lifetimes
I Rejected a 17-bagger for a 5-bagger. This is Why You Should do the Same
Jun 6, 2022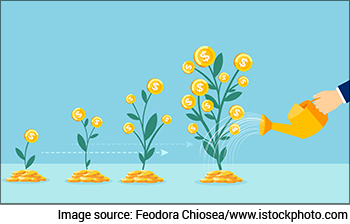 Peter Thiel, the billionaire entrepreneur cum venture capitalist, loves to ask the following question to candidates during an interview.
'What important truth do very few people agree with you on?'
Interesting, isn't it? Let's give this an investing flavour and insert the word 'investment' in the question.
'What important investment truth do very few people agree with you on?'
So, is there an investment insight or principle out there that you know is true, but no one seems to agree with you?
Well, as far as I am concerned, I think there is one such truth that most investors are unaware of. If an investor tries to understand this principle and starts implementing it, he would have taken a huge step towards earning great long-term returns.
Check out these quotes from some of the greatest investors to know what this principle or truth is.
'A market downturn is the true test of an investment philosophy.' - Seth Klarman

'I want to make sure I've got a money manager who knows how to make money and manages money in turbulent times, not just bull markets.' - Stanley Druckenmiller

'Ensuring the ability to survive under adverse circumstances is incompatible with maximising returns in the good times, investors must choose between the two.' - Howard Marks

'Outperform the market in bad times.' - Julian Robertson

'We will underperform in very strong up years. We'll probably, more or less, match in moderate up years. We'll do better than average in even years or down years.' - Warren Buffett
I think you must have guessed it by now.
--- Advertisement ---
IMPORTANT: Save the Date for the Biggest Financial Conference of The Year...

The Equitymaster Conference 2023 happens on 25th-26th Feb 2023...

If you want to discover where the market is headed for the next 10 years... and which mega-trends could potentially help you make the most wealth over the next decade...

Make Sure to Grab Your Ticket Right Now (Special Reserve Member Discount Inside: OPEN NOW)

HURRY: Grab Your Ticket Now
------------------------------
This is the investment truth that investment legends like Howard Marks, Seth Klarman, and Warren Buffett have reiterated time and again.
However, the average investor is still oblivious to it in my view.
The key to outperforming the market over the long term lies in outperforming the market in bad times.
If you have outperformed the market during good times but have given up all those gains and more in bad times, you are not likely to do well over the long term.
Take the celebrated fund manager Cathie Wood for example. Not long ago, she was the toast of the investment world with her maverick stock picks. However, the wheels have come off and how.
The tech heavy Nasdaq is in the vice like grip of a bear market, down more than 22% year to date. One of Cathie's most popular funds, ARK Innovation ETF, has done far worse. It's down 53% as I write this.
It looks like Cathie is also oblivious to the investment truth that other legendary investors swear by.
In fact, let me tell you about an interesting case study I put together for my Lazy Millionaire subscribers. I considered three sets of companies. Set 1 had three companies, one each from the paints, IT, and textiles sector. Ditto for set 2 as well as set 3.
Here are the companies in each set.
Set 1: 3i Infotech, Shalimar Paints, Eastern Silk
Set 2: eClerx Ltd, Asahi Songwon, Ambika Cotton
Set 3: TCS, Asian Paints, Page Industries
--- Advertisement ---
Potential 33x Opportunity by 2030

This decade belongs to defence stocks.

We are staring at a potential 33x opportunity by 2030.

But it is absolutely important that you choose the right defence stocks to ride this opportunity.

We've already identified 3 next-generation defence stocks for you...

These companies are into developing cutting-edge military technologies where we're seeing a huge potential.

If you're a serious investor, then you should not miss these 3 stocks for anything.
* 2 out of these 3 stocks have already run up. Act fast or you might completely miss out on this big opportunity.

Full Details Here
------------------------------
Which of these three sets you think would have done well in the bull market between March 2020 and May 2022?
Before you guess the answer, let me tell you in terms of business quality, set 3 is the best followed by set 2.
Set 1 is the worst of the lot with all the three companies frequently loss making and burdened with a lot of debt on balance sheet.
Thus, it would come as no surprise then that it's either set 2 or set 3 that would have done the best between March 2020 and May 2022.
Well, you'll be shocked to know that it was set 1 - comprising of the worst quality companies - that outperformed the other two sets by a big margin.
Rs 100 invested in set 1 across all the three companies equally, had turned into almost Rs 1,700 by May 2022. That's a huge 17-bagger in just 2 years!
Ironically, it was set 3 - the set with the best quality companies - that performed the worst, turning every Rs 100 into just Rs 207, a mere 2-bagger.
Set 2 ended up in the middle, turning every Rs 100 into Rs 466.
The Sensex was up 84% in the same period. This meant all the three sets outperformed the Sensex. However, set 3, the best quality stocks, outperformed only marginally.
Here's how the performances stack up.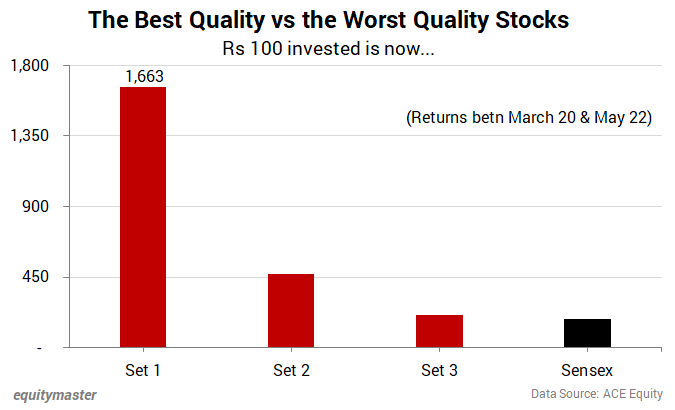 Well, it looks like set 1 has proved its mettle in a bull market. However, as I discussed in the beginning of this piece, outperformances are not built in a bull market but how one's portfolio does in a bear market.
Therefore, it will be interesting to see how all the three sets have done in recent times now that the market has come off its highs and there has been a strong correction across a wide segment of stocks.
Here's what I found when I checked how much the stocks in each of these sets have fallen from their 52-week highs.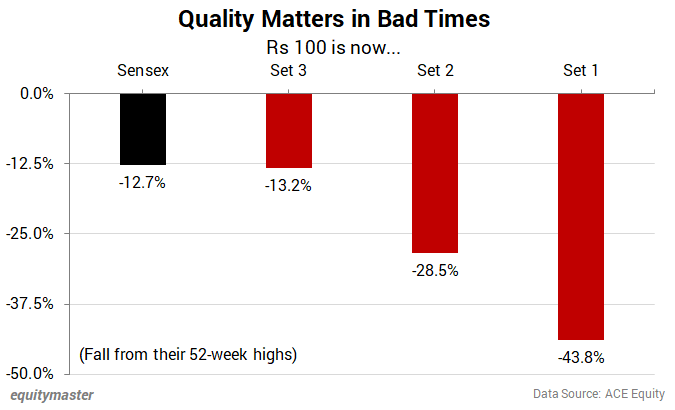 Well, those investing in the worst quality stocks would have seen their investments go down by as much as 44%.
The good quality set on the other hand would have seen the least wealth erosion as it corrected by only 13%. Set 2 is once again in the middle, down 29%.
If I were an investor and if I were to formulate an investment strategy that prioritised bear market outperformance over bull market outperformance, I would definitely not select companies of the kind existing in set 1 (poor quality).
These stocks can really go up a lot during a bull market, but they are bad quality and can go down equally fast in a bear market.
Thus, these companies are fit for speculation at best. They are not the ones you should bet your long-term money on.
What about set 3 (best quality)?
It looks like this set is the best fit for someone who's looking to lose the least in a bear market.
Well, set 3 certainly makes the cut as far as this criterion is concerned. Stocks like Asian Paints, TCS and Page Industries are the bluest of blue chips. Therefore, it's obvious they are likely to go down the least in a bear market.
However, unless you buy them at really attractive valuations, there is a slim chance they will help you outperform the markets.
You see, everyone knows these are very good stocks. Therefore, they are seldom available at attractive valuations. They are almost always fairly priced, thus making it difficult to extract market beating performance from them.
This is why my favorite category is set 2 (medium quality) stocks.
They are usually far more attractively valued than set 3 (best quality) stocks and they are not as bad quality as set 1 (worst quality) stocks. This gives you the best of both the worlds in my view.
As you saw, set 2 was almost a 5-bagger in the current bull market. Besides, it didn't lose as much as set 1 companies when bad time came knocking.
So, it outperformed the best quality stocks in a bull market, thus effectively outperforming the market.
It also outperformed the worst quality stocks in a bad market, thus did not give back most of its bull market gains.
Net-net, it still ended up outperforming the market by a significant margin. This is exactly the quality you need in your portfolio.
In fact, if you put together a portfolio of set 2 stocks and combine it with bonds or fixed deposits, you can reduce risk further and still be in a great position to outperform the market long term.
The idea is to book profits after every significant rise in the market and put it into fixed deposits or bonds. Likewise, after every significant fall, move more into stocks from fixed deposits or bonds.
This is precisely what I have been doing all these years with my Microcap Millionaires service. I have been recommending set 2 type of companies and mixing it with fixed deposits.
The results have been quite encouraging with the service able to earn a CAGR of close to 20% over more than 8 years vis-a-vis the Sensex that has returned 12% CAGR over the same time period.
Focusing on preserving capital as much as possible during bad times and trying to maximise the upside during good times, has worked wonders for the service.
I am confident it will work wonders for you as well.
Warm regards,



Rahul Shah
Editor and Research Analyst, Profit Hunter
Recent Articles