A Champion Poker Player's 3 Brilliant Rules on Playing this Market
Jun 8, 2020
Annie Duke's recent piece on decision making bowled me over. I found striking parallels between it and how to invest in the market.
Who is Annie Duke you may ask? Well, she is a former champion Poker player who retired from the game after raking in millions. She is now a full time consultant focused on decision making.
In case you are wondering what will a good Poker player know about decision making in the real world, the short answer would be - a great deal.
In fact, a lot of champion investors are also very good card game players.
Warren Buffett swears by the card game of Bridge for example. He is known to religiously devote 8-10 hours every week towards this activity.
David Einhorn, another billionaire investor, once stood a creditable 18th in the world Poker championship.
The skill sets needed to succeed both in card games like Bridge/Poker and investing/business have a lot of overlap. There is a type of reasoning required that holds you in good stead in both the activities.
There's randomness, there's lack of complete information, and there's emphasis on the process more than the result across all these activities.
Which is why those who excel in one are likely to excel in the other over a period of time.
And which is why a lot of what Annie Duke spoke about decision making in the current environment struck me as extremely relevant to the field of investing.
Poker and Investing: Cut from the Same Cloth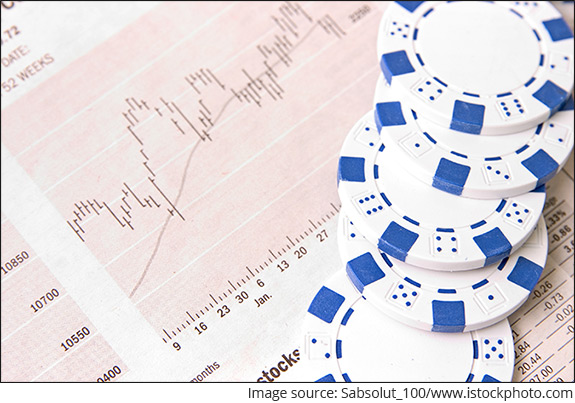 Annie Duke outlined three important principles.
Number one was to always put a premium on your ability to be agile and flexible.
This is a mighty important rule in my view. Consider someone sitting on 50% cash when the BSE Sensex was at 42,000 versus someone who was fully invested.
When the Covid meltdown brought it all the way down to 25,000, the 100% guy didn't have any money to invest in the market.
The 50% guy on the other hand thought, while the Sensex may fall further from here, what if it makes a sharp recovery?
After all, the valuations are a lot more attractive now than at 42,000. Thus, it does make sense to at least invest 25% in the market if not the entire 50% cash.
--- Advertisement ---
Richa Agarwal's #1 stock pick for 2021 is out

It is a little-known company that is now tapping into a Rs 4 trillion opportunity...

Setting it up to potentially deliver huge gains in the years to come.

Now, this stock has already started to move...

As the word spreads, there's a chance that this stock could move up rapidly.

Hence the urgency to act now...

Here are the full details of the company I'm talking about...
------------------------------
As things stand, the 50% guy is laughing all the way to the bank right now. He is reaping the rewards for being agile and flexible and never be fully invested in either stocks or cash.
Are you facing the same predicament? If you're not sure which way the Indian stock market will go now, I recommend that you adopt the same approach.
Take some exposure to stocks so that your portfolio benefits if the markets go up.
But also keep some cash handy so that you can get into stocks when markets fall and valuations become more attractive. Stay agile, stay flexible.
The second principle is to exercise options in parallel. Place bets on more than one future scenario. In the world of investing, this is nothing but not putting all your eggs in one basket.
If you are thinking of taking a stock exposure right now, invest in multiple stocks at once. And if you think there's a lot more uncertainty than usual, then make smaller bets and diversify even more.
This is not the time to practice concentrated investing perhaps. This is the time to exercise more options and try and minimise your losses.
Unlock Now: India's 3 Unstoppable Tech Stocks
Last but not the least, Annie Duke advises to establish clear cut signposts.
Ok, so you bought a stock a couple of months back and it is now up anywhere between 45%-50%. What do you do next? Do you hold on to it, or do you move out of it and get into cash?
Well, this is where clear signposts help.
I have a thumb rule that I find particularly useful. Exit a stock once it has gone up 50%-100% and invest the proceeds based on the overall market valuations.
If the broader market is still cheap, then it makes sense to invest in another stock that has a good upside to downside ratio. If the broader market is expensive, you can keep the proceeds in cash and wait for a correction before taking a fresh exposure.
Without these signposts, you will be totally confused and at loss to understand what to do next. These signposts help you to react in a rational. You can update your strategy based on the level of the market.
If it goes up significantly, you book profits on stocks that have gone up substantially. If it goes down significantly, you buy more stocks and wait for the markets to recover.
I have been using the exact same rules in my Microcap Millionaires service.
And they have worked like charm. They have helped my subscribers beat the benchmark index by more than 2x and generate an impressive 157% returns since inception.
It is not too late if you are not applying these principles already.
Good Investing,



Rahul Shah
Editor, Profit Hunter
Equitymaster Agora Research Private Limited (Research Analyst)
PS: Get access to our recommendation report on the top 5 small-cap stocks in the market here.
Recent Articles