Smallcap Stocks that Will Ride the Covid-19 Rebound
Jun 9, 2020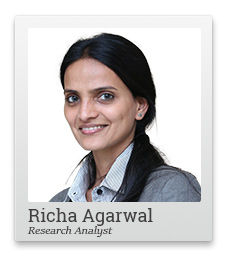 When man makes plans, God laughs.
My flight tickets to Italy were cancelled.
My friend and I were planning this trip for the last two years. We had booked our flights in February and then the Coronavirus struck. Italy was one of the worst hit.
My friend and I tried to make light of the flight tickets cancellation.
We did so grumpily at that time but soon the news flowing in, made us realise we had been lucky. There is nothing charming about being locked down in Italy, away from the family.
While we take pride in how well we plan, we could never have planned for the Coronavirus or any such possibility.
The world has changed drastically since then. And in strange ways.
The fear of virus seems to have developed an inverse relationship with the pace of infections, and casualties.
There was more caution and social distancing when India had 15 cases, than now at 2.6 lac cases. Numbers are reaching new highs on a daily basis.
Amid a difficult choice between lives and livelihoods, we have decided to live with Coronavirus. The lockdown has been eased. We will never know if a deep freeze made any difference to the virus.
What we do know is that it hammered the economy.
Anyway, we have moved on and so have the markets.
From the lows in March, the gains are well above 30%. The same is true for the smallcap index.
--- Advertisement ---
Buying this stock today is like buying HCL Tech in 2003

Do you know what was the price of HCL Tech in 2003?

Just Rs 20...

And today, it's trading at Rs 810.

A mind-blowing return of 3,950%.

Now we can't go back in time to get these massive returns. But markets keep throwing such mega opportunities from time to time.

All you need to do is identify them and act on them at the right time.

And one such rare opportunity exists today...

This company is tapping aggressively into a Rs 4 trillion opportunity. And this is likely to propel its stock price to crazy heights.

If you'd like to make a potential fortune in the years ahead, you need to act now.

Go here for more details on this stock.
------------------------------
While I had been expecting a rebound, I did not know it would be so fast. It's truly been a roller coaster journey.
Here's is how the rebound for a smallcap stock I recommended in March (pre lockdown) looks like :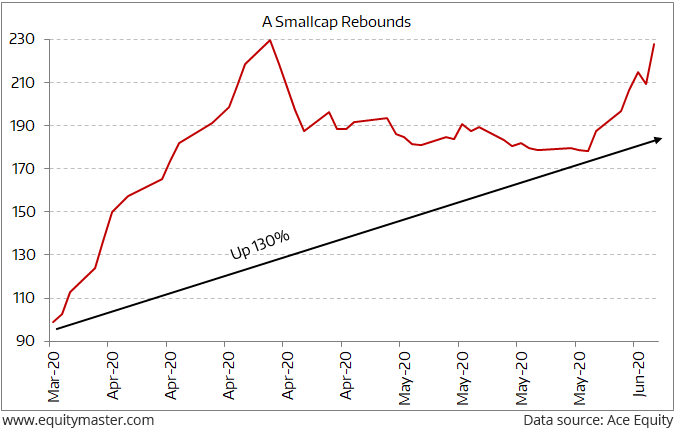 Now here's is an interesting fact. At its lowest, and within 10 days of recommendation, the stock was down 56%.
I was not expecting a sharp crash at the time of recommendation. Nor I had expected a sharp rebound within days.
And to be honest, I do not know how the stock will behave in the next few days.
The only thing I can be sure of, to the best of my abilities, is whether the current stock price offers a decent upside in the stock over next three to five years.
--- Advertisement ---
For Those Looking to Buy Stocks

If you're looking to buy stocks now, then we've uncovered 3 great stocks for you.

Our research says, these stocks have the potential to create a wave of Indian millionaires.

Get the Details Now
------------------------------
This involves estimating the intrinsic value, based on the fundamentals of the business, a management we are reasonably confident of, in terms of ethics and competence, and lastly, the valuations of the stock i.e. the margin of safety.
And it is only these stocks that I'm placing a rebound bet on..
These businesses are niche leaders. They have a good chance of surviving this pandemic and ending up with a higher market share post pandemic. They have enough liquidity, strong balance sheets, and cater to a demand that is unlikely to be destroyed in the long term.
Even if a second wave of pandemic or lockdown hits us, or if the market loses its recent gains, their long- term story and return potential remains intact.
While the broader markets have risen, in the smallcap space, there are still quality stocks that could join the rally soon. If you are willing to have a horizon period of three to five years, this is a perfect time to buy them.
In short, we have to be prepared, irrespective of what markets do in the near term. I hope you will not keep waiting at the shore for the storm to pass because by then, the ship would have sailed.
I'll share more about these smallcaps later today. Find all the details here.
Warm regards,



Richa Agarwal
Editor, Hidden Treasure
Equitymaster Agora Research Private Limited (Research Analyst)
PS: Join me at 5 pm this evening for the Rebound Riches Summit. I'll show you how to find the best stocks to profit from the rebound. Here's the link to the summit...
Recent Articles